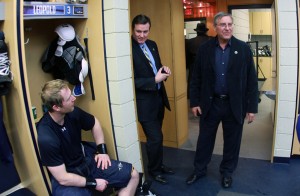 A new regime has taken hold of the Buffalo Sabres.  Prior to the trade deadline, billionaire Terry Pegula became the new Buffalo Sabres owner.  While many fans hoped to see Darcy Regier and Lindy Ruff removed from their positions, Pegula made it clear he had no intentions of doing so.  What was clear is that Pegula's plans are solely to win a Stanley Cup for a city that has been starving for a championship since…carry the one; divide by 3; subtract 28…if my calculations are correct, it has been a LONG time.
Regier, along with the longest tenured head coach in the NHL, Lindy Ruff, have gone out of their way this off-season to attract some key pieces to help build a Stanley Cup contender.  With the additions of Ville Leino and Christian Ehrhoff, Buffalo has added two solid players that greatly improve their chances after last season's disappointing first round exit.  Nathan Gerbe, Tyler Ennis and Marc-Andre Gragnani have been pleasant surprises in the eyes of Buffalonians and have essentially solidified positions in the starting lineup for next season.  Better yet, they also have amassed a great prospect pool where some players may be able to make the transition straight into the NHL this season.
With the help of Brandon Schlager (a Buffalo native and fellow THW writer), here are your top 5 prospects for the Buffalo Sabres.
5. Mark Pysyk – D – WHL
The Sabres first rounder in the 2010 draft, Mark Pysyk is an attractive blue-chip prospect.  Most noticed for his fluid skating, Pysyk's agile movement, explosive speed and quick lateral motion gives him an advantage over many of his fellow teammates and opponents in the WHL.  Not one to slack offensively, the Oil King blue liner notched 40 points last season in the Dub and is looking to contribute more to the team this year.  Leadership is another quality that attracted the Sabres to Pysyk.  His ability to control the locker room is character trait that the Sabres could use, especially if they are built for a deep playoff run.  To be frank, don't expect Pysyk to spend much time in the NHL this season.  Although he signed his first pro contract this summer, Mark Pysyk will likely return to the Edmonton Oil Kings and try to fight for a spot on Canada's World Junior team this winter. Although Pysyk will be sure to give it all to make the club this season, heading back to the Dub is not an unattractive scenario for the blueliner given the tournament is co-hosted by Calgary and Edmonton this year.
4. Brayden McNabb – D – WHL
Yet another defenseman from the WHL, Brayden McNabb led the charge for the Kootenay Ice during the Memorial Cup playoffs.  With a clear height advantage, McNabb is one of the best two-way prospects available.  Kootenay took full advantage of skill-set and used him in every scenario possible last season.  Brayden mans the point on the powerplay, is a key contributor on the penalty kill, and of course sees plenty of even strength icetime. He has a booming shot, fantastic vision down the ice and the ability to make crisp, intelligent passes.  A potential 3rd-round steal, McNabb also signed his first professional contract in the off-season, but in order to make it to the NHL he will need to work on his speed and quickness.  Expect to see a great deal of playing time in the AHL for McNabb this season with a possible call-up if any defensemen get the injury bug during the season.  The Sabres got a fine defenseman who will leave fans wondering how he fell to the 3rd round in 2009.
3. Luke Adam – C – AHL
Luke Adam got a sniff of playing time last season in Buffalo, but he really showed what he was made of with the Portland Pirates of the AHL.  Tallying 29 goals and 62 points for the AHL affiliate, Adam was 2nd on the team in scoring.  Luke is a player who doesn't have a concrete "WOW" factor, however he seems to do all the little things right.  For his height, it is a bit surprising for him to play with the physical edge that he does.  He enjoys battling in front of the net and deep in the corners.  For a player that is 6'1″, he plays like a 6'5″ power forward.  It will be difficult for Adam to crack the lineup with the current logjam up the middle in the Sabres depth chart. However, it isn't out of the realm of possibility.  Over his career, Adam's hard-nosed style pegs him as being a formidable 3rd line center for the Sabres for many years down the road.
2. Joel Armia – RW – SM-liiga
One of my favorite prospects from the 2011 draft, Joel Armia has all the makings to be every bit as good as (if not better than) goal-scoring winger, Thomas Vanek.  Though it would have been nice for the Wild to pick Armia at 10th overall to pair him up alongside fellow Finn, Mikael Granlund, Buffalo played the waiting game to their advantage and snagged him at the 16th spot.  Armia is a boy among men playing for Assat in the SM-liiga.  As a 17 year old, he placed 6th in scoring on the team and 2nd in goals with 18.  Armia has superb hands and can maneuver through traffic with ease, but his bread and butter is his shot.  When it comes to playmaking, he likes to keep things simple which leads to better quality scoring opportunities.  After  disappointing finish at the World Juniors last year, Armia is all but a shoe-in for this year's roster.  He will return to Assat this season to further develop his game, put on weight and showcase his talents.  Realistically, Buffalo fans will not see him suit up for another 2-3 years, but when he does he is poised to become one of the NHL's best snipers in the game.
1. Zack Kassian – RW – OHL
Get ready Sabres fans because here comes "Mean" Zack Kassian.  In all honesty, he really isn't that "mean" of a person – only on the ice.  I conducted an interview with Kassian last season (click here) and came away impressed with his poise and overall knowledge of the game and its players.  Many have labeled Kassian as a boom or bust prospect, but I just don't see it.  If he "booms", he will be a first or second line scoring threat with a nasty physical edge.  If he "busts" he will end up just a gritty 3rd or 4th line winger (which I wouldn't consider a bust if he is still playing in the NHL).  He projects as a player similar to Lucic, Downie, Burrows or Bertuzzi (prime). For Kassian's size and aggressive tendencies on the ice, he has a very underrated set of hands.  With all the makings of a pure power forward, Kassian put up 77 points this season and was a point-per-game player in the playoffs.  His biggest assets are his size, strength, energy and his shot, which he recently developed into a more of a lethal weapon.  Taken from the interview I conducted with him, one of his major flaws is speed and skating.  In order to be able to play in the NHL as early as next season, Kassian will need to spend some serious time with a power skating coach this off-season.  Training camp will give Kassian the opportunity to prove whether he is good enough to log serious minutes at the next level of his development. If things don't go well for him in training camp, he will be able to polish his game at the AHL level with Portland next season.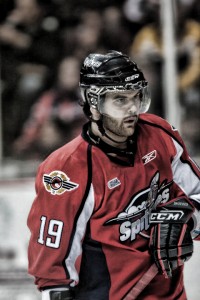 Honorable Mentions: TJ Brennan, Marcus Foligno, Drew Schiestel, Daniel Catenacci, Colin Jacobs
Follow Shawn on Twitter @ShawnReznikTHW