NCAA Defenseman Mac Bennett made his share of mistakes at the freshman level this year, but his raw skills were still able to shine through. When the Montreal Canadiens made him their 79th overall selection in the 2009 NHL Entry Draft, they were hoping he would eventually realize his full potential. They knew the road to the NHL would be a long one for Bennett, but they are hoping it ends in Montreal.
Bennett spent the last season playing for the University of Michigan, where he tried to learn how to adjust to a more professional level of play. He was an offensive contributor on the CCHA regular season champions, but his defensive play was suspect at best. Most of the time he was relied on strictly for his offensive prowess and transitional skating skills.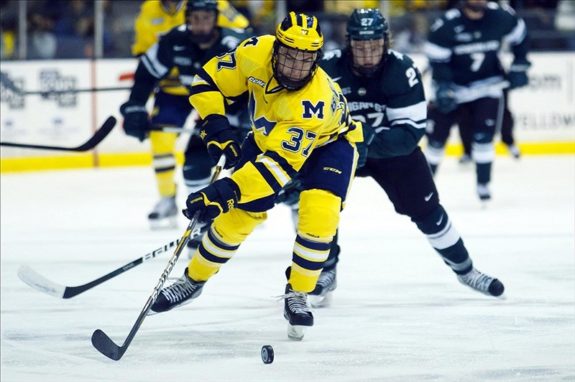 After attending the Canadiens prospect camp this summer, Mac will head back to Michigan where he is expected to become a big part of their top four. He spoke on his tough transition while at the prospect camp.
"Coming in I struggled a little bit, there's an adjustment period. But after Christmas time I was in the line-up… It was totally a confidence thing, the more I played the more confident I got."
Both Wolverine and Canadiens fans alike are hoping that Bennett starts the season of confident and stays confident. He has potential to be one of the better offensive defenseman in the CCHA.
Before he was drafted, Bennett was a dominant transitional defenseman while playing high school hockey for Hotchkiss School.  He was so highly touted that he was drafted in the 3rd round right out of high school, before ever playing a game for the USHL.
After the draft he spoke to Habs World on a myriad of topics, including his specific skill set, and what Habs fans should look forward to in a few years.
"I'd say on the ice I'm a defenseman that can break out the puck with passes or skate it out of the zone. I have poise and patience on the point for the PP, so I'd like to get an opportunity at some point there as well. In the locker room I'm a high energy kinda guy who is always talking to my teammates and trying to be positive."
Bennett did get a chance to shine in the USHL, and was named to the USHL All-Rookie team He also suited up for the USHL All-Star game. His offensive dominance did not immediately transfer to the NCAA level, but it likely will soon.
The transition for USHL to NCAA is always tough, especially when the year before he only played 15 games at the high school level. But as he physically and mentally matures he will be more prepared for the college game.
This year, all eyes will be on Mac Bennett. He will have to prove that he is ready to handle the rigorous college schedule, and that his decision making has improved. He recognizes that he needs to work harder on the mental aspects of the game, and pick his spots to make an offensive impact. He knows his game needs all around work, and to be successful he needs to play a strong two way game.
"I'd say my skating is probably my top strength. But, to play at the next level, I have to get better at skating, like everything else, which includes shooting, defensive zone coverage, stuff like that."
Bennett knows what has to be done to prove himself at the NCAA level. If he puts it all together this year he may be a force in the NCAA, and eventually at the NHL level.
Follow Patrick Kearns on Twitter @PatrickKearns to talk prospects, and all things hockey.