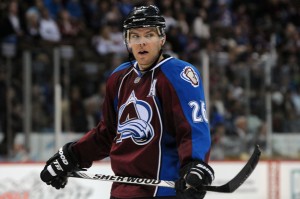 The Avalanche are off to a less than desirable start this season with a record of 11-13-1. You'll see fans point the blame at the coach Joe Sacco often, the general manager Greg Sherman. However the Colorado Avalanche have a synergy of problems happening and some of the blame has to be attributed to some of the players just not playing up to their quota.
Often times a team will make a trade when in a rough spot to shake up the dressing room in hopes of rebounding the teams play. In the case of the lowly Avs a player like Paul Stastny could be expendable with the emergence of Matt Duchene and Ryan O'Reilly at centre.
Stastny's play this season leaves much to be desired. Posting 14 points in 25 games thus far this season is well under the pace Stastny should be on. Stastny doesn't look like the point per game player he was when the Avalanche signed him to a big contract. His play has steadily declined the past two seasons to the point where maybe a change of scenery would be best for both him and the Avalanche.
At the age of 25 Stastny has plenty of time to find his game again, and 25 year old top line centre's aren't often made available for trade. Matt Duchene looks to be the Avs future at centre and you don't really want Stastny's contract on the second line so a move would most likely benefit both parties. The package that Sherman would get for Stastny would likely consist of picks and prospects that can help the youthful Avs build for the future while relieving salary from their payroll.
I think Sherman would be wise to make Stastny available for the right price. Clearing his salary while adding more valuable young assets would be a good trade off in the position the Avs are currently in. The longer the Avs continue to struggle and the longer Paul Stastny underperforms the higher the chances of him donning a different teams sweater this season becomes.
The Hockey Writers is:
1) a top tier emerging media hockey resource
2) a collective of some of the best hockey writers on the Internet
3) a radio show
4) one of the best NHL Prospects resources on the net
4) a source for an in-depth look at the NHL
5) your first destination for 'meatier' hockey information