['Pondering the Pens' is a weekly column on the Pittsburgh Penguins that appears every Friday morning.  There's no rhyme or reason to the topics discussed.  Just news, notes, and aimless ramblings from a wandering mind….]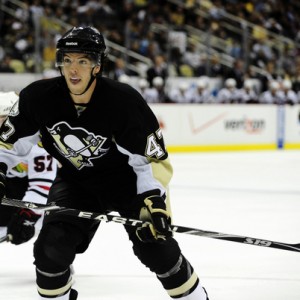 Simon Despres, Pittsburgh's 2009 first-round pick, had a successful NHL debut last night against Washington.  Despres assisted on Chris Kunitz's game-winning goal and looked confident after a few early mishaps.
Coach Dan Bylsma did a good job keeping Despres away from Alex Ovechkin and Nicklas Backstrom despite his squad being the road team without the benefit of the last line change at whistles.  (The Capitals' big guns only played 1:10 against Despres)
The Despres recall was a bit curious at first glance.  Veteran defenseman Alexandre Picard was recalled from Wilkes-Barre (AHL) to replace the injured Kris Letang and looked solid against the New York Rangers on Tuesday.  But Picard was demoted back to the minors Thursday and Despres was brought up to take his place.
It's natural to over-analyze players every time they are recalled or demoted, but I think the call-up was just another step in the Penguins' development of Despres.
Despres, 20, was a standout in Penguins training camp last year and went on to have a very successful junior season at Saint John (QMJHL).  Most expected Despres to seamlessly move to the NHL level this year and force the Penguins to make room for him.  Perhaps the smooth-skating Despres was even reading his own press clippings?
He came into camp this fall looking sluggish and was cut before appearing in a single preseason game.  Despres suffered a shoulder injury in the Memorial Cup Championship game last year that went largely unreported and maybe the lingering injury affected his offseason training.  Whatever the reason, I think the Penguins were also looking to recalibrate his expectations.
Barring a rash of injuries, I expect Despres to be sent back to Wilkes-Barre soon and stay there much of the year.  But the team also likes to give prospects a taste of the NHL so they're motivated and hungry to get back. Pittsburgh's depth on defense certainly allows them to be more patient than other teams, but I think they're handling Despres the right way and it'll pay dividends in the future.
[One reader asked if the entry-level contract slide rule applies to Despres' situation.  According to the CBA, if players who are 18 or 19 at the time they sign their entry-level contract do not play 10 NHL games, their contract 'slides' one year.  Players who are 18 at the time of signing like Despres who do not play 10 NHL games in their second season can have their contract slide an additional season.
Despres' contract has slid the past two seasons which means the clock starts ticking on his contract this year regardless of how many NHL games he plays.]
I think the New York Rangers are dangerous.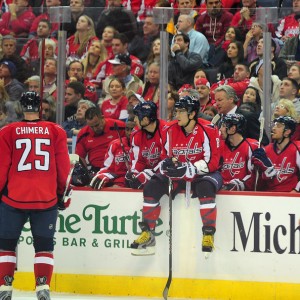 The Capitals looked lost at times last night, which is to be expected as Dale Hunter institutes change behind the bench.  Giveaways in the neutral zone were the biggest problem I noticed.  Bylsma wants his team to spend as little time as possible in their own end and it looks like Hunter is trying to adopt the same style with his group.  But instead of crisp transition passes, the Capitals simply fired the puck off the glass and onto the stick of the Penguins defensemen.
Washington is a talented team but they still lack an identity.  I don't see them solving that problem the way they're currently constructed.
The New York Rangers are the team I would watch out for.
New York and Boston are the two teams in the Eastern Conference that can match the work ethic of the Penguins, and the Rangers will be able to wear down opponents in the playoffs with their physical style.  The addition of Brad Richards gives their offense another dimension and they've played the entire season without Marc Staal, their best defenseman.  The Rangers were my pick out of the East before the season and I've seen nothing to change my mind.
I think Mario Lemieux and Ron Burkle made a good investment.
The annual Forbes NHL franchise valuations were released on Wednesday and Pittsburgh's value increased 12% from last year to $264 million.  The value of the franchise has more than doubled since Mario Lemieux and Ron Burkle's group purchased the team out of bankruptcy for $107 million in 1999.
One reader was surprised by the numbers, especially seeing the Penguins' operating income was negative last season (-$200,000 on $1.2 million in revenue).
The first thing to remember is the Penguins still have approximately $100 million in debt outstanding and we should also note that a brand new arena isn't cheap to open and operate.  Also, despite the team's popularity, the Pittsburgh market will never be on the level of Toronto or New York.
But it's also worth noting how important home playoff games can be to the profitability of a franchise.  Playoff teams pay a nice chunk of gate receipts back to the NHL in the form of revenue-sharing, but the team's biggest expense disappears in the postseason: player salaries.
For simplicity's sake, if we multiply a crowd of about 18,000 by the average regular season ticket price of $60, we're looking at over $1 million in revenue per home game just from ticket sales.  When the Penguins won the Stanley Cup in 2009 they had 11 home dates.  Last year they had just four.
On top of that, Penguins ownership still doesn't get enough credit for giving GM Ray Shero the green light to acquire accept Alex Kovalev at the trade deadline.  Shero had the cap flexibility to add Kovalev's hefty salary because of the injuries to Evgeni Malkin and Sidney Crosby, but both players still earned their full $9 million paychecks.
Sure, we just discussed how ownership had millions to gain from trying to squeeze a few extra playoff games out of their injury-ravaged roster, yet many owners would have just closed up shop after losing Crosby and Malkin to injury.  Instead, the Penguins paid Kovalev $1.24 million for three goals.
But was the expensive risk a total loss for Shero, Lemieux and Burkle?  Maybe not.  Kovalev actually became the Penguins go-to guy in the shootout and helped them get a few extra points to pass Tampa for the 4th spot in the Eastern Conference.
Their reward: Game 7 in their first round series loss was on home ice.
I think Blake Comeau is better than Mark Letestu.
PLAYER A: 25 years old, on pace for 26 goals last year, zero goals in 16 games this year, multiple teams interested
PLAYER B: 26 years old, on pace for 18 goals last year, zero goals in 11 games this year, multiple teams interested
PLAYER A: Placed on waivers and claimed
PLAYER B: Traded for a fourth-round pick
Player A is Blake Comeau.  Player B is Mark Letestu.  Comeau makes more money than Letestu, but why was Islanders GM Garth Snow not able to get anything for Comeau when teams were falling over each other to claim him off waivers?
Shero is a very calculated GM and rarely allows trade rumors to leak to the media.  So why did we hear multiple teams were interested in Letestu four days before the deal went down?  Maybe the key to trading is the ability to create a market for your player.
I think Penguins fans should pay attention to the World Junior Championships.
Penguins prospects Joe Morrow (1st round, 2010) and Scott Harrington (2nd round, 2010) were invited to tryouts for the Team Canada WJC team.
Morrow was a final training camp cut for the Penguins this fall and is in the midst of another successful season at Portland (WHL).  Meanwhile, Harrington leads the London Knights and the entire OHL with a plus-21 rating.  If either player makes the team, pay attention to what kind of role they play on the always-stacked Canada squad.
Last year, Simon Despres went from a free-wheeling star on his QMJHL team to a third-pairing shutdown and penalty-kill defenseman on Team Canada.  Despres didn't have a chance to shine in that role, but Penguins management said the different responsibilities revealed skills from Despres they weren't aware he possessed.
"I know he can move the puck well, I know he has good mobility, but he showed he probably has a better defensive stick and better penalty-killing skills than we ever thought he had," said Assistant GM Jason Botterill last spring.
I think Dan Bylsma wants another Jack Adams Award.
Some coaches seem to tweak line combinations and matchups simply to justify their paycheck.  Dan Bylsma has spent a lot of time juggling his players in recent weeks, but every move seems to have a purpose.
Bylsma has been very liberal with his use of timeouts after icing calls.  I really like how he's been putting Evgeni Malkin, Sidney Crosby, and James Neal together after television timeouts.  And it's also interesting to look at who's getting the toughest matchups from a defensive perspective.
Here are the Penguins with the highest Quality of Competition ratings via BehindtheNet.ca:
Chris Kunitz (0.168)
Jordan Staal (0.140)
Pascal Dupuis (0.111)
Brooks Orpik (0.106)
Paul Martin (0.106)
The Jack Adams Award is one of the toughest to win back-to-back years.  As long as there aren't any unbelievable underdog stories and the Penguins stay atop the standings, Bylsma should be in the running for the award again this season.
This week's stat to ponder:
Give Craig Adams an hour and he'd hit you 12 times.
Adams averages 11.56 hits per 60 mins of ice time to lead the Penguins.  Arron Asham (9.03) is second and Brook Orpik (8.43) is third.
Despite his physical style, Adams has never missed a game due to injury during his stint with the Penguins.