Boston's goaltending situation this season has been strange. Tuukka Rask, who many questioned heading into the season, is out to a tremendous start. His stats for the B's this season look very similar to those from 2013-14 when he won the Vezina Trophy as the league's top goaltender.
Behind Rask, Boston's goaltending has struggled. Anton Khudobin, who successfully served as Rask's backup during the 2012-13 season, has been much less successful in his second stint with the Bruins.
With Khudobin struggling, it makes sense to look deeper into the organization to check on how his potential replacements are doing. Here's a summary of how Boston's minor league goaltenders have done so far this season.
Malcolm Subban
Malcolm Subban's professional career has been as inconsistent as it has been confusing. The goaltender that many considered to be Boston's best bet for the future a few years ago is now approaching "bust" territory.
When Subban joined the Providence Bruins in the 2013-14 season, he put up good enough numbers to justify the belief that he could be a reliable NHL netminder one day. His first season in the American Hockey League was pretty successful. Subban posted a .920 save percentage accompanied by a 2.31 goals against average in 2013-14.
And then 2014-15 hit. Subban's stats in the AHL weren't too bad, but his first showing in the NHL gave Bruins fans many doubts. In his NHL debut against the Blues, Subban gave up three goals on six shots before being pulled midway through the second period. He looked completely out of place.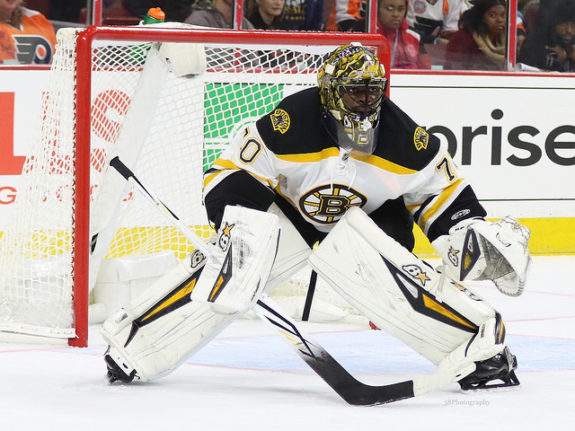 Midway through the 2015-16 season, it seemed as though Subban had found his game. He went on a tear in February, posting a .939 save percentage in a seven-game span for the baby Bruins. Then, emergency struck. Subban was hit in the throat by a puck during warm-ups and fractured his larynx. It ended his season.
Upon recovery, Subban hoped to turn the corner for the Bruins this season. Unfortunately, that has not been the case. Instead, he's had his worst statistical season yet. The netminder has posted a .897 save percentage and a 3.17 goals against average in 14 AHL games. He had a shot at redemption against the Minnesota Wild in October, but, once again, Subban looked lost on the NHL ice. He gave up three goals on sixteen shots before being pulled again.
If Subban wants to have a future in the NHL, then he needs to turn things around quickly. Bruins management is losing confidence in the young goaltender who many thought would be Boston's future.
Zane McIntyre
If there's been a bright spot in Boston's minor leagues this season, it's Zane McIntyre. The former University of North Dakota standout has looked outstanding in his second season with Providence.
McIntyre has posted a perfect 9-0-0 record for the AHL Bruins, accompanied by a .953 save percentage and 1.35 goals against average. He's given up two or fewer goals in eight of his nine starts, including five one-goal performances.
Zane McIntyre's now played enough minutes to take over as #1 AHL goalie in both save % (.953) and GAA (1.31)

— Mark Divver (@MarkDivver) December 19, 2016
McIntyre's made three appearances for the NHL Bruins this season, including two starts. In his time with the varsity team, he's posted an 8.59 save percentage. From the looks of it, McIntyre could use a little more time tuning up his game before becoming an NHL regular, but the future looks very bright for a netminder who's improved tremendously since last season.
Daniel Vladar
The Bruins signed Czech netminder Daniel Vladar to a three-year, entry-level contract back in April, after drafting the 6′ 5″ goalie in the third round (75th overall) of the 2015 Entry Draft.
Vladar formerly played for HC Kladno in the Czech Republic before heading to the United States to play for the Chicago Steel of the USHL last season. With the Steel, Vladar posted a 12-12-4 record with a 2.31 goals against average and a .920 save percentage. He's represented the Czech Republic at the World Juniors Championship three times, including this year's tournament.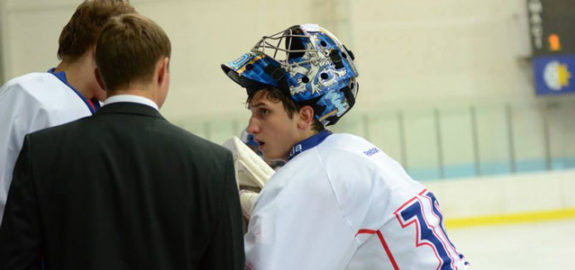 This season, Vladar has jumped between the Providence Bruins of the AHL and the Atlanta Gladiators of the ECHL. He's posted a .914 save percentage and 2.84 goals against average in six games in the AHL, as well as a .907 save percentage and 2.93 goals against average in the ECHL.
Vladar needs to develop before the Bruins take a serious look at him – he's only 19-years-old – but the B's could have a very solid netminder in Vladar.
The Future
The second half of the season will be important for each of these netminders. Malcolm Subban will look to turn things around in what could be his final chance to make an impression for the Bruins. Daniel Vladar, on the other hand, will look to continue improving in the AHL and ECHL. Vladar is very young, but Boston should be happy with what they've seen from him so far.
It is Zane McIntyre, however, that should interest Boston the most. McIntyre is tearing up the AHL this season. If he can keep his numbers up, there's a good chance we'll see McIntyre in a Bruins uniform before season's end. With Khudobin struggling, and McIntyre proving that he can handle the AHL with ease, it makes sense to give him another shot with the varsity team later this season.