With the season nearing its halfway mark and the calendar year winding down, now is an appropriate time to grade the New Jersey Devils' play. General manager Ray Shero has had two seasons while head coach John Hynes has had nearly 120 games to build a winner. How have they fared in the first half of the 2016 season? The offense has had its moments but seems to have struggled to reach par. Surprisingly, the song remains the same for the defense. Are they ready to take the next step in 2017?
Management: B-
In 2015, Shero's first as general manager, the team's roster strategy was predicated on removing dead weight and adding low-risk signings to round out the lineup. Shero's team failed for the most part in 2015 but collected draft picks and prospects to create a strong pipeline for the future.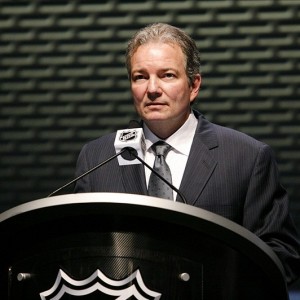 In 2016, Shero took a more aggressive approach in team composition. His drafting is too recent to call but he traded for superstar Taylor Hall, brought in two Pittsburgh expats, Beau Bennett and Ben Lovejoy, and made several low-key signings like Kyle Quincey, Yohann Auvitu and P.A. Parenteau.
Thus far, the contributions have been mostly positive. Hall is on pace for a 70-point campaign and seems to be as good as advertised. Bennett was a low-risk pickup and is showing flashes of potential. Lovejoy is steady but unspectacular, unable to produce points but rather adept on the penalty kill. Auvitu is a mixed bag but belongs on the ice in most games. Parenteau has provided the offense with a scoring spark. The only net negative of the group is Quincey, who has struggled since arriving in Newark.
Shero's trade work has been great since arriving in New Jersey and, while his free agent pickups have been pretty hit or miss, the one commonality is that he never broke the bank for anybody. Granted, Shero did not fill many of the major needs on offense or defense via free agency, but teams that have tried to do that lately have regretted the decision.
For all that, Shero deserves a B-.
Coaching: C-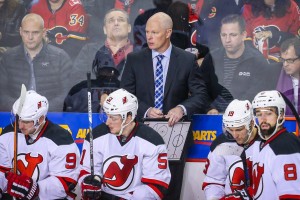 Shero put the pieces together for Hynes, whose job is to deploy talent in a way that can win games. That has not worked lately, with the Devils losing 10 of their final 13 to close out the calendar year. It's shocking to see a run like that for a team that, just a month ago, was one of the league's hottest. Complicating matters further is the fact that the roster has a nearly pristine bill of health at the moment. So what's going on?
Some of the team's roster concerns have been delineated numerous times but one thing that's always hard to calculate as an outsider is the role of coaching. Hynes has not had any major blunders at the helm, but he doesn't seem to have the entire locker room. The team's play in some games has lacked hustle and a lot of that falls directly on the coach's ability to motivate his team. When they were stuck in a hopelessly long winless streak, Shero cursed out Hynes' team to the media and, after winning against Philadelphia, would lose the next two to Pittsburgh.
From https://t.co/N7Yy1sgrl4 (Record): GM Ray Shero to #Devils players: 'Play (Bleepin') harder,' backs Hynes '100%'https://t.co/M8GERf81RN

— Andrew Gross (@AGrossNewsday) December 21, 2016
Not every coach needs to be the motivating type: just look at Columbus' John Tortorella. However, what a coach lacks in empathy and influence, they must make up for with impeccable strategy or great developmental skills.
Hynes was well-known for the latter, but to date none of his young players have taken major steps forward under him except for Kyle Palmieri – which could be the result of a great opportunity on a top line in New Jersey. Talented players like Jon Merrill, Adam Larsson, Eric Gelinas, Seth Helgeson and John Moore have struggled to pull it together under Hynes – despite that prospect development was the coach's specialty in Wilkes-Barre/Scranton.
His strategies, which involve unbalanced forward lines, specialized defensemen, and overworked goalies have proven to work at times in 2015-16 but so far in 2016-17 have fallen flat. The offense is still being slowed down by the bottom-six. The defense has failed to contribute offensively lately after a white-hot start to the season. In net, Cory Schneider is being worked into the ground while Keith Kinkaid makes occasional appearances and consistently shines.
For his hotheadedness and his inability to right the ship when things go awry, Hynes deserves a C- for his performance in 2016.
Forwards: C
Given that they have a direct effect on the team's record, the offense deserves a lengthier analysis before handing the entire forward corps a comprehensive grade. Without turning this examination into a matter of semantics, what is under question? On the one hand, the offense that started the season was above average by NHL standards while the current mark is bottom of the barrel. The top-six has been electric all year but the bottom-six provides little in their extended chances.
The Devils currently sport a 2.25 GF/G rating, 27th in the league. Last year, they finished with 2.22 and were last in the league. That incremental rise is practically meaningless as one fewer goal would tie them with last year's mark.
It's a shame that an offense which lost little significant talent over the course of the offseason, manages to find itself in the same position it was in last year, but the reason is pretty clear to see.
It is not surprising that the top-six is outperforming the bottom two lines, but the magnitude of the difference is striking. Bennett, for example, plays 13:47 per game while Parenteau plays 15:34. However, Parenteau is on pace to more than double Bennett's point projections.
A 70-point season would be ho-hum for Hall, while Zajac's current pace would mark a clear career renaissance. Cammalleri has slowed down since his torrid run earlier, while Palmieri and Henrique have started scoring with consistency.
The rest of the offense ranges from inconsistent to dreadful. Kalinin, Josefson and Fiddler are bottom-line talents meant to provide energy and bang bodies, so it's understandable that they do not produce. The third line, which usually features any of the above names (in green on the graph) has struggled to live up to its name.
If the Devils are going to contend anytime soon, that third line needs to be more consistent. Finding a solid center for that third line will be a major first step in the right direction, as the wingers have had success in other cities and in other seasons. The offense deserves a C for its underperforming but potential-laden ways.
The offense deserves a C for its underperforming but potential-laden ways.
Defense: C-
The Devils have struggled to prevent goals – a problem for both the defense and goalies – but also allow far too many shots. The team's 31.9 shots against per game is 24th in the NHL and the defense is mostly to blame for that.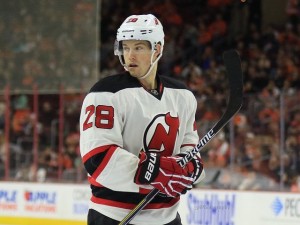 The Devils' defense is a mixed bag at creating chances on offense. Some, like Damon Severson and John Moore, are having career years on offense. Severson has calmed down since his early season scoring breakout, while Moore has consistently produced offense for a team in desperate need of it.
Auvitu has shown great acumen and hockey IQ when positioned in the offensive zone but is still learning the ropes on the back line. Greene is playing very difficult minutes, typically in the defensive zone against the other team's top lines. Still, Greene is the team's best defender and one of the most underrated in the league.
A subpar offense can only succeed if the defense is well above average. The Devils' defense usually holds its end of the bargain but so far has been unsuccessful.
For that, they get a C-.
Goaltending: C+
The Devils goaltending, in a rare turn of events, has become a weak spot lately. Cory Schneider started the season on fire but has since frozen. He's ice cold lately and his .904 save percentage is far below league-average and one of the worst marks among starters.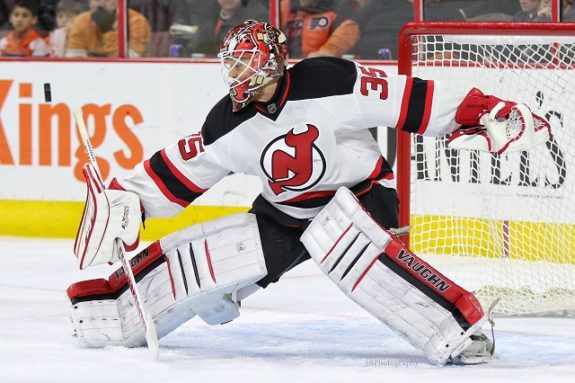 It's unclear why Schneider has been unsuccessful lately, but perhaps it could be related to his heavy workload. When goalies put together a string of bad games, it can help to give them some time off. Schneider has played in 10 of the team's last 12 games, including a back-to-back just before Christmas.
With Kinkaid playing lights out lately, it's worth wondering why Hynes hasn't given his backup more starts. He has a .930 save percentage, one of the best marks in the NHL. These performances are especially surprising after Kinkaid's rough sophomore campaign in 2015-16.
Given Schneider's incredible success at all levels, it is doubtful that he is regressing or that this is his true talent. Soon enough, Schneider's play will improve to the mean, which is his stunning .923 career save percentage. When that happens, the team's goaltending will no longer be a concern.
For the Devils' goaltending performances this season, they deserve a C+.