Carolina Hurricanes head coach Bill Peters met with the media as he always does after a game. The occasion was Friday night's 'Canes 3-2 win over the visiting Chicago Blackhawks. Over 18,000 fans enjoyed a game that some described as a "playoffs atmosphere." Raleigh's PNC Arena was near capacity for a change, and fans of both teams saw a tremendous game.
Peters Postgame
Peters was asked the typical postgame questions about this player or that goal, answering as always with detail and thoughtfulness. I waited for the specifics of the game to be addressed by my colleagues and then asked a question that has been stirring in my mind for a while. I see as a consistent tenacity, a "fight" and energy on the players that has not been a characteristic of the 'Canes in some time. I asked Peters if this is something that he coaches or is letting grow among the players themselves. Peters replied,
Well it's a competitive environment. You know guys that have been out have been out for a long time, unfortunately. And then when they get their opportunity to come in they want to stay in. So, in order to stay in you definitely have to win. And even then we still have some decisions to make.
Then he continued with what I thought was extremely compelling, a glimpse beyond the curtain of what it means to be a Hurricane under Peters and GM Ron Francis. Peters said,
We talk about it all the time. You look back to Ronnie's drafts, the DNA of a Hurricane and what it's all about and how competitive you have to be to be here. If you're not a competitive person you're not going to be able to survive in our program. That's what it amounts to, it doesn't matter.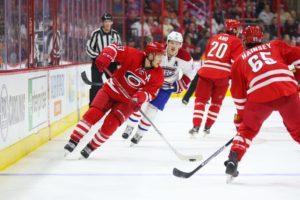 The DNA of a Hurricane
There it is, the DNA of a Hurricane is competitiveness. I can see it starting to take root throughout the team, I think fueled by the competitiveness of one Jeff Skinner. Skinner has been playing with a fierce competitive spirit, and I truly believe that it is impacting the rest of the team in a positive way. Peters went further behind the curtain revealing even more of the team's philosophy. Peters said,
Everything once you get here is on an as-earned basis. We don't care how old you are, we don't really care where you're drafted. We care about results.
I have been convinced from day one that Peters and Francis have a plan, not just to rebuild or stack the Hurricanes with a bunch of young players. We now know what it is that they are looking for — being competitive and getting results. We saw a bit of that from Peters early on when he invited Alexander Semin to "have a seat." He let it be known that he was not going to put up with a player not giving the effort expected of them in the NHL in general, and as a Hurricane specifically.
Bottom Line
Peters summarized further the DNA of a Hurricane by saying,
It's pro sports. Wins are important. If you help us win hockey games, then obviously we take notice of that and away we go. But our guys are competitive, our guys like to win. We've got a really good locker room; we've got a real good energy about our group. And they care about each other. So, we're starting to become a really good team.
Yes, the Hurricanes are starting to become a really good team. But it is also frustrating that they are in a similar position to last season as far as points accumulated at this point. It puts huge pressure on the players to go out and get points every night.
Watching CHI-@NHLCanes before #OrangeBowl. Whole lot to like about Bill Peters' club. Fast skating, good offensive system, young talent.

— Bill Whitehead (@BillWhiteheadFL) December 31, 2016
DNA is something permeates the human body, and if the DNA of competitiveness continues to permeate the Hurricanes, they should be knocking at the playoff door this season, and perhaps even more certainly next season.
Filling the PNC Arena in Raleigh with 18,000 more often will help, and hopefully, the fans will see what I see in this group of young, tenacious players. They want to win and are playing like it. That is a giant step for the 'Canes.