As the 2016 calendar year closes, it's only natural to reflect on some of the year's major stories in Oil Country. In no way making that job a small task, the Edmonton Oilers weren't shy of headline-grabbing news. At the top of most of that news was/is Peter Chiarelli. Has he done an effective job at leading the Oilers' franchise in a new direction?
If you examine where the Oilers are at simply by taking a look at the standings — which many will do to judge success — you'd have to concede that Edmonton is clearly an improved team. To end 2016, the Oilers sit in a playoff spot and near the top of the Pacific Division. If you dig deeper, there are some decisions that still look great, but others that could be considered head-scratchers.
The idea here is to lay out some of the biggest decisions made by the Oilers general manager in 2016. By hopefully being impartial in our assessment of each decision, then make an overall determination, the end result will be a grade on the job Chiarelli has done to date. Will he get an F, D, C, B or A?
Traded for Patrick Maroon: A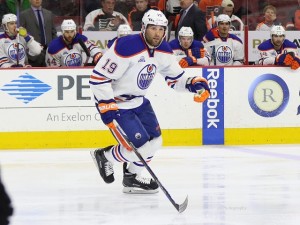 I don't know how you'd look at the Maroon trade with Anaheim and call it anything but a fleecing by Chiarelli of the Ducks. Clearly, Anaheim had some motivation to move the player — paying a portion of Maroon's already fair cap hit in the process — but, Maroon has been nothing short of outstanding for the Oilers with 19 goals and 31 points in 53 games.
Maroon has been moveable up and down the lineup, not too slow to play with someone like Connor McDavid and not too skilled to play an energy and grinding role with bottom-six forwards. He's a net-front presence on the power play, sticks up for his teammates and is an emotional player the team has endeared themselves to.
Chiarelli should get some real points in the plus column for this trade but the tester may come as the 2017 NHL Expansion Draft approaches. The Oilers have some decisions to make on defense and that means potentially leaving Maroon exposed to Las Vegas. Chiarelli was crafty to obtain Maroon, can he be crafty finding a way to keep him?
Trading Ben Scrivens for Zack Kassian: B+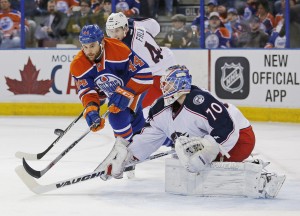 This trade actually took place on Dec 28, 2015, but because it's only three days shy of being a 2016 transaction, I'm going to count it seeing as the Oilers are getting 99.9% of the value from this trade in 2016.
Scrivens was a goaltender who had done well by the Oilers but was making $2.3 million per season to play in the Oilers' minor-league system. His time as an Oiler was closing and it made sense to ship him elsewhere. Unfortunately, there wasn't — and still isn't — a big market for backup goaltenders on the backside of their hockey careers. As a result, Chiarelli took a gamble on Kassian.
Kassian had a lot of baggage that was coming with him to the Oilers. His on-ice an off-ice antics nearly cost him a career as an NHL player and what Kassian needed was a new environment, a fresh start and the ability to write the next chapter of his playing career with a much better storyline. He's done that and more in Edmonton.
Today Kassian is a favorite among fans and his teammates. He's found that fine line between being a talker and agitator and backing it up. So as not to be seen as a one-dimensional player, he's added some skill and special teams play to his resume. He gives 100 percent on every shift and he's contributed to whatever line he plays on. He is a handful for the opposition.
Kassian is another forward the Oilers may have to make a decision on. At the start of 2016, Edmonton never would have been concerned about leaving him exposed in the expansion draft, but that may no longer be the case as Kassian, alongside Maroon, rank the Oilers among the NHL's best in functional team toughness. Both are useful assets at a low price-point.
Adam Larsson for Taylor Hall: C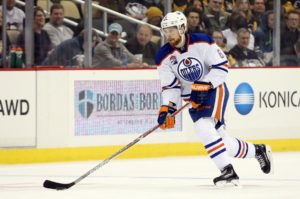 This is a trade by Chiarelli that was debated for most of the year and will be potentially for years to come. On paper, Hall is more skilled than Larsson. One-for-one, most managers wouldn't make this trade. Chiarelli felt the Edmonton Oilers had to.
This isn't the first time Chiarelli has traded a star away from his team for lesser value. Tyler Seguin — the second draft selection after Hall in that year's draft class— was traded to Dallas by Chiarelli not much earlier when the Boston Bruins felt Seguin wasn't serving the team the way he should. Seguin rebounded and the Stars got a bonafide star center. Hall was traded to New Jersey and, even though often injured, still has 23 points in 27 games for the Devils.
Larsson meanwhile has only six points in 37 games, but that's not his role on the team. He was brought in to play a shut-down defensive role and solidify the blue line. The idea was that Larsson would be Edmonton's top line right-handed blueliner for years to come and at a reasonable cap hit. Larsson has been good, but the jury is still out on just how good. Proponents of the trade will say Larsson is one of the reasons the Oilers are a more balanced team. Those opposing the trade will suggest that there is never a good reason to move a player of Hall's pedigree.
Signing Kris Russell: B-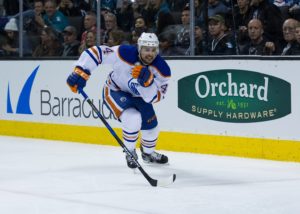 At a close tie with the Larsson-for-Hall decision, signing Russell was one of the most talked about transactions for the Oilers in 2016. Russell, as an Oiler, is drawing more attention these days because rumors are the organization may be looking to extend Russell immediately upon the dawn of 2017.
Russell is a controversial player. Not because he doesn't come as advertised, isn't a good fit or a poor teammate; but because Russell is one of the best examples of where analytics and the seeing-eye test don't mesh. Analytics (or "fancy stats") became a major storyline in 2016 and because Russell is used by many in the advanced stats world as an example of where the numbers don't match the love from coaches and fans, he's often brought up to argue both sides. The Oilers meanwhile, have evaluated his effectiveness based on their own criteria and determined he's potentially part of the long-term plans.
Chiarelli may not be judged on the initial signing of Russell for 2016. His contract was viewed as a short-term solution to boost the Oilers blue line for one season. Where Chiarelli may pass or fail, is in what extending Russell looks like, both in term of his contract and how he affects the Oilers decisions on defense moving forward.
Signing Milan Lucic: B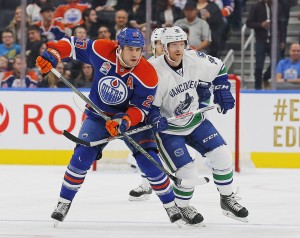 The second Hall was traded, the writing was on the wall and most knew Lucic was coming to Edmonton. He'd toured the city, it had leaked he was interested in playing with McDavid and Chiarelli had a history with the player. Lucic was going to receive a hefty salary for joining the Oilers organization and filling a massive gap left with Edmonton's top left-winger heading to New Jersey.
Lucic has been good for the Oilers. He has 26 points in 38 games and is on pace for his regular production of year's past. If he helps the Oilers make the playoffs this season, many will call this a good move. If he helps the Oilers in years two-through-five of his contract, they'll probably call it an excellent move. Should Edmonton contend for a Stanley Cup, many will look past the final two years of his deal, both of which are sure to be an albatross for the Oilers.
College Free Agents: A-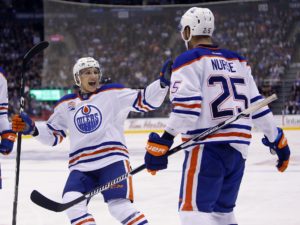 In 2016, the Oilers were among the most active teams on the college free agent front. They went after a number of players, but landed defenseman Matthew Benning and forward Drake Caggiula.
After playing extremely well in rookie camp and preseason, Caggiula started the NHL regular season with an injury and wasn't able to make an impact. He's back and playing regular minutes for the Oilers. Benning started the year in Bakersfield with the Condors of the AHL, but quickly made the jump to the NHL and immediately fit into the group playing a larger role every game when the Oilers' blue line was decimated with a variety of injuries.
Both players have the potential to be a big part of the Oilers' future plans. So too, both cost the Oilers nothing in terms of assets.
Handling of Jesse Puljujarvi: C-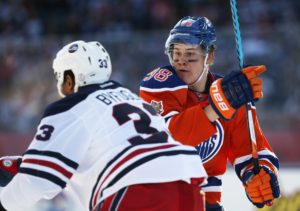 It was a no-brainer to select him when Puljujarvi fell to the Oilers at No. 4 in the 2016 NHL Entry Draft. The Oilers ran up to the podium to take a player who was a lock by almost every scouting expert as a top-three selection. Puljujarvi still has the potential to be a big star in the NHL.
The problem is, that to date, the winger hasn't made the type of impact the Oilers might have hoped. That's not terrible or completely unexpected, but that he's still with the Oilers organization and not in the AHL is a bit of a surprise.
If Puljujarvi plays under 40 games this season, the Oilers still hold a year of his status as an RFA, but they've already burned a year off of his entry-level contract status and that means needing to make an important decision on his contract and salary sooner than they may like.
The only reason this isn't getting a worse grade is that Edmonton took a similar approach with Leon Draisaitl and he's developed as a potential superstar. If Edmonton doesn't send Puljujarvi down prior to the 40-game mark, this grade should be re-evaluated.
Justin Schultz Trade to Pittsburgh: N/A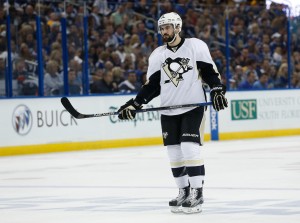 To be fair, most of the mishandling of Justin Schultz prior to his being traded to the Penguins was not part of the Chiarelli regime. This one appears to be on Craig MacTavish. That Schultz has gone on to win a Stanley Cup in Pittsburgh and is now excelling, turning into the type of player the Oilers thought they were signing when they courted Schultz in the first place, just reflects poorly on the organization.
It's unfair to give Chiarelli a grade for this one as there really wasn't much of a choice but to trade a player who had clearly regressed under the old management and coaching staff.
Other Notables: C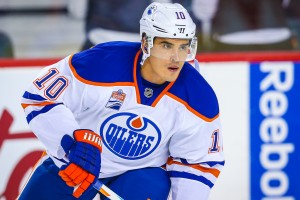 Trading Nail Yakupov for pennies on the dollar doesn't earn Chiarelli a fantastic grade, but that Yakupov hasn't done anything in St. Louis spares Chiarelli from harsher criticism.
The results of the Griffin Reinhart trade in 2015 aren't looking good on Chiarelli in 2016 and this was the year Reinhart was supposed to help the team.
Kris Versteeg coming to training camp seemed like a good idea, but that he walked to the Flames made for some interesting speculation. It's hard to determine what happened here without having all the information but Versteeg has 16 points in 26 games for the Flames and the Oilers could have used a consistent right-winger this season.
Final Grade: B
The Oilers are in a good position ending the year 2016. Where Chiarelli has made mistakes don't seem to be in areas that are greatly affecting the Oilers on-ice performance this season. There could have been improvements and Chiarelli would probably be the first to admit it, but overall, he's done a more than adequate job.
What will 2017 hold of the general manager? Will he have as good a year as he had in 2016?