The Calgary Flames have been all over the Western Conference standings this season. Calgary got off to a rough start and was counted out pretty early from being a playoff contender, sitting among the league's worst teams at the beginning of the year. But after a string of wins to start off December, the Flames find themselves in a wild-card spot, battling for the postseason.
Now the question becomes, is it sustainable? It seems clear that the Flames will have a really solid team in the coming years, but with the players they have now, are they good enough to be expected to make the playoffs?
Forwards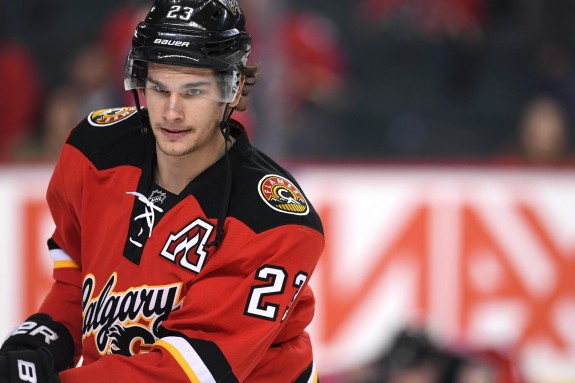 After signing giant deals in the offseason, both Johnny Gaudreau and Sean Monahan got off to very slow starts this season. Gaudreau has seemingly gotten himself back on track, with 15 points in his last 12 games, while Monahan has been inconsistent. After a 10-game point streak, Monahan has gone his last four games without a point. If the Flames hope to reach the playoffs, they'll need their top two forwards to consistently be putting up points.
As far as secondary scoring goes, Calgary has been getting it from all angles. Kris Versteeg, Mikael Backlund, Michael Frolik, Matthew Tkachuk, and Sam Bennett have all been doing their part on offence, and have contributed well for the Flames. Calgary undoubtedly has the talent on the front end to make the playoffs, but will need to make sure the entire forward lineup is producing in order to get there.
Defence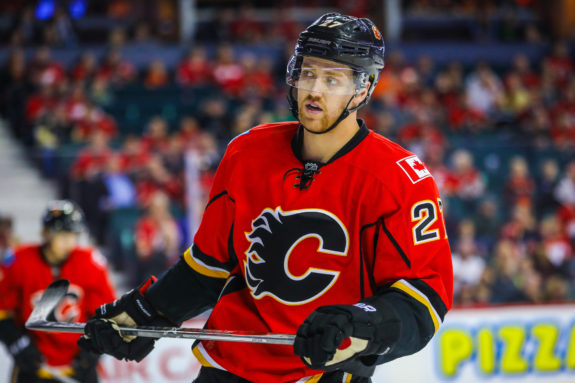 Between Mark Giordano and Dougie Hamilton, the Flames have themselves two of the best defencemen in the Pacific Division. Giordano has been underperforming slightly, playing good defensively, but not contributing nearly as much offensively as he has in past years, and he's not the only one underperforming.
TJ Brodie, who was a standout for Calgary last year has been brutal defensively for the Flames at minus-18. He also hasn't been putting up anywhere near the numbers he has been last year, with just 13 points in 38 games. Dennis Wideman has been fairly solid as a fourth defenceman in both ends, but not worth his $5.25 million salary per season.
The problem with Calgary's defence isn't a lack of talent — it's that their top four defencemen haven't lived up to expectations. If the Flames' defence corps can turn things around, Calgary should have no problem keeping pucks out and getting more goals on the board.
Goalies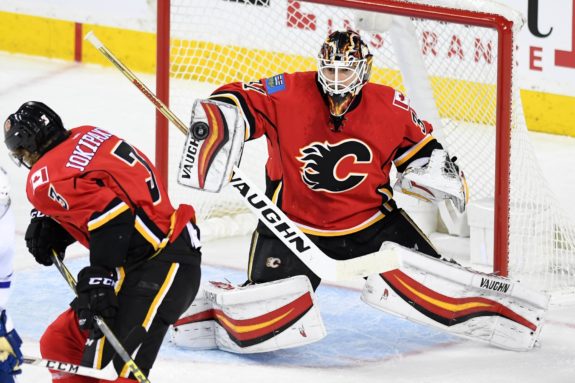 Despite Chad Johnson's four-game losing streak, the Flames really do not have a goaltending problem. Johnson still holds a .920 save percentage and a 2.34 goals-against average, which is pretty decent for a starting goalie in the NHL. In terms of Brian Elliott, despite the season not going anywhere near according to plan Elliott has played fairly well recently in limited action.
Since Nov. 28, Elliott holds a 3-0-1 record and a .917 save percentage in his last five games. This season, Elliott has been a shadow of his former self but will do his job as a backup to Johnson. As far as on paper goes, Calgary's goaltenders may not be a giant strength, but they're not a reason to miss the postseason.
Comparing the Flames' goaltending to that of the teams they're competing for a playoff spot against, Johnson takes the cake over Peter Budaj in Los Angeles or the Kari Lehtonen/Antti Niemi pair in Dallas.
As far as making the playoffs goes, on paper, Calgary should be there. Maybe not in a high seed, but they should make it. Calgary's biggest problem in all positions has been consistency and underperforming stars, but if the Flames are able to fix this, they're without question a good enough team to make the playoffs.