The World Junior Championships is one of my favorite hockey tournaments to watch during for a few reasons. As a fan of junior hockey, it's fun to see glimpses of what the future of hockey might look like. This tournament also provides the opportunity for lesser-known players to make a name for themselves. On top of everything else, it is also just fun to watch.
This year the Carolina Hurricanes have four prospects representing their home countries — Janne Koukannen is currently playing for team Finland, while team Canada's roster includes Jake Bean, Julien Gauthier and Nicholas Roy.
This high amount of involvement in World Juniors is not new territory for Hurricanes players. As of right now, 14 active 'Canes have played for their country in this tournament. Here is a look back at some of the most successful World Junior Championship players that are currently under contract with Carolina.
Teuvo Teravinen
Teravinen's time playing for Finland's under-20 team was nothing short of outstanding. Representing Finland in both 2013 and 2014, Teravinen compiled a truly impressive international hockey resume. Spread over two years, Teravinen has scored 26 points in only 12 games. This remarkable scoring pace places him tied for the 14th highest point total in WJC history.
But that isn't the only way in which he contributes. He also served as a strong leader for the Finnish squad, serving as captain for the 2014 Finnish gold-medal winning team. With a lot of help from Teravinen, the Fins would go on to topple the powerhouse Canadians 5-1 in the semi-finals.
In the gold-medal match, Teravinen showed off his playmaking abilities, posting three assists in the 3-2 overtime victory against Sweden. The win earned Finland its first medal since the 2006 World Juniors and propelled Teravinen even further into the spotlight.
[irp]
Sebastian Aho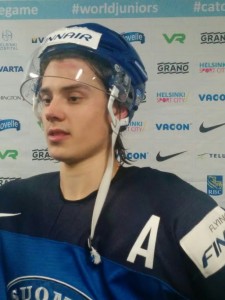 Speaking of talented Finnish forwards, I would be remiss to not bring up Sebastian Aho's body of work last year. In his second WJC, the 19-year-old Aho served as alternate captain on a stacked Finnish U-20 team.
Playing on the top line centering Patrik Laine and Jessie Puljujarvi, Aho and company steamrolled all competition. The three linemates would all finish within the top three in points for the tournament, with Aho himself scoring five goals and nine assists in seven games.
Finland would go on to win their second gold in three years. What makes the win even more special is that the team won it in front of a home crowd in Helsinki.
On the road to victory Aho helped out with a goal and three assists in a 6-5 victory over Canada. Aho also put up two more helpers in the gold-medal game against Russia. By the end of the tournament, he had made many new fans, including Teemu Selanne who boasted that Aho may just be the best player of the tournament. 
Nice comments here from @TeemuSel8nne on @SebastianAho. https://t.co/V0QIvVYaeJ pic.twitter.com/yDSQrisqvA

— Mike Sundheim (@MikeSundheim) September 8, 2016
Elias Lindholm
Elias Lindholm had two very solid tournaments for Sweden, winning back-to-back silvers in 2013 and 2014. In his first year playing in the Under-20's Lindholm put up two goals and two assists in seven games. This also marked the first time that he and future NHL teammate Victor Rask ever played on a line together.
While Lindholm did hold his own that year his real breakout WJC was definitely in 2014. Scoring nine points in seven games he played a major role in Sweden's sixth medal in the past seven years. Highlights of Lindholm's world juniors include a four-point game against Slovakia and a three-point game against Norway. He ended his World Junior Career with 13 points in 12 games.
[irp]
Alex Nedeljkovic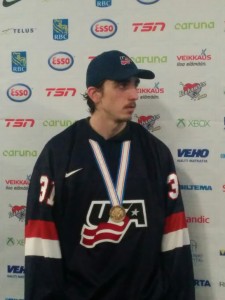 Sebastian Aho was not the only Hurricanes prospect to excel at the 2016 World Juniors. Another player that generated a lot of attention was USA's goaltender Alex Nedeljkovic. He started in six games for the Americans and came out as the most important member of a squad that consisted of known stars such as Austin Matthews, Matthew Tkachuk and Zach Werenski.
During the tournament, Nedeljkovic would go on to post a 0.943 save percentage, as well as a 1.66 goals against average. His best performance came in the quarter-final against the Czech Republic. Stopping 28 shots in a 7-0 shutout victory to advance to the semifinals against Russia.
In a heartbreaking semi-final matchup, the Russians would down the Americans in a low scoring 2-1 game. However, Nedeljkvoic and Team USA came back in full force for the bronze-medal contest against Sweden. Making 35 saves in the 3-8 victory Nedeljkovic provided the goaltending that America needed to ensure that they kept the game out of reach.