Now that the group stage is officially behind us, the next round is coming into focus. Sweden ran away with group A, but the rest of the rankings were hotly contested, right up until the final buzzer of the Finland/Switzerland game. Unlike group B, where the best teams were essentially decided before the tournament began, group A was highly entertaining and surprisingly unpredictable.
The Darlings From Denmark
Easily the best story of the group stage were the Danes and their exuberant celebrations. For a country that has never won a medal, the expectations weren't high. But there's always a team that seems to surprise in tournaments such as these, and Denmark was the Cinderella story.
Thanks to some help from other teams, the Danes finished in second place, much higher than likely even they expected. As a result, they will face Russia in the quarterfinals. It's going to be a difficult game to win, but we can't underestimate these guys.
SPORTS, MAN. ? #U20fi #Denmark #WJC2017 #FINvsDEN pic.twitter.com/CKP65aqRZk

— Esko Seppänen (@EskoSeppanen) December 28, 2016
Finland's Disappointment
They won a gold medal last year. They didn't even come close this year. In fact, the defending champion Finns are in danger of making very dubious history: being relegated a year after winning the whole thing.
Standing in their way is Latvia, who didn't win a game in the group stage. Finland is the better team on paper, but they haven't exactly performed well. In fact, the disappointment was so severe that they replaced their coach and coaching staff mid-tournament.
The cupboard cleaning seemed to have worked because they won their final game. Perhaps that victory and the coaching change will be just the motivation they need to overcome the Latvians and be eligible to redeem themselves next year.
In fairness, the Finns were missing their three best players (Patrik Laine, Sebastian Aho and Jesse Puljujarvi), and the lack of firepower was evident, but being on the brink of relegation wasn't their expectation going in. It was probably the loss to Denmark that really sunk them, a game they likely believed they should have won.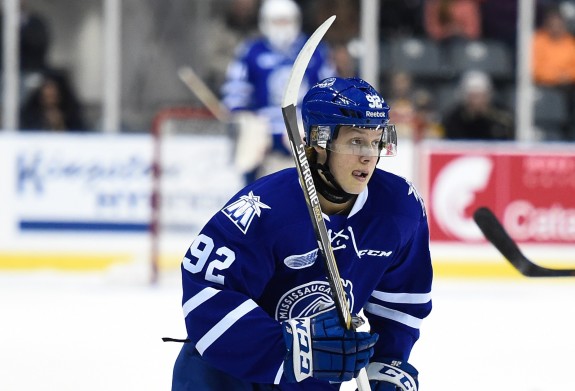 Sweden's Dominance
Sweden has now won 40 consecutive group stage games, which is a remarkable feat, but they've managed just one gold medal over that span. This year's team is one of the deepest they've ever had, and look to be a big threat to capture gold.
Canada is beatable. Russia has been inconsistent. At this point, their biggest competition looks to be the United States, a possible match-up in the gold medal game. The run of round-robin dominance wasn't lost on anyone.
'We had a special game because we had nothing to play for,' said coach Tomas Monten. 'We'd already won the group, so we said '40 games, 10 years, that's a record that will be tough to beat. I think the players wanted to be involved in that historical moment and we used it as a trigger before the game.'
The Swedes overcame the Czech Republic, who were still jockeying for position, but put the game out of reach early on. As a result, the Czech's will be forced to face team Canada, fresh off a disappointing loss to rival team USA.
It's going to be a very difficult game for the Czech's to win. They were labelled as a dark horse going into the tournament but have looked shaky through four games. That said, with the state of Canada's goaltending, nothing is a sure thing.
Joel Eriksson Ek is going to be an NHL pro for a long, long time. Might not put up gaudy numbers, but he can contribute everywhere #WJC2017

— Derek Neumeier (@Derek_N_NHL) December 31, 2016
Sweden will play Slovakia in the quarter-finals, a game they're expected to win. For Sweden, having a ten-year winning streak in the round-robin is sweet, but it's only one step to their ultimate goal.
The Swedes won't be satisfied with anything less than gold and their strong play in the group stage proved how hungry and ready they are. Led by the tournament's leading scorer Alex Nylander, and the outstanding leadership of Joel Eriksson Ek, the Swedes are dangerous and poised to go undefeated all the way. Will they? We'll find out soon.