In under a month, the best and most skilled players in the NHL unite for a weekend to entertain their fans. Fans have until January 2 to vote for their favorite players to punch a ticket to the 2017 Honda NHL All-Star Game on January 29 in Los Angeles.
There's several Anaheim Ducks worthy of consideration to drive up the 5 Freeway to Staples Center. However, it's not the perennial stars Corey Perry or Ryan Getzlaf on the radar.
Perry is struggling to find the back of the net with only seven goals and 29 points with a minus-5 rating in 28 games played. The 31-year-old forward is on pace for 15 goals which would mark the second-lowest of 13 in his rookie campaign.
Getzlaf's numbers are more staggering than his long-time linemate. The Ducks' captain has netted an underwhelming five goals, 29 points, 65 shots and a minus-eight rating in 35 games played. Getzlaf has only managed two goals, four points and 12 shots through his past eight games. It's safe to say the 31-year-old center's best days are behind him.
While Anaheim's stars are in decline and not performing well enough for an All-Star nod, there are three Ducks deserving of the selection.
Cam Fowler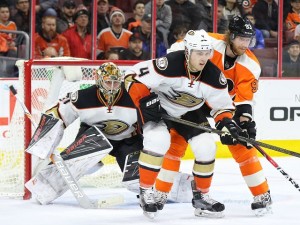 The improved play of Cam Fowler on the blue line propelled him to the All-Star ballot, deservingly so. With fellow defenseman Hampus Lindholm sitting out to start the season due to contract negotiations, Fowler emerged as a top defenseman for the Ducks and is heavily trusted by coach Randy Carlyle — evidenced by his 24:21 average ice time, nearly two more minutes than last season.
The 25-year-old blueliner's confidence is at an all-time high as he is second in the Pacific Division among defensemen in goals (nine), fourth in assists (13), second in points (22) and second in points per game/60 (.59). Fowler's has improved his play away from the puck and his defensive positioning. As quarterback of the power play, Fowler possesses one of the most underrated shots from the blueline.
Not only is Fowler the Ducks' most consistent defenseman with strong offensive instincts, he's also one of the best in the division and should represent the Pacific in LA.
Ryan Kesler
It's not only the young Ducklings making waves. One of Anaheim's veterans is playing at a high level. Ryan Kesler has done plenty to belong in the same sentence as the likes of Los Angeles Kings Anze Kopitar and San Jose Sharks Joe Pavelski.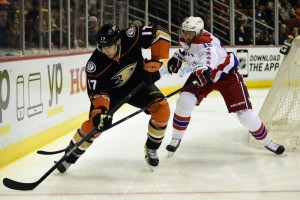 The 6-2, 202-pound center is one of the best two-way forwards in the games. He's in the top 10 among Pacific Division forwards in goals (12), assists (19) and points (31). He's also one of the best at the faceoff dot (57.8 FOW%). The Ducks have him playing massive ice time at 21:41, up two minutes from last year. The result of his increased ice time is a high level of productivity we haven't seen since his days with Vancouver Canucks, when he topped 70 points in consecutive campaigns (2009 to 2011).
Kesler has been the driving force on one of the most dominant lines in the league, and he's been steady on a Ducks team that struggles with consistency.
Rickard Rakell
Since coming back from surgery, Rickard Rakell has lit up the ice. The talented Swede is on fire with a team-leading 16 goals in 27 games this season, second to only Kings' Jeff Carter in the division.
Rakell is strong and sharp in all three zones and is the Ducks' most exciting forward.  It's unlikely he'll continue at this pace, but he's tearing things up after signing a five-year contract. Anaheim's young forward has shown his versatility by playing the center and wing positions effectively.
The 23-year old hasn't played as many games as other All-Star competitors, but the combination of his skill and knack for scoring designates him as All-Star candidate.