The group stage is done, the quarter-finals are ahead. Here's a look at the match-ups taking place at the Bell Centre in Montreal, including predictions.
Be sure to head down to the Bell Centre on Monday night to cheer on Noah Juulsen and Team Canada in the quarters of the #WorldJuniors

— Nathan Beaulieu (@natebeaulieu) December 31, 2016

Canada vs. Czech Republic
Team Canada needed a strong goaltending performance from Connor Ingram against the USA — they didn't get it.
Canada needed to stay out of the penalty box — they couldn't.
Canada had a five-minute power play that ended with a five-on-three and managed just one goal, their only marker of the game.
Was it nerves? Possibly. Was it the fact that Team USA blocked every shot they could and Canada couldn't find a way through? Was it just one of those games?
'We're going to go through some adversity in this tournament. It's better to go through it now than in the next round,' said Noah Juulsen.

Matt Barzal echoed that sentiment. 'I'd rather that happen now than in the quarters or semis. We know what it's going to take to win now.'
The good old adversity cliche. Also known as "we weren't good enough to win". Unfortunately for the Canadians, they were not the better team on New Year's Eve. Sure, it's easy to beat up on Latvia, but against a formidable opponent, Canada wilted yet again.
They did look really good against Russia, who is undoubtedly a medal contender, and perhaps the disappointing loss to the States will light a fire under them. But goaltending remains a huge concern for Canada. Who do you trust moving forward?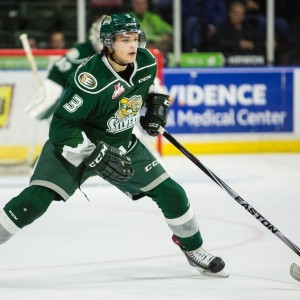 The Czech Republic have scored nine goals through four games, more than only Finland, Slovakia and Latvia. They aren't exactly lighting the world on fire.
Don't think for one moment, though, that they won't apply a similar game plan to Canada as the U.S did. Block shots, limit their time and space and frustrate them. The Czech's do have guys who can score, and all it takes is one break to go their way.
On paper, Canada should win this game, but how many times have we seen upsets in these winner-take-all bouts? Especially involving Canada, who despite being a hockey power has a knack for falling short at the World Juniors.
If the Canadians want to win a medal on home ice, they'll have to figure out how to break through a tight defensive structure, and they'll need some goaltending. Whether it be Ingram or Carter Hart, they need someone to give them a chance.
Prediction: Canada wins 
[irp]
Sweden vs. Slovakia
Perhaps the biggest mismatch of the quarters is Sweden against Slovakia, but that's why you win your group — to get an easier match-up. Of course, we can't award the win to the Swedes without having played the game, but it would be a monumental upset to see Slovakia prevail.
The Slovaks have just one win, and that was over hapless Latvia. Make no mistake, though. This is less about advancing than it was about avoiding relegation against an angry Finnish squad. Reaching the quarterfinals was always the goal, regardless of how much of a mountain there would be to climb.
'We knew if we won tonight, we'd be in the quarter-finals, which was our ambition all along,' said Milos Roman.
Sweden has been dominant all tournament long. Even when it looked like the other team had a chance, the Swedes remained composed and stuck to their game plan. They have long been one of the best teams throughout group play, but they're looking to finish this year's tournament with gold.
Slovakia's best chance to keep up is to turn in as inspired a performance against Sweden as they did against Latvia. It will be a challenge.
Sweden has now won EVERY game in the preliminary round for the 10th year in a row. (40 straight wins)

Remarkable. ? pic.twitter.com/q1eUj8S7XJ

— Robert Söderlind (@HockeyWebCast) December 31, 2016
The loss to the Russians on New Year's Eve was no doubt disappointing for Slovakia because a win would have pitted them against Denmark instead of mighty Sweden. But they made it out of the group stage, and that was an important goal for the program. Look for the Swedes to find their way into the semi-finals.
Prediction: Sweden wins
[irp]