The last thing a hockey player wants to hear is that they're being sent to the minors. For Vinnie Hinostroza of the Chicago Blackhawks, this was his reality after training camp. He played for their AHL affiliate, the Rockford IceHogs, until the Hawks recalled him in December and he came back stronger than ever.
Only one question remains — does he have what it takes to make it in the NHL?
Time in Rockford
Hinostroza didn't expect to play in the AHL at the start the 2017-18 season, but he made the most of it. In 23 games with the IceHogs, he tallied nine goals and 13 assists. He told Mark Lazerus of the Chicago Sun-Times, "Both with and without the puck, I was able to work on [mixing up speeds] a lot," Hinostroza said of his time in Rockford. "It's just hard for the defenders, hard for everyone. If you're changing up your speeds, then they have to change speed when they're skating backward."
He also rebuilt his confidence, as he told Lazerus:
"You've got to be confident in yourself, and I was confident in myself and came to the rink every day, and it drove me to work harder in the weight room and on the ice. I did that. If you go to the rink when you get sent down, and every day you're kind of a bum and don't work hard, nothing good is going to come out of it. You're not going to come back up. I just wanted to get back here."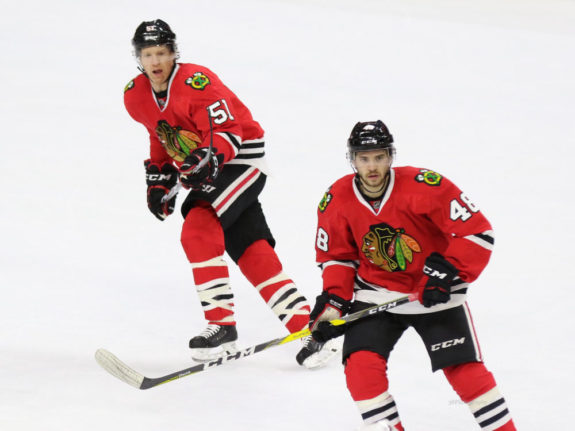 Known for his speed, Hinostroza was able to expand on that skill with the IceHogs and took it back to the Blackhawks when he was recalled in December.
Back In Chicago
After a few games with the Blackhawks, they added Hinostroza to the top line with Jonathan Toews and Brandon Saad. The three play well together and the line even Helped Hinostroza to a six-game point streak from the end of December to the beginning of January. So far this season, Hinostroza has tallied three goals and six assists for the Hawks.
Head coach Joel Quenneville thinks Hinostroza adds depth to the top line, as he tells Lazerus of the Chicago Sun-Times, ''He's taking advantage of working hard and adding an element to our team, which is energy, speed, and quickness. Getting on that top line, I commend him on how well he's done.''
Even Toews, who Hinostroza idolized as a teenager growing up in the Chicago suburbs, has praise for Hinostroza as he told Pauk Skrbina of the Chicago Tribune, "Vinnie's been complementing the two of us really well," Toews said. "He's been making plays. The three of us are working well together. We're feeling pretty confident now."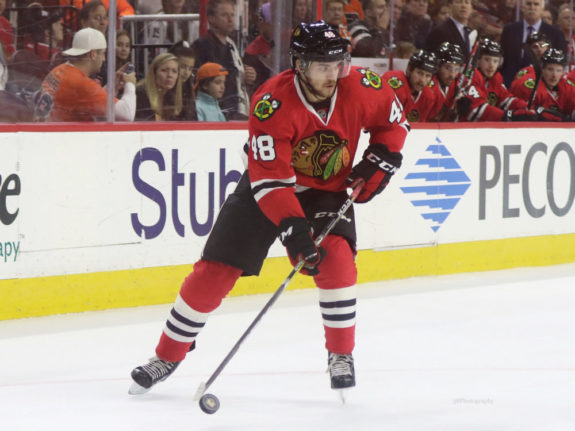 Toews continued, "He's speedy, but he seems to know where to be at all the right times. He's so shifty with the puck. He and (Alex) DeBrincat are similar in that way — they can turn on a dime and make plays. He's also got a great shot, so hopefully, we can get him the puck, give him a chance to finish one or two."
Hinostroza credits his growth to his change in confidence, as he told Skrbina, "I'm a different player than I was last year. Last year I was kind of shy and scared out there. This year I'm a lot more confident. It's not too hard when you can go out there with one of the best players in the world (Toews). It's been easy to step in."
Being on the top line with two elite players like Toews and Saad, as well as his time with the IceHogs to rebuild his confidence, Hinostroza is emerging as a key offensive player in the Hawks' lineup.
What's Next?
The rest of the 2017-18 season is critical to Hinostroza's success and future with the Blackhawks. He is starting to prove that he has what it takes to make it in the NHL, especially with the praise he received from Quenneville and Toews. If he keeps up what he's doing, he can become a strong offensive force with the Hawks that will lead to a successful career in the NHL.
Illinois State University graduate and lifelong Chicago Blackhawks fan. I also write for The Odyssey at Illinois State and Fans Talk Sports. Other than hockey, I love to write historical fiction and nonfiction.