We're going to take a quick look at and briefly analyze the Blackhawks' current line combinations. I should note that the third line will possibly have Bickell (returning from injury) in place of Brookbank in Tuesday night's game at Nashville, although it's more likely that that switch won't occur until the upcoming matchup with Vancouver Friday.
UPDATE: Bickell will be in Tuesday night's lineup.
Bryan Bickell will play tonight for the #Blackhawks.

— Mark Lazerus (@MarkLazerus) December 17, 2013
Blackhawk Forwards
Sharp-Toews-Hossa
With all three players being in the top-20 in Corsi among those who qualify, this has been the most dominant possession line in the NHL this season. Sharp has quietly climbed to 4th in total points among wingers, while Hossa slots in at 11th. Toews is riding a 5-game point streak, looking to put a prior extended scoring slump behind him.
With Toews and Hossa – two elite defensive players at their positions – there to bail him out if necessary, Sharp has the freedom to stretch opposing defenses like he does here (featuring a ridiculous Duncan Keith pass).

Versteeg-Handzus-Kane
Handzus should be nowhere near Chicago's second line for a multitude of reasons, including his being a terrible fit for Kane and that Chicago has a better #2 center option currently playing in the AHL. Speaking of Kane, he's been fabulously productive despite the aforementioned anchor on his line and his play has begun to generate some MVP buzz. Versteeg, meanwhile, has developed some nice chemistry with Kane and has 7 points in the last 7 games. Versteeg had been struggling on the third line prior to these 7 games – good on Quenneville for making the lineup change.
Saad-Shaw-Brookbank (Bickell)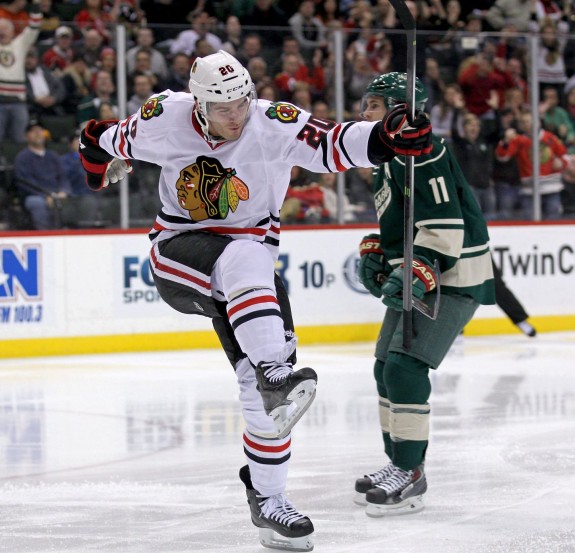 I haven't the slightest clue why Quenneville continues to play Brookbank – a lifelong defenseman – on the wing, but that's just one of many odd moves he's made this year. For every sensible lineup decision such as that with Versteeg, Quenneville makes two mystifying ones. Needless to say, Brookbank really drags this line down at even strength, and it's hardly his fault – he simply does not have the developed tendencies and instincts to contribute as a forward at the NHL level. I can't imagine why.
Bickell will be an immediate step-up in quality from Brookbank, although it remains to be seen how initially rusty his play will be after missing the last month.
As for Saad and Shaw, both have been fantastic this year. It's looking more and more like the Blackhawks got a steal with this contract.
This came when Saad was playing in the top-6, but it's so smooth I'll put it here anyway:

Bollig-Kruger-Smith
Everyone and their grandma knows what I think about BPIKU by now, so I'll just leave him alone for once. As for Kruger and Smith, they've developed a nice cycling game and have been fairly productive. Even with BPIKU doing his best Handzus (i.e. anchor) impersonation, this has been one of the league's more effective fourth lines this year.
My Bollig moratorium didn't last even two sentences. I might have a problem.
Blackhawk Defensemen
Keith-Seabrook
This pairing has been quite good this season, and at some point early in the year, Keith promptly decided to be almost as good a playmaker as Sidney Crosby just for giggles. Both players have been their usual, reliable selves in Chicago's end of the ice.
Oduya-Hjalmarsson
Nobody seems to talk about it, but these two comprise Chicago's shutdown pairing – not Keith-Seabrook –  and that assertion is strongly backed by the numbers. Oduya has had a frustratingly inconsistent season after playing the best hockey of his career last year. Hjalmarsson on the other hand has been his typical dependable self with a bit of an added offensive touch. Bonus highlight:

Leddy-Revolving Door
Leddy's still developing his defensive game and plays very sheltered minutes. Nevertheless, he's continued to display plenty of offensive talent and is the best, most fluid skater on the Blackhawks roster.
Revolving Door has had a rough year. He's really just not been very…what's that?
Oh, right. Sorry. "Revolving Door" is my fitting name for the trio of Brookbank, Roszival, and Mike Kostka. The former two have been disappointing (especially Roszival in light of what was expected after a brilliant '12-13 campaign). Kostka hasn't been in the lineup often due to an early-season injury.
Final Thoughts
1. So far, attendance at PROPHET KENT SIMPSON fan club meetings has been discouragingly sparse.
2. Thank you, Justin Tucker. Chicago loves you.
Follow Sean Sarcu on Twitter: @seansarcu