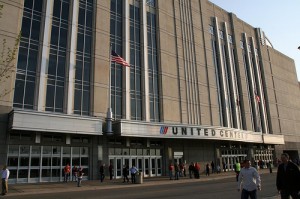 Jim Neveau, Blackhawks Correspondent
Author's Note: To read a preview of the team on defense, please click here
After many years of cold and desolate winters for hockey fans in the Windy City, the 2008-09 Blackhawks finally gave their fans a reason to cheer.
With a potent offense, a young and marketable stable of talent, and the added exposure of an outdoor game seen by millions, the Hawks ignited a powder keg of puck passion, thrilling fans with their solid play, and even teasing them with dreams of Stanley Cup glory on a playoff trip that saw them reach the Western Conference Finals.
The question, then, going into the off-season was not whether they could duplicate the feat, but could they take the next step and reach the ultimate prize: a Stanley Cup championship.
The summer has not been an easy one. Gone are veteran stalwarts like Nikolai Khabibulin and Martin Havlat, who were both instrumental in the team's success last season. In are a bunch of new veterans,  including Marian Hossa, Tomas Kopecky, and John Madden.
Kris Versteeg, Dave Bolland, and Cam Barker were also signed to contract extensions as a reward for their play last season.
Now that training camp is a mere four days away from starting, it's time to start evaluating the product that new GM Stan Bowman has helped shape. A team can look great on paper, but when push comes to shove, it is the play on the ice that will determine success or failure.
With that in mind, let's explore what the team will look like in the 2009-10 season, starting with the offense.
Offense:
This year's Hawks' offense looks to be as potent, if not more so, than last year's squad. While the Hawks last year did get a very solid 77 (29 G, 48 A) points out of a healthy Martin Havlat, the need for an All-Star caliber winger to compliment the young guns was still great.
That is, until they brought in Marian Hossa.
Hossa is an extremely skilled forward that has seen his fair share of playoff hockey, both with the Penguins in 2008 and with the Red Wings in 2009. He scored 40 goals last season, and was widely regarded as the top offensive free agent of the summer. His presence on the Chicago front line will be a welcome addition, even though it did come with a hefty 12 year price tag.
Hossa does have a shoulder injury that will keep him out until at least November, but the titillating prospect of a completely healthy Hossa, less likely to run out of gas come playoff time has to be a shot in the arm to the Blackhawks' Cup chances.
Hossa will have plenty of help with offensive catalysts Jonathan Toews and Patrick Kane. These two young men both sparkled in their sophomore seasons, with Toews racking up 69 points (34 goals, 35 assists), and Kane adding 45 assists to go along with his 25 goals.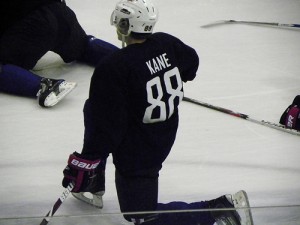 Kane's off-season certainly was eventful as well, with his arrest in Buffalo in August. His uncertain future with the team, given the current cap concerns, could be a debilitating blow as well, but most observers seem to agree that Kane is still poised to have a breakout season.
Kane's numbers last season, while slightly lower than his totals from his rookie season, were affected by the firing of head coach Denis Savard, and also by a nagging ankle injury that he suffered in December against Detroit. Even still, he led the team in power play points with 35 on the season, six ahead of his nearest competitor in that category, Cam Barker.
Toews, with his bigger build and sure hands, is also a headache for opposing teams. His 34 goals last year came after he started the regular season with a 12 game streak of not potting a single tally. His perseverance through that tough stretch certainly was a testament to the mental toughness that led the Hawks to vote him the youngest captain in franchise history last summer.
The toughness was also on display in critical moments, as Toews was 2nd on the team with 12 power play goals, and also potted seven game winning tallies to lead the team. His shot percentage of 17.4% also led the team.
One of the bigger question marks surrounding the team will be whether Patrick Sharp will be able to stay healthy this upcoming year. After a knee injury forced him out of action for a long stretch, Sharp was still able to put up 26 goals, nine of which occurred on the power play (3rd on the team in both categories).
When healthy, Sharp is a sniper who can help the team win with his attack-the-net style and calm locker room demeanor.
Another question facing Sharp is whether he will be moved to make room to sign Toews, Kane, and Duncan Keith.  Sharp's offensive skill set could provide great trade bait that the Hawks could use to add a much needed physical defenseman to shore up their shaky blue-line.
Kris Versteeg and Dave Bolland, both the recipients of large contracts over the summer, will also be looked at to step up and provide a more pro-active role on the offense. Both players had 4 goals and 8 assists during the playoffs for the Hawks, so the future is certainly looking up for these two guys.
Versteeg had a great rookie season, scoring 22 goals, including six on the power play, and scored on nearly 16% of his shots. His biggest challenge will be overcoming the sophomore slump that has gotten to many a Calder-finalist over the years, but with his skill set and talented teammates, he should have no worries getting over that hump.
Bolland centered the Hawks' most productive line last season, helping Havlat and Andrew Ladd to have really solid seasons. He also scored on 17.1% of his shots, second only to Toews on the team. He also boasted a +19, good for fifth on the team, and also impressive because he exceeded Toews in that category, and Toews is widely regarded as a great two-way player.
Bolland also was a fixture of durability, only missing one game last season.
For the Blackhawks' offense to continue running smoothly, a good year is certainly required for the 23-year-old Ontario native.
Power Play
The Blackhawks' power play was decent last year, finishing 12th in the NHL with a 19.3% success rate with the man advantage. Kane and Toews both contributed mightily to this number, racking up 13 and 12 goals on the PP respectively. Cam Barker also chipped in mightily, serving up 24 assists in man-advantage situations.
Kane also had 22 assists to go with his 13 goals to lead the team with 35 power play points.
This season, the makeup of the Hawks' power play unit will be very similar, but with one notable difference. Marian Hossa will add his skill to the mix, after coming off a 10 power play goal season a year ago. He will be on the ice with Toews and Kane during man-advantages, with Barker and Campbell manning the blue line.
Bolland, Versteeg, and Sharp will likely get the nod as the second power play line, and Keith and Brent Seabrook will likely join them. Keith's puck moving skills will be a key for the second unit, as he finished second in the league last season (behind Washington's freak of nature Mike Green) in even-strength points by a defenseman.
If the Hawks hope to become a top 10 power play unit in the league, they will not only need big years out of the guys on the first line, but also the guys on the second line, who are looking for big years to live up to their big contracts.