This just happened.
My reaction upon reading that, if you're interested.
Finally.
Joel Quenneville finally had mercy on Blackhawks players and fans alike. No more of the hockey eyesore that is Michal Handzus playing second line minutes.
Let the bards sing of this magnificent day.
And as they sing, let us examine the three remaining candidates to slot between Kane and Versteeg on the second line… because Kruger may not be there for long.
https://twitter.com/MarkLazerus/status/421127716352450560
Blackhawks #2 Center Candidate: Marcus Kruger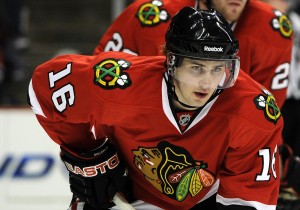 I like Kruger a lot in a checking role, but not in the top-6. The problem with giving him minutes on a scoring line is that he has about as much finishing ability as Craig Smith displays here:
http://youtu.be/KGJnDNwLfFA
Digression: Smith is going HAM on that mouthguard. Somewhere in Seattle, Pete Carroll is beaming.
Getting back to Kruger: He's been tried on the Blackhawks' second line numerous times in recent seasons, and it's never quite worked. Kruger simply hasn't displayed the offensive skills you look for in your #2 pivot, and star talent on his wings while in the top-6 (usually two of Hossa, Sharp, and Kane) hasn't been enough to make up for his shortcomings; rather, those players have seen a dip in their production while centered by Kruger. While he no longer resembles one of these on offense, he is still not a good fit for a scoring line, and certainly not one with Versteeg and Kane (two playmakers) on it.
Nevertheless, anything is an improvement over Handzus. Kruger is far from ideal, but at least he's a step in the right direction.
Blackhawks #2 Center Candidate: Andrew Shaw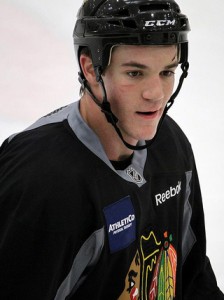 In a bottom-6 role for most of his NHL career with the Blackhawks, Shaw has been a consistently positive offensive presence, producing at (approximately) or above a 0.5 points per game clip in 3 out of his 4 seasons. Shaw has played phenomenally in spot duty in the top-6 this year, and has evident chemistry with Patrick Kane – certainly an important factor to consider in light of Kane being the linchpin of both the second line and the Blackhawks' offense as a whole. In just 91 minutes of 5-on-5 ice time with Shaw, Kane has a whopping 11 points. While that is a limited sample size, the numbers certainly cohere with the noticeable on-ice chemistry between the two.
In a related note, Shaw is the prototypical college kid.
http://youtu.be/3DlMLRj9UjI
Try and ignore how awkward and camera-cognizant everyone was.
He fits right in. I can definitely see him taking down one or two or fifty too many on a Wednesday night, starting conversations with classmates with "Dude, I can't even remember what I did last night" as if they care, and entirely ignoring academic responsibilities.
Like I said, the prototypical college kid.
One last note on the video: "Are you ready to get dusted?" sounds thoroughly… well, weird.
Blackhawks #2 Center Candidate: Brandon Pirri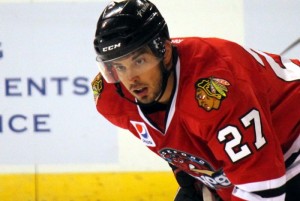 I'm the resident champion of Brandon Pirri. The guy has dominated the AHL and is the best-suited player to play top-6 duty (other than Toews) in the Blackhawks' organization. But…
https://twitter.com/MarkLazerus/status/421352520795967488
Er. Well, I'm hoping this is just Lazerus' opinion rather than something Quenneville or another coach intimated to him directly. Lazerus has been known to drink special edition Quakin' Quenneville's Kool-Aid in the past, so I'm trying to remain optimistic.
Why?
Because Pirri has the most offensive potential out of any of these three options, and it's not even remotely close.
Because Pirri's defensive deficiencies are grossly overstated.
Because Pirri can, y'know, actually score goals (Kruger's usually busy baking cookies) and would allow Shaw to stay where he fits best on the third line.
Because, quite frankly, this should have been Pirri's role last season.
Because if Pirri is called up and holds down the #2 center job, I'll photoshop his head onto Loki's body in this gif, and it will be sublime.
Ultimately, no matter which player takes the reigns, it will not be Handzus… and that is a wonderful thing.
To once again express my happiness in gif form:
The reaction of my (Blackhawks fan) friend and I when we found out that Handzus was out of the #2 center picture.
Ah, these are good days. Good days indeed.
Follow Sean Sarcu on Twitter: @seansarcu