No one said winning a trophy as coveted as the Vezina would be easy, but Tampa Bay netminder Ben Bishop has had more than his fair share of hardships lately.  On January 1, he learned that he was not named to one of three available goalie spots for the US Olympics roster.  That disappointment was soon followed a few days later by an upper body injury that forced him to leave the game against Edmonton after only playing four minutes.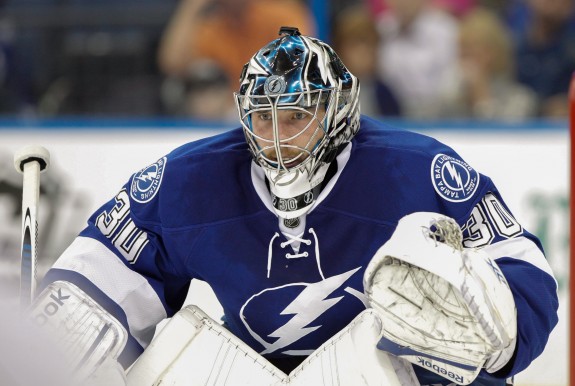 While experience hurt his Olympic chances, only wins mattered for the Bolts.  At the time of last year's trade with Ottawa that brought him to Tampa, Bishop was an unproven player, with eight wins in 13 games played.  He was not particularly stellar in his previous chances in net either, without a winning record in his first two seasons with the Blues and his first season with the Senators.  Despite concerns of the team's defense woes in 2012-2013 and a trend in Tampa Bay of poor goaltending, Bishop has played incredibly well this season.
How well are his numbers?  At the time of his departure from the January 5 game, Bishop could be found at the top of nearly every goalie stats category.  Despite playing three less games, he is tied for first with Boston's Tuukka Rask (who is already labeled as the Vezina Trophy favorite) for shutouts league-wide.  He is also third in wins this season, though he secured his 22 wins in only 32 games played, seven less games than second-place Antti Niemi and five less games than the number one Marc-Andre Fleury.
In addition, Ben Bishop is the league leader in save percentage at .935 and ranks second as the league leader in goals against average (GAA) at 1.86.  In shootout wins, he also ranks in the top of the league with four wins in six shootouts.  All of these numbers put him on pace for a 48-10-6 season.
While those numbers help his case as a strong candidate for a Vezina Trophy nomination, special consideration should be given to his climb to become his team's starting goaltender.  In contrast to the other goalies he is competing against as Vezina favorites, such as Rask, he has not served significant time as an NHL starting goaltender nor has seen any success in the post-season.
His only recent playoff experience was one game played in 2011 with the AHL's Peoria Riverman, a loss.  The Lightning, holding onto their second seed slot in the Atlantic Division, should be heading to their first post-season since 2012.  This too should be factored into Bishop's chances to win the Vezina.
The Bolts have gone 1-2-0 since Bishop's injury and will be looking forward to next week, when Bishop will be available to return from injured reserve.  Should the Denver, Colorado native continue to post significant numbers like he had in the first half of the season, the Vezina may be his to lose.