It has been more than a week since the announcement of the American Olympic roster, and despite repeated efforts in the media to stop the negative spin from GM David Poile and other members of the selection committee, USA Hockey still finds itself fighting an uphill battle against the media and so-called "snubbed" players. The latest player to speak out against his alleged treatment by the Team USA brass is Jack Johnson, colloquially known as "Captain America"—at least in Columbus—for his frequent representation of the Red, White, and Blue in international competition.
Jack Johnson: "Captain America"
Few players have represented the United States in international competition more than Jack Johnson. With more than 10 international appearances dating back to the U17 IIHF World Championships in 2004, stretching most recently to the 2012 World Championships, where he served as the squad's captain, he's represented the nation at least once in every calendar year except for 2008 and 2013.
As identified by Columbus Dispatch Blue Jackets writer Aaron Portzline, Johnson takes a very simple approach to representing his nation in international competition:
I look at it like every time I'm asked to represent my country, it could be the last time. I don't ever want to turn it down, and I never have. That's just how I was raised, I suppose. It's an honor. If I'm physically able to play, I'm on my way. Just tell me when and where, and I'll be there.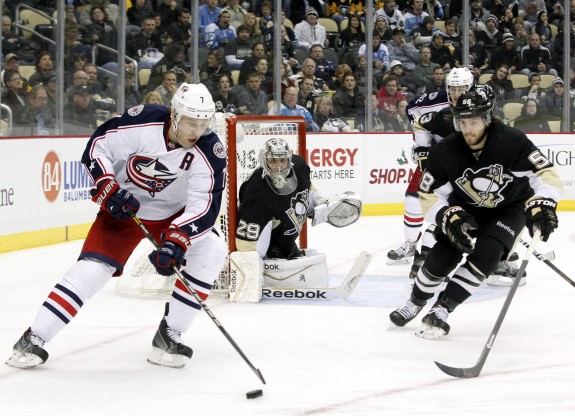 Johnson pretty much personifies American hockey on the international stage: he's a blue-collar player who skates hard, plays a fairly simple north-south game, and fits the mold of a player capable of playing on any ice surface. He has good skating ability and the ability to contribute offense from the point. Truthfully, when you consider the defensemen chosen for the Olympics this year: Kevin Shattenkirk, Justin Faulk, John Carlson, and Cam Fowler are all players who have formulated their games around the same tenants as the "elder" statesman Johnson.
Johnson's praise from members of the Team USA selection committee is also well-known. Jim Johannson, the Director of Hockey Operations for USA Hockey, characterized Johnson as an American patriot for his willingness to play overseas:
I'm always careful about how you characterize guys, but Jack has the same DNA as (former NHL defenseman Chris) Chelios. 'There's a hockey game? Great! I'm in!' Literally, that's just his approach to it, and I don't think there's any changing him.
Thanks to Scott Burnside's open access to selection committee meetings, we also know that Johnson was well endorsed by several members of the selection committee until the very end of the Olympic selection process. Brian Burke and Dean Lombardi, the GM of the Los Angeles Kings—who traded for Johnson in 2006, and then ultimately traded him to the Jackets for Jeff Carter in 2012—were very vocal in their views that Johnson deserved to be part of the 2014 Olympic roster.
Reality Check: Johnson this Season
It's over now. … Anything that's said now is empty and meaningless. When I needed the belief and trust, I didn't get it, and I didn't get it when it counted from numerous people.

– Jack Johnson
The reality for Johnson, and indubitably the justification for his fall from a "lock" to make the roster in September to an afterthought in January, is that Johnson has had a momentously poor season. His 11 points and -11 rating through 43 games this season have Johnson on pace for a low point in play he has not seen since his rookie campaign in the NHL (74 GP, 11 P, -19). Further, his Corsi score (-8.2) and Corsi For Percentage (45.8%) are third from worst on the team and indicate that the once powerful two-way defenseman has been unable to generate chances when he's been on the ice. Speaking of time on ice, Johnson has seen his average time on ice per game dip from almost 26 minutes a game (with the Blue Jackets) to little more than 23 minutes a game while Head Coach Todd Richards has increasingly turned to the pairing of James Wisniewski and Ryan Murray for a spark; particularly during offensive zone faceoffs, once an essential domain of Johnson's game.
Even despite Johnson's awful season, it is still fairly difficult to understand why he was left off the roster, even for this Blue Jackets fan that has been fairly critical of Johnson so far this season. With the likes of Ryan Callahan, and even first time Olympians Jimmy Howard and Derek Stepan all in the midst of career-low seasons, yet still on their way to Sochi, the reasoning behind Johnson's omission only becomes murkier.
A Failure to Communicate: The Real Problem with Team USA
The team's picked. I sat there and watched it on TV along with everybody else. That's how I heard. From TV.

– Jack Johnson
Perhaps the most fatal flaw in the processing of the US Men's Olympic Team was the organization's need for spectacle. Unfortunately for the great many people concerned with the actual composition of the final roster, the need for spectacle is understandable. The team has greater expectations than pretty much ever before, US Hockey is on the rise, and after the team surprised and delighted to capture the Silver Medal at the 2010 Vancouver games, the natural American tendency for one-up-manship has the public clamoring for gold at Sochi. To guide the casual sports fan's interest towards the Olympic Games, the marketing and branding personnel for USA Hockey, far removed from the agonizing selection process being made by David Poile, Ray Shero, Brian Burke, and other easy scapegoats who have been indicted for their lack of tact during the decision making process, set to work in order to provide content that would appeal to the masses, especially when they were most likely to tune into hockey: during the Winter Classic.
It is also these people who would have likely pitched the idea of bringing the likes of Scott Burnside and Kevin Allen into the "room," whether real or through conference calls, as the selection committee made the toughest decisions of their careers. It is these figures who felt that making the announcement at the conclusion of the Winter Classic, which would be a time when more casual fans would be tuned in, but also a week ahead of the overwhelming majority of roster announcements. It is also these people who had no idea that American hockey stalwarts like Johnson, Bobby Ryan, and Keith Yandle would not be part of the team.
Does the desire for spectacle—a trait shared by an overwhelming majority of Americans—excuse Poile from his lack of containment in the media? Absolutely not. Poile had an opportunity to control the spin amongst one particular group: the players. The short list of snubs for USA Hockey is a huge measure more manageable than the list for Team Canada and possibly even the Russians and Swedes; all he had to do was place a select and limited number of phone calls and explain the rationale behind the decision to skip certain players while some surprising other choices were made. But as the above quote from Jack Johnson establishes—that is certainly not what happened.
For many it would seem surprising that Jack Johnson should be so shocked in his "snub" from the American Olympic team, for others it should seem surprising that any writer who covers the Blue Jackets here would write in favor of Jack Johnson's case to be an Olympian, but Johnson's comments regarding his exclusion from Olympic participation will continue to fuel the fire surrounding the abysmal and irrational handling of the situation by people within USA Hockey who should have known better.
Keep the discussion going, #THW, find me on Twitter: @andrewroman.