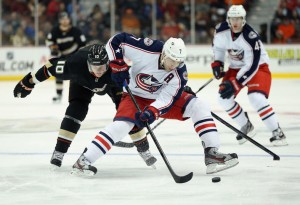 The Columbus Blue Jackets haven't quite gone away. A slow start and that up-and-down November were a confusing way to cast off, but the team has managed to keep itself just outside the playoff picture. For a team that many have forgotten (and that injuries have severely scarred), the Jackets are only two points from third place in division. Sure, it doesn't hurt to be in the Metropolitan, but the promised land remains in sight. Unfortunately for Columbus, there's a factor that might hold them back and it's the man that Todd Richards trusts every night: Jack Johnson.
Jack Johnson and the Shutdown Attempts
"Jack gets the tough assignments," Richards told the Columbus Dispatch earlier this month. And it's a sentiment that goes further than superficial comment. Jack Johnson bore the brunt of the John Tavares line versus the Islanders, was tasked with St. Louis against the Lightning, faced nearly all of Rick Nash in New York, and was thrown into the Sidney Crosby firestorm on the road at Pittsburgh. Such is the life of a top-pairing, shutdown d-man, right?
But when we look at the aftermath? That's where we find cracks in the foundation. In all four previous examples of shutdown prowess? Jack Johnson was horrified. In his "best" performance against Pittsburgh, Johnson managed a 5-on-5 Corsi For % (the percent of shots generated by the CBJ while Johnson was on the ice) of 44.7% (from Extra Skater). The other three games were much worse, and this isn't an isolated incident. Like most things in hockey, there is fluctuation. Sometimes Johnson will see CF% rise above 50%. But the problem is the long-term outlook for the d-man: Johnson is getting buried by his opposition on a regular basis.
That's bad news for a team that's relying on Johnson to stop opponents. Instead of Johnson slowing anyone down, the Blue Jackets face more shots and more scoring chances against with #7 on the ice.
Unfortunately, the story gets worse when we dig a bit further. Perhaps it's not shocking to see a non-elite d-man fail against top opponents. It is disturbing to consider the impact Johnson has on his teammates. The problem was evident when Johnson first played in the NHL with the Kings. Jack Johnson made almost every other d-man for Los Angeles worse. Rudy Kelly published the impact at Battle of California, noting that LA was a significantly better team without Johnson on the ice. At the time of the Jeff Carter trade, Derek Zona at Copper & Blue also teased apart Johnson's performance with the Kings. It's not a pretty picture, and he explains the Johnson "defense" as a black hole for his team. To make matters worse? Johnson was never used against the toughest competition, suggesting that Jack just isn't good as an NHL-level d-man.
But that's ancient history, right? If only we were so lucky…
 Blue Jackets Blueline and Johnson
We can also break down Jack Johnson's performance (like we saw in Rudy Kelly's article) thanks to the great tools at Hockey Analysis (the hockey stats site run by David Johnson). By assessing the possession performance of Columbus players with and without Johnson, we can start to uncover the d-man's work with the Blue Jackets, rather than the Kings.
First, let's look at Jack Johnson's CF% performance with other Columbus defensemen. These data are for play time between Johnson's trade to Columbus and the end of last season. D-men are sorted on by most time on ice with Johnson, so the results become less meaningful as we slide down the table. We'll limit the results to players with more than 50 minutes of ice time alongside Johnson. All data are for 5-on-5 play.
| | | | | |
| --- | --- | --- | --- | --- |
| Player | TOI With Johnson | CF% Together | CF% Apart | CF% Difference |
| Wisniewsky | 420:54:00 | 47 | 48.9 | -1.9 |
| Tyutin | 285:52:00 | 44.6 | 51.7 | -7.1 |
| Prout | 153:18:00 | 40.2 | 46.1 | -5.9 |
| Savard | 76:58:00 | 37.1 | 49.8 | -12.7 |
| Aucoin | 76:51:00 | 53.7 | 50 | 3.7 |
| Erixon | 50:44:00 | 33.3 | 47.7 | -14.4 |
The results are alarming. The only Blue Jackets d-man who saw a positive impact from playing with Jack Johnson was Adrian Aucoin. For every other player? Time with Johnson meant a significantly negative experience compared to any other time on ice. Some selected noteworthy results: Fedor Tyutin transforms from his typical solid possession self to a player fighting just to get back near 50% CF. This also provides new context to Dalton Prout. I considered the over-praised rookie to be one of the two worst d-men with the Blue Jackets last year, but now it seems that Johnson was severely weighing down Prout (and the youngster has become a serviceable player in recent weeks now separate from Jack).
Impacts Across the Team
We can do the same thing with Jack Johnson and the Columbus forwards. Again, data is compiled from Hockey Analysis and players are sorted by time on ice with Johnson. We're only looking at forwards with more than 100 minutes of 5-on-5 ice time with Jack between the Carter trade and the end of last season.
| | | | | |
| --- | --- | --- | --- | --- |
| Player | TOI With Johnson | CF% Together | CF% Apart | CF% Difference |
| Umberger | 369:55:00 | 42.5 | 48.8 | -6.3 |
| Prospal | 318:55:00 | 47 | 50.1 | -3.1 |
| Letestu | 285:47:00 | 44.2 | 53.2 | -9 |
| Johansen | 272:25:00 | 40.6 | 49.6 | -9 |
| Atkinson | 260:04:00 | 48.6 | 53.8 | -5.2 |
| Brassard | 258:15:00 | 42.2 | 50.1 | -7.9 |
| Foligno | 241:16:00 | 43.4 | 51.1 | -7.7 |
| Calvert | 183:51:00 | 47.6 | 54.4 | -6.8 |
| Dorsett | 183:31:00 | 42.5 | 47.2 | -4.7 |
| Anisimov | 175:52:00 | 48.6 | 48.8 | -0.2 |
| Boll | 150:41:00 | 41.6 | 48 | -6.4 |
| MacKenzi | 137:09:00 | 42 | 48.2 | -6.2 |
| Dubinsky | 136:37:00 | 50.9 | 50.3 | 0.6 |
| Gillies | 136:02:00 | 41.7 | 39.6 | 2.1 |
| Nash | 132:52:00 | 42.3 | 51.2 | -8.9 |
Once more, the outcomes are not flattering to Jack. The twelve most common Blue Jackets teammates are all better off when not playing with Johnson. Cam Atkinson and Matt Calvert, both underrated as brilliant play-drivers, slip below 50% when forced alongside Johnson (an unimpressive 48.6% and 47.6%, respectively). Ryan Johansen saw stark drop-offs from Jack's presence,  suggesting the center could have seen younger breakout potential without Johnson weighing minutes.
The reality for forwards: unless you're the most elite of possession players (Dubinsky), time with Jack Johnson makes you worse, almost certainly dragging you below 50% shot differential.
 The Future is Bleak
The worst news of all? There's no end in sight. Jack Johnson continues to eat the biggest minutes of all players on the Blue Jackets roster, and Todd Richards continues to put him out against the toughest of competition.
So what should we expect to happen? The Blue Jackets will just keep relying on goaltending to bail Jack out. This was a strategy that worked with Vezina-level netminding last year, but we've already seen the change in the new season. Average-or-worse save percentage means more of the chances against Johnson are going in and the reality of his play is being exposed over and over.
In the remaining schedule, Columbus has two more games against Pittsburgh, two home with Washington, and two more versus Detroit. To place Jack Johnson (and thus the Blue Jackets) at the mercy of Sidney Crosby, Alex Ovechkin, and Pavel Datsyuk six times is a recipe for disaster. That's twelve points Columbus can hardly afford to surrender if the goal is to make the postseason.
The observation is simple: playing Jack Johnson makes nearly every player on his club worse and drags the team down. The choice is the problem: continued play puts the future of the Blue Jackets season in jeopardy.