The 2014 World Junior Hockey Championship Under 20 tournament got underway on Thursday, with four games taking place. Five Washington Capitals prospects played on the day, with three playing for the United States and two for Sweden. The Hockey Writers assessed their performance with notes on each player below.
Riley Barber – Forward – United States
Possessing the main leadership role as  Captain of the United States squad, Barber, a sophomore at Miami University of Ohio, made his presence felt early in USA's opening game against the Czech Reupblic, scoring his first goal of the tournament. He skated down the left wing with speed and backhanded a bad angle shot past Czech Republic goalie Daniel Dolejs just 1:21 into the game.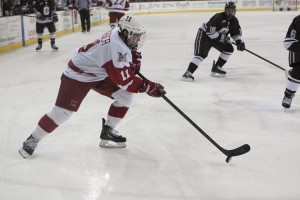 Other than his goal to open the game, Barber's diversified skillset was apparent. His ability to work in the corners and go to the dirty areas of the ice to generate offense was found abundantly. Washington's sixth round pick from the 2012 draft skated on the top forward line for the United States, with center Dan O'Regan and winger Nic Kerdiles.
Thomas DiPauli – Forward – United States
The Capitals fourth round pick from the 2012 draft contributed an assist late in the United States 5-1 win over the Czech Republic, feeding forward Vince Hinostroza on a breakaway for the Americans' fifth goal on the game. He skated primarily with forwards Quentin Shore and Hinostroza on the United States' fourth line. He only has one goal in eight games for Notre Dame this season, but still has two years of eligibility remaining to play at the collegiate level before jumping over to the pro game.
Connor Carrick – Defenseman – United States
After a multi-game stint on the injured list with the AHL's Hershey Bears, Carrick was finally back playing in a meaningful hockey game after an exhibition game prior to the tournament. His rust was obvious however, as he picked up two minor penalties on the game, for tripping and crosschecking. His tripping penalty resulted in a Czech Republic power play, but the United States came away unharmed on the score sheet.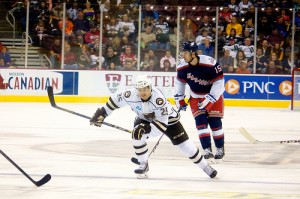 The undersized blue liner has impressed many with his capability to improve rapidly over the last calendar year, transforming his status from a 2012 fifth round pick to a potential long-term NHL player with the Capitals. His offensive skills are unquestioned, but a main area of focus Carrick needs to expand on is playing in his own end. He'll be looked on to help improve the Hershey Bears' power play when he returns from the WHJC.
Andre Burakovsky – Forward – Sweden
There was some question of whether Burakovsky would play due to injury, but he was indeed in Sweden's lineup Wednesday night against Switzerland. He picked up a power play assist on Christian Djoos' go ahead goal for Sweden which gave them a 4-3 lead. They eventually defeated Switzerland by a 5-3 score. 
Burakovsky was selected by General George McPhee and the Capitals in the first round of the 2013 draft, bringing another skilled forward to Washington. He's on the same team as former Capitals top prospect Filip Forsberg, who was traded to Nashville last year in exchange for forwards Martin Erat and Michael Latta.
ESPN's Corey Pronman describes Buarakosky below.
"He's an electrifying talent, with blazing speed and great puck skills, who can create scoring chances out of nothing. Burakovsky has always had his physical and two-way games pointed out as flaws, and while those areas aren't great, he has worked on making them better. He's improved since his draft season and looks like a really good NHL prospect."
Christian Djoos – Defenseman – Sweden
Djoos picked up a goal on the power play to give Sweden a 4-3 lead over Switzerland. Although he hasn't piled up many points in his league in Sweden, Djoos will be relied upon to provide offense from the blue line for Sweden in the WHJC this season. He fired a slap shot past Swiss net minder Melvin Nyffeler after receiving a pass from fellow Capitals prospect Andre Burakovsky.
Selected with the Capitals last pick in the draft, Djoos was taken 195th overall (seventh round) in the 2012 draft. This WHJC in Djoos' second experience in the tournament, after posting a three assist performance in six games for Sweden last year. He continues to play for Brynäs in the SHL in Sweden, totaling four assists in 30 games this season. He recorded two goals and six assists in 48 games for the same club last season.
You can follow Matthew on twitter @m_speck and email him at mspeck21@yahoo.com with any questions or comments.
Matthew Speck covers the Washington Capitals organization for The Hockey Writers. He provides coverage of both Washington at the NHL level and prospect related content. Matthew also covers local sports for the Lebanon Daily News in Central Pennsylvania. You can email him at mspeck21@yahoo.com with any questions or comments.