Unlike their North American counterparts, Team USA came out of the gates firing. They quickly established dominance by scoring two power-play goals in the opening two minutes of the game, riding the hot start to a 5-1 win.
A Quick Start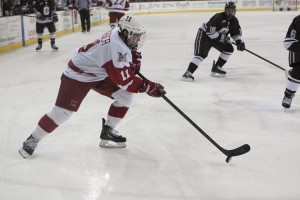 The initial spark was provided by none other than USA captain Riley Barber. The Washington Capitals sixth-round draft pick from 2012 wasted no time showing why he was named the man in charge.
"Just got some speed, took it wide and threw it on the net," said Barber. "Those are the ones you really like going in."
The Americans then took advantage of back -to-back power plays as defenseman Will Butcher cashed in moments later by taking care of business in front of the net. Before the Czechs could even warmup their hamstrings, they were already facing a multi-goal deficit.
"Getting the two quick ones, it got us going and helped to get the jitters out," said Barber.
After getting out in front, the Americans used their lead to establish momentum and control the tempo of the game. Other than a few minor gaffs – which goaltender Jon Gillies was able to cover up – the Americans remained in total control, giving up few opportunities while sustaining pressure in the Czech's zone.
Solid, Controlled Play
That would be the story of the game throughout. While not flashy, the Americans game was consistent, disciplined and controlled. USA stuck to its system and made very few mental errors.
They have to maintain the same style of play when facing off against stiffer competition. The Americans will be a tough squad to be, especially if they're not beating themselves. The key will be to sustain this style for 60 minutes. While it may have been because of the large lead, USA got a bit sloppy towards the end of the game.
"We controlled the play for most if not all the game," said Gillies. "With the team defense we are committed to, if we score two or three goals, it's going to be hard for teams to be us."
Stayed tuned here and follow me on Twitter to stay up to date. I'll be on the ground in Malmö for the duration of the tournament providing all of the latest news and analysis.
As an American based in Amsterdam, Joe provides a unique hockey insight, bringing a global perspective to the game. Joe has several years of experience covering the game on both a domestic and international level, including being credentialed for multiple World and World Junior Championships.