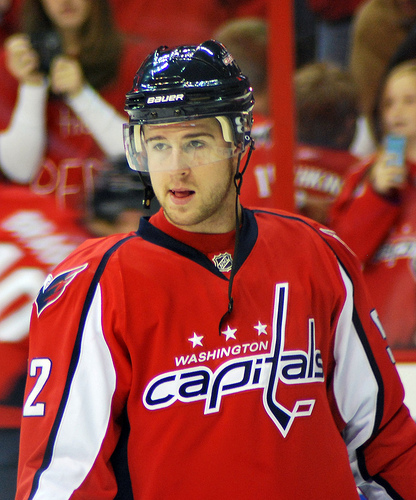 For all that's been made recently of the pervasive star-coddling wreaking havoc at Redskins Park, a similar, less pronounced version is playing out within DC's hockey team. No, unlike the Redskins, the Capitals' players and coaches are not publicly feuding; and, also unlike the Redskins, the Capitals are not in the midst of a disastrous, self-destructive plummet towards the bottom of the standings, and a lottery pick in next summer's draft. In fact, the Capitals, despite some inconsistent play, still find themselves in second place in the Metropolitan Division—solidly in playoff contention. However, like their football-playing counterparts, the Capitals' allegiance to one of their stars—or, former stars—is proving to be a significant road block towards greater success.
Earlier today, Katie Carrera of the Washington Post wrote that the Caps need Mike Green to be more consistent: "This year there have been flashes of…brilliance", Carrera wrote, "but for every clean first pass or play Green keeps alive at the point there seems to be just as many costly turnovers where he is forcing a play that simply isn't there or missed an assignment in his own zone." The "brilliance" that Carrera is referring to would be the dynamic playmaking, and puck-moving ability that Green displayed during his two dominant seasons from 2008 to 2010 (both seasons that resulted in Norris Trophy nominations). Since then, however, Green's play has been trending downwards; and it appears that he has now completely bottomed out. That is, I think Carrera is being a little too diplomatic.
More accurately, one could say that there have been flashes of competence, but for every correct decision, there have been several boneheaded plays in which Mike Green has almost single-handedly created a scoring chance for the opposition. He hasn't been "inconsistent", he's been bad. Really bad.
But while his poor performance would almost certainly mean getting benched on most teams, Green enjoys a remarkably long leash in Washington: He has not only played every game when he's been healthy, he leads all players except for John Carlson in time on ice. While Washington's coaches and front office desperately cling to the belief that Green will eventually regain the form that made him one of the top defensemen in the league, they are, in the meantime, hamstringing themselves by relying so heavily on a player that is clearly not up to the task.
For the more than 23 minutes that Green is on the ice each night, it's almost as if the Caps are shorthanded, or perhaps worse: It's like they're shorthanded, and one of their players is intentionally sabotaging the penalty killing efforts. In other words, for more than a third of each game, the Caps are losing momentum, getting hemmed in their own zone, and, at worst, getting scored on. This isn't to say that Green is entirely responsible for the Caps' defensive woes, but how can any team play a full, 60-minute game when one of its top defenseman is so consistently getting out of position, and forfeiting possession of the puck?
Now, nearly halfway through the season, Green feels that he's beginning to turn the corner: "I think I'm coming into my own again. I think it's just taken some time to get my feel in the game. Sometimes you go through those stretches. It's definitely gone on a little longer than I've wanted, but I feel I'm improving."
If he does, indeed, feel more confident, it has yet to translate to the ice. His -2 performance in the Caps' most recent game against the Ducks on Monday was, unfortunately, par for the course this season. Furthermore, it was Green's poor positioning and/or inability to clear the puck was at least partially responsible for the Ducks' first two goals, negating whatever momentum the Caps had after building an impressive 2-0 lead in the first period.
All of that said, if Mike Green is able to turn things around, it will have been worth the wait. At his best, he is truly a game changer. But after three and a half seasons of injuries and under-achieving, it might be time to accept that this is not the exception: This is the rule.
Be sure to check in with our partners TiqIQ for your Winter Classic Tickets