This just in: the Anaheim Ducks are pretty, pretty, prettay good — and on the wings of a franchise-record nine-game winning streak they come out of the Christmas break with the NHL's best record — 59 points (27-7-5). They also have two of the NHL's best players on their roster in Corey Perry & Ryan Getzlaf, with the latter getting some high praise last week from a future Hall-of-Famer. "For me, I think Getzlaf is the MVP (of the NHL)," said Jaromir Jagr of the New Jersey Devils ahead of their recent game with Anaheim.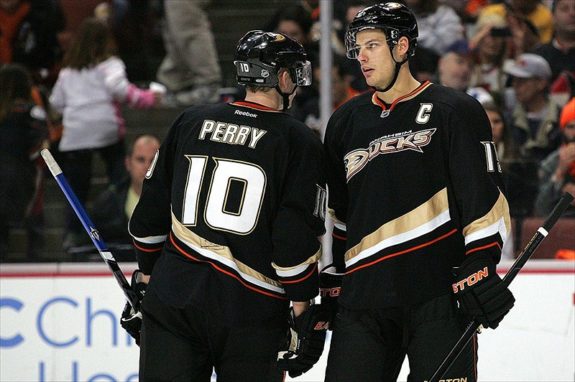 Getzlaf & Perry have both been in Anaheim since the 2005-06 season and both were obviously instrumental in the Ducks Stanley Cup championship the following season. Now as the veteran leaders on the team, they are trying to guide the Ducks back to the Finals for the first time since they beat the Ottawa Senators in the spring of 2007. This season Getzlaf is third in the NHL in points (44) and Perry is currently sixth (41), but Perry leads the NHL in game-winning goals (7) and Getzlaf is tied for second (6).
Corey Perry…he's so good his name should be Scorey Perry:
The Ducks have their own future Hall-of-Famer in Teemu Selanne, who decided to come back for one final season in an attempt to win his second Stanley Cup and to go out as a champion. "I really felt that there is something special going on here," said the 43-year-old Selanne after his team's overtime win in New Jersey. "That's the only reason (I came back); I really believe we have a good shot to go far. If we had a bad team it would be an easy decision (to not come back), but we all failed last year. We have some unfinished business here and let's see how good we can be this year; nothing comes easy."
We all enjoyed Teemu Selanne announcing his return for one more season:
In that game against the Devils, Getzlaf & Perry were held pointless, and Selanne had two assists, but it was Montvale, New Jersey-native Kyle Palmieri who scored the OT winner in his first game as a pro in his home state. "A lot of nights we have to make sure there are more guys on their game than just the first line," said Selanne after the game. "Obviously the depth is a key for this team. What makes this team special is the depth; it's a good sign. Obviously there's a lot of hard work ahead (of us), but I think we have all the pieces."
Selanne himself only has 11 points (4g-7a) in 30 games played this season, but expect a big postseason from the Finnish Flash as he has been sitting out one half of back-to-back games to keep him fresh for a deep run into the postseason. "You don't get points for any style," he said with a smile in likely his final visit to the Garden State, "you just have to find a way and that's all that matters."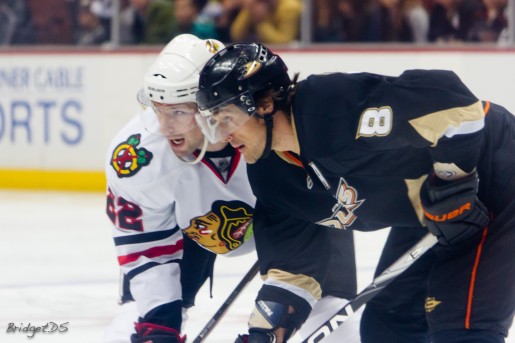 Palmieri also scored the GWG against the New York Islanders as the Ducks rallied from behind (again) to win, a night after his heroics against the Devils. Earlier this season he also had GWG's in games at the Philadelphia Flyers and at the New York Rangers, so clearly he the Notre Dame alum is stepping his game up when he comes back to the East Coast. "I had close to about a hundred people here," was his response when the Hockey Writers asked how many family & friends were in the arena to see him play. "We were driving from the hotel to the game today and I saw my old high school was playing on the practice rink here," said the 22-year-old, "with the friends and the family here, it was a pretty cool night."
Kyle Palmieri scores on a wraparound in OT for the Ducks 7th win in a row:
http://www.youtube.com/watch?v=jiB9hHbbBmM
The Ducks have what seems to be all of the right ingredients for success: two superstars in the prime of their careers, a handful of savvy veterans, an All-Star goalie, a good mix of up-and-coming kids and also solid role players. The biggest problem for them will likely be surviving the Western Conference playoffs because they will definitely have to go through teams like the LA Kings, the San Jose Sharks, the St. Louis Blues and of course the defending champion Chicago Blackhawks in order to just reach the Stanley Cup Finals. Last season Anaheim almost cruised through the regular season before being upset by the seventh-seeded Detroit Red Wings in the opening round of the postseason, so obviously anything can happen. If they are able to add some more pieces (a bonafide no. 1 defenseman would be atop their wish list) before the trade deadline, they could be primed to capture their second Cup in franchise history.
Dan Rice can be reached via Twitter: @DRdiabloTHW or via Email: drdiablo321@yahoo.com
Be sure to check in with our partners TiqIQ for your Winter Classic Tickets
Dan Rice is in his 9th year of reporting for THW & has covered NJ Devils home games for 15+ years at various websites. He began his journey working for legendary broadcaster/writer Stan Fischler from 2002-04 & completed an internship at the ECHL; he also has been writing features for the NWHL (nwhl.zone) website since 2016.