Hard to believe but it's already been 13 months since the Hockey Writers last spoke with defenseman James Wisniewski of the Columbus Blue Jackets, when the Canton, Michigan-native was kind enough to do an interview with us during last season's lockout.
With the Blue Jackets now in the Eastern Conference the Wiz and his teammates will frequent the NYC Metro area more often in the years to come. THW jumped at the opportunity to catch up with one half of the Controlled Chaos dynamic duo after Columbus' 2-1 shootout victory over the New Jersey Devils two days after Christmas.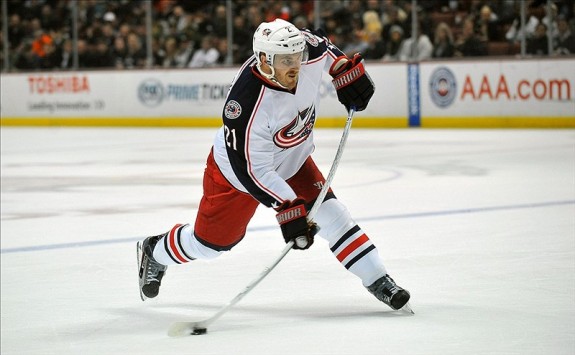 This time we find out why Wisniewski & teammate Jack Johnson have become such good buddies, what it's like facing a future Hall-of-Fame goalie in a game and what the strangest/most awkward autograph request he ever received was.
The Hockey Writers: Does it amaze you that Martin Brodeur still plays at a high level at his age?
James Wisniewski: It's incredible; what is he 42 or something? 41 and still kicking, I think a lot of these young guys can get fooled a lot because his style is a little bit unorthodox, especially with the nowadays goalies that are pure butterfly (style). He does some different things on the ice; I think it catches a lot of guys off guard.
James Wisniewski scores his 1st goal of the season (1:30 mark) against Cory Schneider back in October:
THW: Your team is in a new division and new conference this year, is it taking a while to get used to new teams that you are seeing more often now?
JW: I think the one thing that we talked about is that we had a lot of rivalries in our old division, and in the Western Conference, so I think we're still trying to find that…if you've seen our games you will see that there is still a feeling out process. I think once it really gets going, we'll find that spark, those (new) rivalries will have a little bit of an edge; there will be more high-tempo, fierce games to come.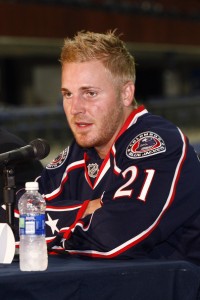 THW: Personally you are having a pretty decent season so far with 20 pts (2g-18a) in 32 games, how would you assess your performance so far?
JW: I feel great; I think I've played pretty well this year. I came into camp trying to be in as good of shape as possible — we have the full season this year. Last year was so hard with that lockout, to judge what was going to happen was hard. We train the way we do for a nine-month season; this year I'm just trying to stay healthy and the biggest thing is just trying to help my team win in any way possible.
One of our favorite videos of James Wisniewski is back — Work Hard Play Hard:
THW: Will this season be challenging with the two weeks off for most players during the Olympic break in February?
JW: Well I've been through two of them already so I think the biggest thing, especially for our younger guys because we have a young team, is that you get that eleven days off and you can recharge your batteries. Sometimes getting back into the swing of things, where it will be the last month of the season and we will have what…roughly 20 games left? That's when everything picks up, so like I said the veteran guys have gone through it and know what to expect and we just try to recharge our batteries. At the same time the guys that are playing in the Olympics, it's a long, grueling, tough year for them.
THW: You have become pretty good friends with Jack Johnson, can you talk about the bond that you two have formed since becoming teammates?
JW: Well right away, right when he came here in the trade from the Los Angeles Kings we clicked. We have the same sense of humor; it's one of those things that when we are joking around with each other, few words are said sometimes but we are laughing hysterically because we know what the other guy is thinking. We quote movie lines, just go on tangents; we've developed a real bond, which is pretty cool. I know that we will be buddies even after hockey is done with; we're both Michigan boys too, it's been real great to have him on the team.
The Controlled Chaos shirts representing Jack Johnson & James Wisniewski's bromance:
Thanks and have a Merry Christmas "@stacybrooke_xo: Early Christmas for me Wiz @wizwear I love them! #WizWear pic.twitter.com/jaR4lLzCFw"

— James Wisniewski (@jameswisniewski) December 10, 2013
THW: What's the weirdest thing that a fan has asked you to sign for them?
JW: This is no lie — I actually have signed a couple of women's breasts before. You think you only see that in movies? (grins) No, it happens; I've done it. And the funny thing is that the husbands are right there and they are like: 'yeah, go ahead!' So I'm like… all right, this is kind of awkward, but whatever you guys want.
James Wisniewski Official Website
James Wisniewski on Twitter: @jameswisniewski 
Wiz Wear clothing (all proceeds go to charity)
Dan Rice can be reached via Twitter: @DRdiabloTHW or via Email: drdiablo321@yahoo.com
Dan Rice is in his 9th year of reporting for THW & has covered NJ Devils home games for 15+ years at various websites. He began his journey working for legendary broadcaster/writer Stan Fischler from 2002-04 & completed an internship at the ECHL; he also has been writing features for the NWHL (nwhl.zone) website since 2016.