When Jaromir Jagr decided on a return to North America in 2011 after playing out a three-year contract with Omsk Avangard of the Kontinental Hockey League, rumors of the Czech forward signing with the Montreal Canadiens immediately surfaced. While there is nothing imminent as far as a trade goes between the Habs and the New Jersey Devils (to my knowledge anyway) that would send the 41 year old to Montreal, it's always a lot of fun to explore any scenario that would see Jagr lining up alongside his fellow countryman, and close friend, Tomas Plekanec.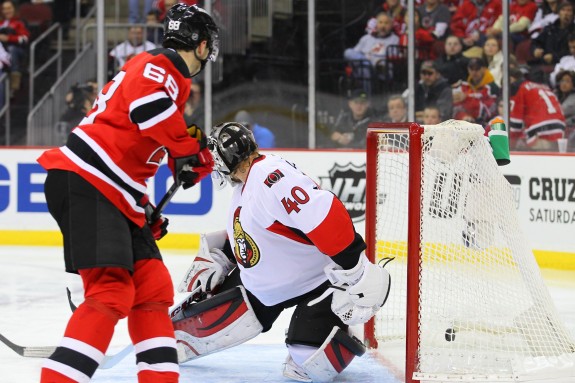 Another dream-like rumor that may emerge as we reach this season's midpoint (emphasis on dream-like), involves ex Montreal Canadien, Michael Cammalleri. Now, before I go any further, I just want to emphasize once more that these scenarios will be examined through rose-colored glasses. In fact, there is not even a stitch of empirical evidence that can support these scenarios coming to fruition at this point in time.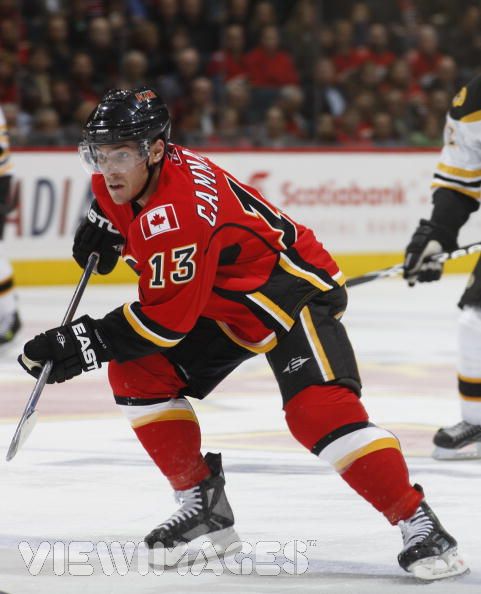 Beginning with the future hall of famer, it is not a secret that Jaromir Jagr and the Montreal Canadiens have negotiated every summer since his return to the National Hockey League. However, in 2012, these talks appeared to be quite serious. For a while, it even looked like the Canadiens were frontrunners to land Jagr as a free-agent after his one year deal with the Philadelphia Flyers had expired. Indeed, this was not fictional, nor was it hyperbolical. As a matter of fact, Jagr himself expressed a desire to dawn the bleu blanc et rouge,  "I always wanted to play in Canada, and I wanted to go to Montreal if I had a chance," he said. "Montreal wasn't interested, and then all of a sudden, I got a call from (Stars general manager) Joe Nieuwendyk and I was very happy" (courtesy of Sportsnet).

Jagr Wanted to Sign with Habs (2012)
            If we fast-forward to July of 2013, Jagr had recently come off a Stanley Cup final loss with the Boston Bruins and was once again an unrestricted free-agent. Like in 2012, Jagr expressed interest towards Montreal and his agent (Petr Svoboda) indicated this to TVA Sports, "Jaromir always wanted to play in Montreal, insisted the agent. We spoke with Marc Bergevin yesterday. The interest is mutual, but the decision is now up to Canadians." Unfortunately for Canadiens fans, the two sides did not come to an agreement in the summer and Jagr agreed to sign a one-year deal with the New Jersey Devils. However, although Jagr is currently a Devil, this does not mean that he will end the 2013-14 regular season in the swamp should New Jersey fall out of contention.
Jagr Wanted to Sign with Habs (2013)
So should Jagr once again become available, perhaps at the trade-deadline, is the time finally right for Montreal to take a serious run at number 68? In my humble opinion, there never was, and never will be (reasonably speaking of course) a bad time to take run at acquiring Jagr. With 13 goals and 34 points this season on a very average hockey team in New Jersey, Jagr's game appears to be in tiptop shape.
I know what you're thinking. How do you fit him in with the Canadiens? Especially considering the cluster of forwards that exist in the Habs top nine. So why take a run at him you ask? In my mind, the answer is very simple: slotted on the right side next to Tomas Plekanec, the two will absolutely light it up together offensively. As has been seen in recent years, especially at the past few world championships and in Kladno during the lockout in 2012, there is undeniable chemistry between Plekanec and Jagr. Moreover, not only would acquiring Jagr be intrinsically beneficial to the Canadiens roster immediately upon his arrival, the positive influence that this acquisition would have on others in the Habs dressing room including Plekanec is immeasurable. At 6'3, and 240 pounds, let's not ignore the fact that Jagr is still strong like a bull and very difficult to move off the puck in the corners, even at age 41.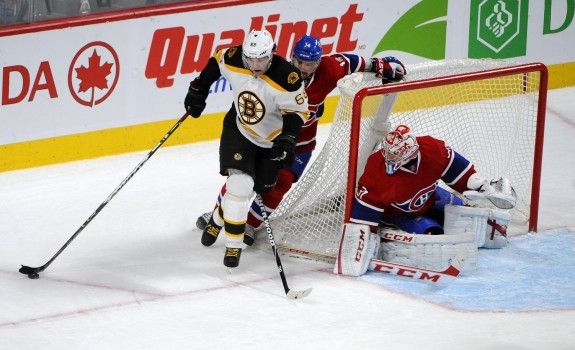 So what would it take to acquire the living legend? Well for starters, one would think that a draft pick, and maybe even a first, but definitely a second rounder is in order. On top of that, you'd have to believe that Lou Lamoriello (New Jersey Devils General Manager) would want a player who can step in and play for them right away. Considering his days in Montreal are probably numbered as it is, and his salary matches up pretty closely to Jagr's 4.5 million, would ex Devil Brian Gionta (who's making 5 million dollars this season) be a candidate to go the other way? You'd have to think he'd be more than willing to re-sign in New Jersey once his contract expires on July 1st, and I'm sure that having his younger brother Stephen already there, would add that much more incentive. Along with the aforementioned 1st or 2nd round draft-pick, it would be tough to imagine New Jersey getting much more in return for a potential UFA should the team be out of contention.
Another pending unrestricted free agent who might serve no purpose on his team's roster come the trading deadline, is ex Montreal Canadien and current Calgary Flame, Michael Cammalleri. While there are a plethora of reasons why bringing him back into the fold seems absolutely absurd (and I'm not sure I'd endorse it), there are undoubtedly some positives that could stem from such a development. For one, and let's face it, scoring goals is not a strong suit for Montreal. In my mind, Cammalleri could undoubtedly help this team out offensively. Further to this, I don't think there is any question that a return to the mecca of hockey would inspire a guy like Cammalleri who thrives in meaningful games, and loves to play under the microscope.
Michael Cammalleri's Statistics
Additionally, considering the special relationship that Cammalleri had with the fan base in Montreal, and taking into consideration how things ended for him under the previous regime, I am confident that Habs fans would welcome their beloved "Cammy" back with open arms. In actuality, a move such as this one could potentially ignite the city and more importantly spark the team on the ice. Imagine for a second a scenario in which the Habs include Rene Bourque (who thrived in Calagary) in a trade back to the Flames in exchange for Cammalleri. Wouldn't that be funny? I'm sure there are many Canadiens fans that would say yes to this without even giving it a second thought.
All kidding aside though, Cammalleri is still another small forward, and while I personally cannot stand it when critics equate size in today's NHL with success, one would think that Cammalleri's lack of grit (although he has the heart of a lion) would be problematic if we take the Montreal Canadiens current makeup into consideration. While such scenarios are always fun to think about, more often than not, they simply do not transpire. With that said, it is still amusing to explore these dream-like possibilities that will undoubtedly hit the rumor mill as we move toward the second half of the season.
David is currently a second year Arts student at McGill University and aspires to have a career as a sports journalist one day. When he's not covering the Montreal Canadiens for THW, he is the sports producer for TVMcGill and the host of his very own show called "On The Line with David Stein." He is also a frequent contributor to the McGill Tribune.