Here's a blast from the past…and the news about this player selection, in particular, was very stunning.
In an effort to relive the glory of the 1998 Gold Medal victory, the Czech National Team added a veteran forward who has been in the Olympics before, but whose name isn't Jaromir Jagr. What's more, this man is older than Jagr by a year.
His name? Petr Nedved.
Petr Nedved?
The same 42 year old Petr Nedved?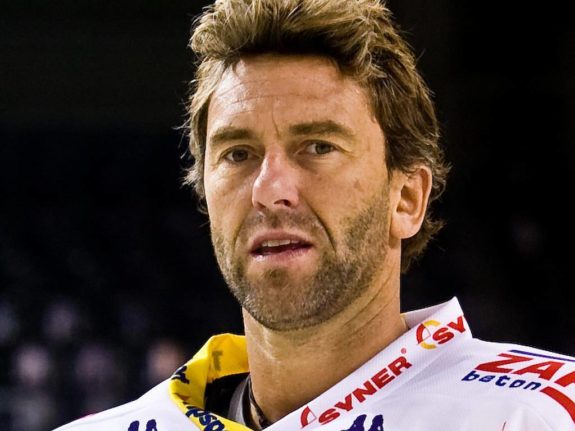 For those who don't know Petr Nedved, this is the guy who took a major risk by defecting from Soviet Bloc Czechoslovakia and played with the Seattle Thunderbirds of the WHL juniors. This is the same guy who as a junior phenom was drafted by the Vancouver Canucks second overall in the famous 1990 NHL Entry Draft: the same draft that started the long & distinguished careers of Jagr, Owen Nolan, Mike Ricci, Martin Brodeur and a few others. This is the same guy who after receiving his Canadian Citizenship, played for his adopted country in the 1994 Winter Olympics at Lillehammer. At a young age, he was often compared to Wayne Gretzky; perhaps was compared to the Great One rather unfairly.
(Canuck fans remember Nedved sheepishly asking Wayne for his stick after the Kings eliminated Vancouver in the 1993 Playoffs – Nedved's final season with the Canucks.)
While other prospects flourished, Nedved was somewhat average. He lasted only three seasons in Vancouver, then went onto a few better seasons with the St. Louis Blues, the Pittsburgh Penguins and New York Rangers before finishing his NHL stint with the Edmonton Oilers and Philadelphia Flyers. Nedved is still playing, back in the Czech Republic with Liberec Bili Tygri.
But what will make this Winter Olympics special for him is that he will represent the Czech Republic for the first time in his outstanding career. And this he will be one of very rare Olympians who would represent two countries: his birth home of the Czech Republic, and his adopted home of Canada.
While this reads like the final chapter for a guy who risked everything to simply play hockey, toiling through many robust teams and finding some success along the way, many on the Twitterverse have already questioned Nedved's selection.
Sorry but Hemsky making it over Hudler on Czech team doesn't pass smell test. They also picked Nedved, 42, and Novotny. How do they rate?.

— Jim Matheson (@NHLbyMatty) January 6, 2014
There's something wrong about an Olympic Games that has Petr Nedved in it but not Bobby Ryan.

— Adam Proteau (@Proteautype) January 6, 2014
Too bad @ESPN_Burnside didn't cover the Czech management meeting when Petr Nedved was picked over Jiri Hudler. What can't he spell?

— David Shoalts (@dshoalts) January 7, 2014
The major consensus from the tweets is the absence of Calgary Flames winger Jiri Hudler. Do the national team scouts object to visiting Calgary? If the Czech Republic doesn't win hockey gold in Sochi, the team will be well scrutinized for adding a aged veteran like Nedved and snubbing Hudler.
But the Czechs won't be the only ones: Other national teams will also be scrutinized for other notable scrubs such as Bobby Ryan (USA), Joe Thornton, Claude Giroux and Martin St. Louis (Canada), Victor Hedman (Sweden), and Alexander Semin and Sergei Gonchar (Russia).
The rosters are final. Petr Nedved would like nothing more than to show his naysayers that he can still bring his game at the tender age of 42. This is his first and final opportunity for him to win gold for his native country.
As Jagr gave a ringing endorsement about his fellow countryman, "I'm happy for Petr; good for him. On a big ice surface, he can be a big factor. He might be the best player on our team. The main reason the coaching staff chose him was because he played at the [2012] World Championship for Czech and he was better than a lot of the players at that tournament."
While the saying goes that you can't teach an old dog new tricks, this old dog (Nedved) could teach the new dogs a fine lesson on the big ice surface at Sochi.