When you think about the players most important to the continued successes of the Chicago Blackhawks, Marcus Kruger is almost definitely not one of the names that springs to mind. He's probably not in the first ten, and maybe not even in the first 15.
But he should be. In fact, I'd argue that as a fourth line center, the value that Marcus Kruger brings to his team is higher than what any other comparable player in the league brings to his.
Now obviously Kruger is going to start getting a lot of attention because he just scored a triple overtime goal in what was the longest game in Chicago Blackhawks history, but the fact is that despite his mere two goals and no assists in this playoff run, Kruger has been quietly providing the Blackhawks with excellent value in the other areas of the game since the beginning of this postseason run.
Kruger in a Class of His Own
Let's take a look at players on teams amongst those who were in the last eight remaining in this year's playoffs who play roles similar to the one Kruger performs for Chicago, shall we? This chart comes courtesy of war-on-ice.com's excellent player comparison tool.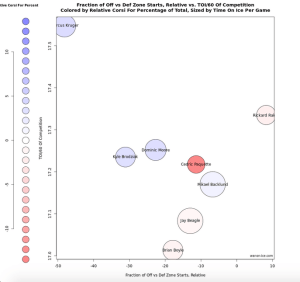 Just in case this isn't already clear, the horizontal axis on this graph represents zone starts. The further to the left a player is, the more often they start in the defensive zone. The vertical axis represents quality of competition. The higher a player is, the higher the share of their opponent's time on ice that belongs to the players they most commonly face is. The color represents Corsi Relative percentage, anything blue is positive and anything red is negative, with the intensity of the color depicting how far into the positive or negative a player is. The size of each's players bubble represents their average time on ice.
For the sake of this comparison, I've chosen Brian Boyle, Jay Beagle, Cedric Paquette, Mikael Backlund, Kyle Brodziak, Rickard Rakell, and Dominic Moore as the players among this year's final eight teams who play roles for their respective teams similar to the one Kruger plays for the Blackhawks. All of these players usually default to being fourth line centers, but in some cases they'll see time on the third line when the need arises.
As you can see, Kruger is clearly the best of this group when it comes to the aspects of the game that aren't simple "goals", "points", etc. Chicago can trust Kruger against far tougher competition than any of the other fourth line centers. They can also trust him to start in the defensive zone far more often than any of his comparables. Despite this, his bubble is the deepest blue on the graph. Even though he clearly gets far tougher assignments than any of his peers, Kruger is still the best possession player among them.
How is This Significant?
When it comes down to it in the Stanley Cup playoffs, every shift matters. Every single shift has the potential to lead to lead to that goal for or goal against that can single handedly make or break a team's championship hopes. While it may be true that Marcus Kruger only has two points in this postseason run, there isn't realistically a better fourth line center in this league to be had in the playoffs.
The Kruger Shaw Desjardins line has been hell on wheels during the playoffs.

— Jen LC (@RegressedPDO) May 8, 2015
What that graph from before showed is that while he may produce as a fourth liner, Marcus Kruger does NOT have to be deployed as a fourth liner. Think about the other players on that graph for a second. If Steven Stamkos or perhaps the Palat-Johnson-Kucherov line is getting significant time against Dominic Moore, the Rangers could find themselves in a world of trouble. The same goes for if the Lightning were forced to use Cedric Paquette or Brian Boyle against Chris Kreider and Derek Stepan for consistent shifts.
I don't think the same can be said about Marcus Kruger. If Kruger were forced to spend say, one-third of his shifts against Getzlaf and Perry, I don't think that would be the end of the world for the Blackhawks. Ironically, this was the exact scenario in which he scored what could be the biggest goal of the series last night. His ability to drive play, his defensive acumen, and his high hockey IQ allow him to hold his own against players who play in roles much higher and more significant than his own.
Do you think Anaheim would be okay if Rickard Rakell's line saw much of any time at all against Toews' line or Kane's line? I'm not convinced they would, and while Anaheim's deeper blue line gives them one luxury that the Blackhawks do not possess, Marcus Kruger as a fourth liner gives the Blackhawks an advantage in their ability to be more flexible when it comes to match-ups. This advantage is something to look out for as the series now shifts back to Chicago, where Joel Quenneville will have the last change and will be able to dictate the match-ups he feels comfortable with.
Even with all this talk about how versatile and useful Marcus Kruger is, I haven't even touched on his incredible value as a penalty killer and above average face-off ability. The Blackhawks finished 10th in the league on the penalty kill in the regular season, and were much higher than that for the majority of the year. It's not a coincidence that Kruger led all Blackhawks forwards in shorthanded time on ice.
After his truly impressive heroics in last night's triple overtime thriller, you're going to hear a lot about Marcus Kruger. And he deserves it, but just remember that in a league where fourth line players are usually just lauded for their toughness or determination, Marcus Kruger is more than that. He's a legitimately useful player who is and will be instrumental to whatever success the Chicago Blackhawks have this year and beyond.