With just over a month before opening night, much has been made of the rebuilding New York Rangers. Many questions have been posed: Was this a full-scale rebuild? Are the young guns ready? Can David Quinn handle the reigns? Will Henrik Lundqvist retire a Ranger? One question that has flown under the radar as the club looks to rebound from a disappointing 2017-18 campaign is, what about Chris Kreider?
The 27-year-old winger was one of many Rangers whose season was bitten by the injury bug. Kreider missed 24 games due to blood clots, which required multiple surgeries. While he returned to the lineup prior season's end, the club's playoff aspirations had all but slipped away by that time.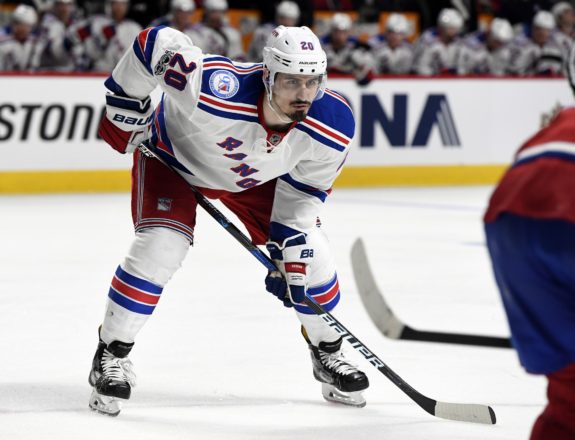 Now, healthy and reinvigorated, the young star will be considered a leader, as the fourth-most tenured player on the roster. As the season nears, the fact is that Kreider will be relied on by the franchise to provide more than numbers on the score sheet whether he is prepared for the role or not.
Before Healing Others, Heal Yourself
Kreider had a less than stellar 2017-18 season health-wise. Rib resection surgery and a second arthroscopic surgery a few days later are no joke, after all. Kreider returned to the lineup in late February, totalling 37 points in 55 games.
Give credit where credit is due. Kreider is incredibly dedicated to the game. He returned to action quicker than doctors anticipated, crediting much of his successful rehabilitation to a new diet. It paid off, too. He lost 20 pounds during his recovery and the results, they showed. Kreider notched 15 points in 21 games after his return. He felt that the weight loss had helped his game and he has no plans to bulk up moving forward.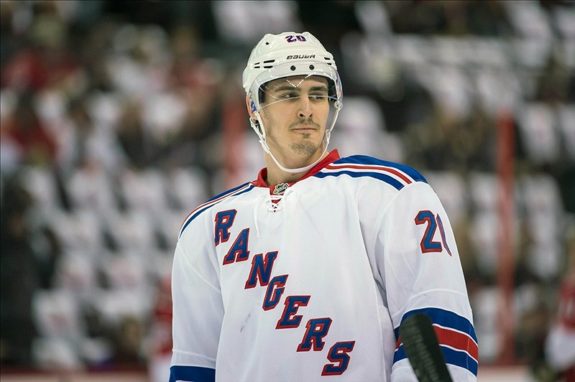 Not only that, but through the ordeal, the veteran found a new lease on his hockey life along with a new outlook, one that is attained by overcoming adversity. As Kreider told ESPN, "When you're in the NHL, you're stuck in this maze where everyone is hyper-competitive. You live and die with wins and losses. Then you get out of the maze and it changed my perspective for the better. Your career goes by so fast. This was my first opportunity to step back and see that. If you can't be grateful playing in the NHL, shame on you."
After a memorable stint to end a disappointing season and with his health issues behind him, all eyes will be on Kreider to see what he can bring to the club over the course of a full season.
A Familiar Face… or Two
The Rangers' new head coach David Quinn will be in the spotlight as the season draws closer. For the most part, Quinn is unknown, a wild card of sorts, leaving many to question whether or not he is the man who can bring the franchise back to prominence.
Kreider may have the inside scoop:
Quinn comes to the Rangers after five years behind the bench at Boston University. Kreider played for their rivals, Boston College and over time, became familiar with Quinn and his style. Not only that, but the new bench boss also brought in Greg Brown as an assistant coach who had previously filled that same role at Boston College and won two National Championships with Kreider.
As one of the more experienced players on the roster, Kreider will be a role model for the younger players. His faith in both Quinn and Brown, as well as his willingness to embrace a new system wholeheartedly, can only benefit the team as the coaches prepare for their first season under the NHL microscope.
Chris Kreider's New Role: Leader
The moves made by the Rangers at the trade deadline emphasized the fact that change was brewing. Captain Ryan McDonagh, Derek Stepan, Rick Nash, Dan Girardi and J.T. Miller were all politely shown the door to make room for an influx of younger talent. In the absence of these established Rangers, the door is open for new players to take the reigns as a loud voice in the locker room.
Thus, Kreider, who has been on Broadway since the 2012-13 season, will be relied on to do much of the heavy lifting, particularly while rookies such as Lias Andersson and Filip Chytil become acclimated to the NHL stage. Given everything Kreider has dealt with over the past year, he may be better prepared than ever to fill that role.
Nick graduated from the College of Sports Media in Toronto in May of 2018 with a diploma in Radio and Television Sports Broadcasting. He is a lifelong sports fan and accomplished martial artist, having trained in Karate, Muay Thai and Brazilian Jiu Jitsu. He is a fan of the New York Rangers, Montreal Canadiens and the Dallas Cowboys.