Beginning June 1, NWHL teams can re-sign players from their 2017-18 roster and their draft picks. Additionally, for those players who have completed their college eligibility and want to continue their hockey careers, NWHL Free Agency provides the best opportunity to continue playing at the highest level of professional women's hockey. The fourth season of the NWHL will begin in October as the Metropolitan Riveters defend their Isobel Cup championship, and with the addition of a fifth team – the Minnesota Whitecaps – this will be the most competitive season yet.
My colleague Dan Rice will keep THW readers up-to-date on Metropolitan and Connecticut's signings throughout the summer, while I post updates on Buffalo and Boston. Together we will be keeping readers informed of all of Minnesota's signings. 
Pride Stockpiles Olympic Firepower as Marvin Signs
Wasylk Latest BC Alum to Join the Pride
Whitecaps Bolster Blue Line with Stauber, Barnes
Boston Pride forward Mary Parker got an early birthday present. The Milton, Massachusetts native turns 25 years old on Sept. 2. An announcement from the NWHL was made through Twitter on Aug. 28, 2018 that she had re-signed with the Pride for her third professional season. At 5-foot-9, Parker is a continuation of Boston's penchant for bringing in sizable, powerful skaters for the upcoming 2018-19 season.
Mary Parker has re-signed with #ThePack! 🦁

"Very excited for the opportunity to play for the Pride again this year! It's an honor to be part of a great organization and play for my hometown team."

✍️: https://t.co/dgkYyR6kk1 pic.twitter.com/TE5HYi8YTf

— Boston Pride (@TheBostonPride) August 28, 2018
Parker was quoted in the tweet as stating the following about her signing:
"Very excited for the opportunity to play for the Pride again this year! It's an honor to be part of a great organization and play for my hometown team."
While she will be playing her third season in the league, it is only her second full season. During the 2016-17 campaign, Parker signed at the end of the year after completing her final NCAA season with Boston University. She would suit up for just one regular season game, plus Boston's two playoff games that year. Playing in 15 of the Pride's 16 regular season games most recently in the 2017-18 season, the team will be looking forward to having Parker on the roster for another full year.
THW takes a closer look at Parker's signing and what it will do for the Pride.
And Parker Makes 10…
Parker is the tenth forward which Boston has announced as being under contract. With her height she is actually the tallest forward currently on the team. However, Parker's size fits in rather nicely once you incorporate the team's blueliners – five of the team's seven defenders currently under contract are at least 5-foot-7.
Having a bigger, stronger forward up front is a very nice addition to Boston's group of forwards. Parker is capable of clogging up the front of the net, but also has the skating and offensive awareness to be a legitimate scoring threat. Keep in mind that she is a player who score 67 goals and 136 points in 140 career NCAA games – nearly a point-per-game player. Parker's size could bode particularly well on the Boston power play.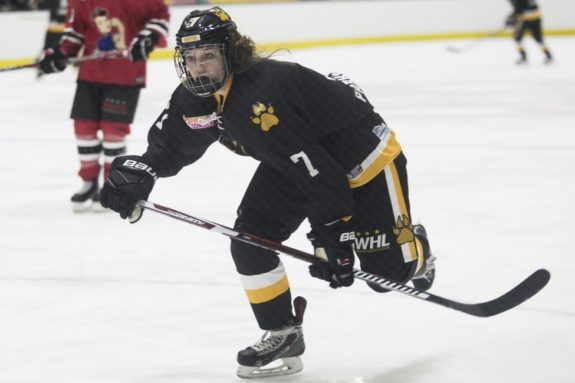 One scenario might be to put Parker on a line with smallish, quicker forwards like Dana Trivigno and Denisa Křížová. Placing Trivigno at center with Parker and Křížová flanking her could create a beautiful combination of speed, strength and scoring. Regardless, look for Parker to play a larger role offensively in 2018-19 as opposed to her prior seasons. She presently has only one NWHL goal to her credit, though she is capable of scoring many more than that. Having the unique experience of playing for two different Beanpot schools during her collegiate career – Harvard University and BU – Parker scored double digits in goals in every season with the exception of her abbreviated 2015-16 year at Harvard when she played only five games.
Parker's Previous NWHL Performances
Parker went pointless during her first three career NWHL games in 2016-17. However, within the two of those games that were playoff contests she managed to put four shots on goal. All four shots actually came in the Pride's battle in the semis against the Connecticut Whale. Only former Boston players Brianna Decker and Rachel Llanes had more shots than Parker and (former Pride) Alex Carpenter who each had four.
Move ahead to this past season, 2017-18. While Parker scored just one goal during the regular season, she fired 22 shots on net. Only six of the 21 skaters to suit up for Boston were able to generate more shots during the season. Let's face it – sometimes the shots just do not go a player's way. This seemed to be the case for Parker this past season, but it will not remain that way going forward.
Nobody in all of @NCAAIceHockey
scored a goal in more November games than Mary Parker, your Hockey East Player of the Month! pic.twitter.com/PjmqCf373R

— BU Women's Hockey (@TerrierWHockey) December 1, 2016
The 2017-18 Pride would lose 3-2 in overtime to the Buffalo Beauts during the semi-final at the HarborCenter. Only Parker and rookie Heather Schwartz – two assists each – had more than one point for Boston during the tight loss. Parker played that game like a woman possessed as she fired four shots alone on Buffalo's Amanda Leveille. Only Trivigno had more shots on net (five) during the game for Boston.
Look for Parker to have a breakout year in the 2018-19 season. Expect her goal total to certainly increase in the process. The other interesting thing to watch for in these last few weeks before the season starts is whether Parker's sister Elizabeth also makes a return to the Pride as a depth defender.
With Parker re-signing with the team, here is how the Boston Pride look as of Aug. 28:
Goalie: Katie Burt.
Defense: Alyssa Gagliardi, Toni Ann Miano, Lauren Kelly, Lexi Bender, Kaleigh Fratkin, Mallory Souliotis, Kaliya Johnson.
Forward: Emily Field, Dana Trivigno, Denisa Křížová, Haley Skarupa, Jillian Dempsey, McKenna Brand, Amanda Pelkey, Taylor Wasylk, Gigi Marvin, Mary Parker. 
General Manager of the Buffalo Beauts (NWHL). Hockey history writer "The Hockey Writers". Credentialed media for the NHL Combine and 2018 IIHF World Junior Championships in Buffalo, NY, USA. Born and raised in Buffalo, NY. Lifelong hockey fan for over 40 years. Proponent of the women's game.