Beginning June 1, NWHL teams can re-sign players from their 2017-18 roster and their draft picks. Additionally, for those players who have completed their college eligibility and want to continue their hockey careers, NWHL Free Agency provides the best opportunity to continue playing at the highest level of professional women's hockey. The fourth season of the NWHL will begin in October as the Metropolitan Riveters defend their Isobel Cup championship, and with the addition of a fifth team – the Minnesota Whitecaps – this will be the most competitive season yet.
My colleague Dan Rice will keep THW readers up-to-date on Metropolitan and Connecticut's signings throughout the summer, while I post updates on Buffalo and Boston. Together we will be keeping readers informed of all of Minnesota's signings. 
Whitecaps Bolster Blue Line with Stauber, Barnes
Amy Menke Adds More Star Power to Whitecaps
Shannon Doyle Re-Signs for 4th Season with Whale
Taylor Wasylk has become the eighth Boston College alum to sign with the Boston Pride for the 2018-19 NWHL season. She also brings a great deal of size up front and a scoring touch. Word of her signing was announced by the league on Aug. 22, 2018. Wasylk is now the eighth forward to be announced as being on this coming season's roster.
NEWS: Defenseman Taylor Wasylk is joining #ThePack! Welcome Taylor

🔗: https://t.co/4z5Gdu5yGt pic.twitter.com/GSKMHpXv0b

— Boston Pride (@TheBostonPride) August 22, 2018
"Not only will I get the opportunity to play with a handful of former teammates and friends, but I am joining a team of unbelievable players as well," Wasylk said in the press release about her signing.  "I could not be more excited to join the Boston Pride and the NWHL. I am thrilled to take the ice in front of the Boston fans and cannot wait to get the season started."
Initially from Port Huron, Michigan, Wasylk has continued to play in the city of Boston since her freshman year at BC began during the 2010-11 season. Possessing size and a scoring touch, Pride fans will take an immediate liking towards her. THW takes a closer look at Wasylk as a player and what she is able to bring to "The Pack".
Known for Her Great Size and Skill
The first thing that people notice when seeing Wasylk out on the ice is her size. At close to 5-foot-10 and 175 pounds, she has the build of a power-forward and she uses it to her advantage. Wasylk is able to use her size and strength down low, and it enables her to get shots away. In 145 career games with the BC Eagles, she amassed a staggering 497 shots on goal during her four years. That is an average of well over three shots per game. During Wasylk's senior year she had eight shots on goal in three different games. 11 games saw her with at least five shots on goal. She has no difficulty in getting free to rip shots away.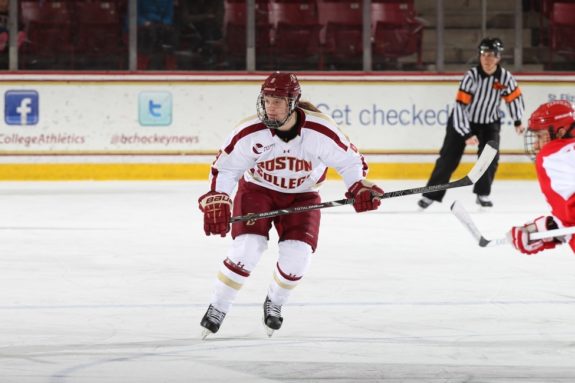 Her ability to create constant danger for opposing teams because of her size and skill has brought enough notice that three times she has been called upon to play for the USA. Wasylk was vital in helping her country take home the gold medal at the 2009 IIHF Women's U18 World Championships. In five tournament games she scored six goals and an assist for seven points, while racking up 27 penalty minutes and finishing as a plus-12. The next year she would help the USA take home silver. In 10 total games at U18 World Championships she compiled eight goals and two assists to average a point per game. Wasylk also won a silver medal playing in two games for Team USA at the 2012 Women's Worlds.
Separately, the 2017-18 season saw her play in the CWHL for the Boston Blades. This was the first professional season of Wasylk's career. Playing in 12 of the Blades 28 games, she contributed  three goals and two assists for five points.
Signing With the Pride Is a BC Reunion
Wasylk is going to feel very much at home when she suits up with the Pride this year. If you look at the Boston College roster from her senior year (2013-14), Kaliya Johnson, Dana Trivigno, Emily Field, Lexi Bender and Haley Skarupa were all on that same team and are now all together again with the Pride. Consider it a BC reunion if you will. The comfort and familiarity that permeates through the roster will only accentuate each player's ability that much more.
In the case of Wasylk specifically, she scored 96 points in those aforementioned 145 games with the Eagles. 48 of those points were goals that she put in the back of the net. One would think that Wasylk's scoring touch is bound to be rekindled.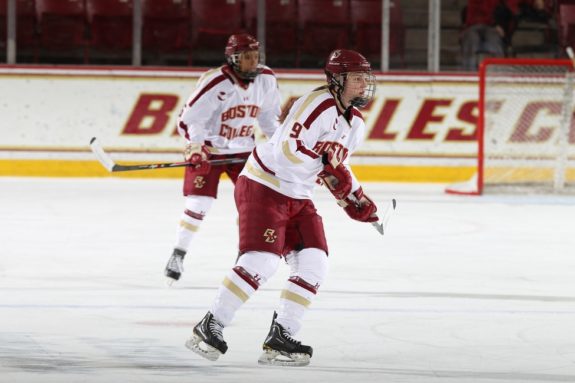 While each of her four seasons at BC were successful, we are going to argue that her finest all-around season of college hockey was her sophomore year. Playing in 36 games during the 2011-12 season, Wasylk not only fired home 14 goals and finished with 23 points, but she finished second in the entire NCAA with 83 penalty minutes that year. Point being, she is a force to be reckoned with – one who can beat you on the scoreboard, and one who can beat you along the dasher boards too.
Wasylk typifies what the 2018-19 Boston Pride are all about – the perfect blend of physicality and skill. Compared to last season, this year's Pride are bigger, stronger, and more potent on offense.
With Wasylk joining the team, here is how the Boston Pride look as of Aug. 22:
Goalie: Katie Burt.
Defense: Alyssa Gagliardi, Toni Ann Miano, Lauren Kelly, Lexi Bender, Kaleigh Fratkin, Mallory Souliotis, Kaliya Johnson.
Forward: Emily Field, Dana Trivigno, Denisa Křížová, Haley Skarupa, Jillian Dempsey, McKenna Brand, Amanda Pelkey, Taylor Wasylk. 
General Manager of the Buffalo Beauts (NWHL). Hockey history writer "The Hockey Writers". Credentialed media for the NHL Combine and 2018 IIHF World Junior Championships in Buffalo, NY, USA. Born and raised in Buffalo, NY. Lifelong hockey fan for over 40 years. Proponent of the women's game.