Jack Eichel dominated his only year playing college hockey. As a freshman at Boston University, he put up 71 points in 40 games. It was the best season by an NCAA freshman in more than 20 years. He led his Terriers to the national championship game, earned the Hobey Baker Memorial Award (as the NCAA's top hockey player) and had an impressive showing at the World Championship helping Team USA win a bronze medal.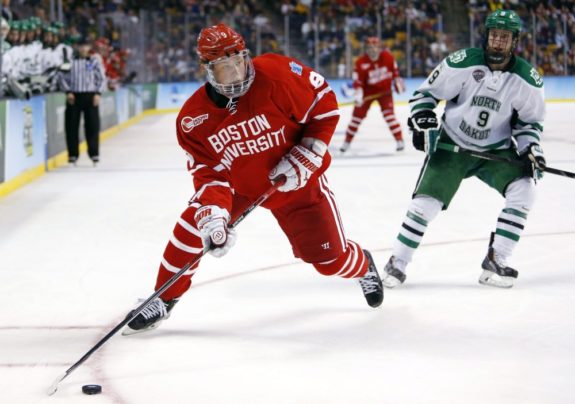 But how good can Eichel be? It's possible that this is the season we will see that same collegiate dominance in the NHL with the Buffalo Sabres.
Related: The Sabres Seismic Culture Shift
Jack Eichel's First Three Years
Eichel has been an exceptionally bright spot in an otherwise frustrating run for the Sabres. Three years into his NHL career, he has 73 goals and 104 assists for 177 points in 209 games, leading the team in cumulative production over that span. He has an above average shot, impeccable stickwork and elite vision. He's the only player on the Sabres that regularly drives possession and offense.
He Can't Do It Alone
Eichel has performed admirably in his first few seasons given his marginally talented teammates and linemates. It's a fantasy that he alone could carry the team to the promised land. The NHL is a team game – even the most minute-hogging stars only play 40 percent of a game. The Sabres had little depth because their mission to tank scorched the team to the ground and then there was (former) general manager Tim Murray overpaying and misspending draft capital like a child playing Fortnite with their parent's credit card.
Despite being near or leading the team in scoring and although Eichel's point totals have increased slightly year over year, he's yet to piece together a complete elite-level season. Injuries sidelined him for 21 games in his sophomore season and 15 games last season.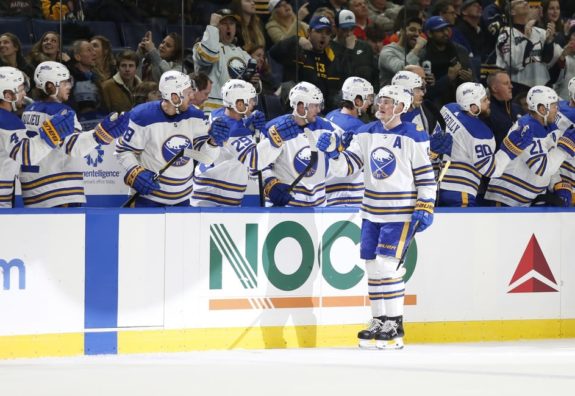 Eichel is not content to achieve personal success without team success. Losing has been as frustrating for him as it's been for the fans and it showed in his early interviews. He has yet to play in a meaningful game in late January, with the Sabres' fate sealed early. In his rookie season, 2015-16, the team finished in 23rd place. In 2016-17, the Sabres finished in 26th place and in 2017-18, they finished 31st.
"I've had a few years to learn about things and see some things that occur, and the right way to do things and the wrong way to do things," said Eichel. "I do wear my heart on my sleeve, and I'm somebody who's very competitive. I like to win. This losing the last few years, I've never dealt with that in my life. And you kind of have to learn from it and figure out what you can do to change it."
He knows he needs to stay positive: "Every day, if you come in here and work and put your head down, you do the right things, you're a good teammate, I think the results in the games will take care of themselves," said Eichel.
"He has that aura around him that he's one of the top players in the league," head coach Phil Housley said of Eichel. "I just want him to play. Play the game and don't worry about any distraction."
Setting an Example
Eichel definitely sets the tone for the team. When he's fired up, the team follows his lead. Even fans begin to believe almost anything is possible. When he floats or drifts back to the bench after a shift, his teammates have been prone to let up as well. At times, his slow return for a line change was due to his lack of conditioning after returning too early from an injury. He was gassed. It was as much his failure as it was management's, for senselessly allowing him to play before he completely healed. Returning to the ice "because I'm a hockey player" is a short-sighted answer.
At times, the 2015 second overall draft pick has been dominant. He hit his stride during a 26-game stretch from Feb. 4 through Mar. 27, 2017, scoring 11 goals and totaling 34 points. He's smart and slippery, playing a 200-foot game, helping in the defensive zone, battling hard and often carrying the puck out of his zone.
He was the third-fastest player in Sabres history to score 100 points (behind Pierre Turgeon and Phil Housley). Given the fact that Turgeon and Housley played in the offense-laden '80s, Eichel's accomplishment is even more impressive and the Sabres made the playoffs in each of the duo's first three seasons, implying a more talented roster.
On the flip side, there have also been times when it appears Eichel is not giving his all, failing to win puck battles and not backchecking tenaciously. The Chelmsford, Mass. native took his fair share of the heat when Murray and head coach Dan Bylsma were relieved of their duties. He was called a GM and coach killer.
When he pouted like an entitled teenager to the media after missing out on a $2 million bonus, he was labeled a brooding superstar. It was a harsh critique for a teenager who had just found out he'd missed out on a massive incentive by a whisper. There have been times when he looked disinterested on the ice and there were reports that he and former teammate Ryan O'Reilly were at odds. All of which is unbecoming of a franchise's cornerstone player.
Eichel's Desire to Be the Best
It appears as though Eichel has turned a corner. At locker cleanout day after last season, he sounded more mature than in years past. "It feels like yesterday I started here and to be three years into my career and yet to make the impact that I'd like is frustrating for sure," he said stoically.
This season, there's a lot of pressure on him. Though he's only played three seasons with the Sabres, the team is battling a seven-year playoff drought, the longest in franchise history.
This year, the first of his eight-year, $80 million contract, is when we'll find out where Eichel fits among today's NHL top young talents. We'll find out if he can he help bring prosperity to the starving hockey masses in western New York.
Botterill has made dozens of changes in his short time on the job. This offseason, he's brought in swift, productive wingers Jeff Skinner and Conor Sheary. He's added depth and mobility to the offense and defense. He landed Rasmus Dahlin with a little lady luck at the 2018 NHL Draft. There's more talent on the team now than at any point in the past three seasons. Each of these changes should not only make the team better but make Eichel better.
This Will Be Eichel's Year
Eichel had a chance to collect two, three or even four points in most games last year. His teammates either weren't ready for passes or failed to capitalize on their chances. His linemates often couldn't keep up with the speed at which he processed the game. Now, with goal scoring wingers like Skinner or Sheary and Reinhart or Okposo, Eichel will elevate his performance and make those on the ice with him better as well.
He's also thrilled to have a franchise defenseman in blue and gold: "[Dahlin] is a special player, a really good guy and somebody that is going to be part of our team for a while."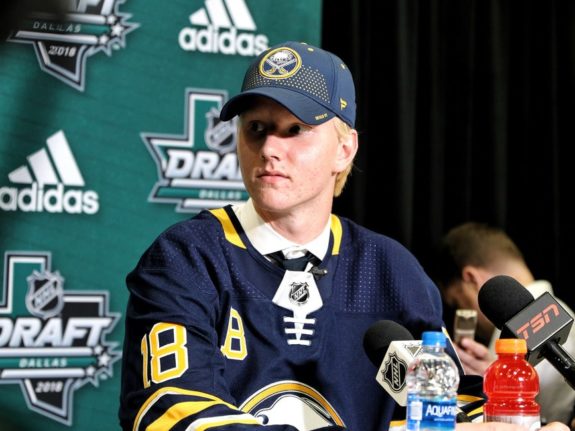 None of these changes by themselves will get the Sabres into the postseason. It will take a lot of hard work, a complete buy-in from every player, and a touch of chemistry.
The de-facto captain even made a special trip out to Minnesota this summer to bond with highly touted rookie Casey Mittelstadt, C.J. Smith and Casey Nelson. They played golf and relaxed, all in an effort to get to know one another better. Eichel has been in Buffalo recently, skating with teammates informally at HarborCenter. "It's been a good offseason. I feel pretty healthy and ready for a good season," said Eichel.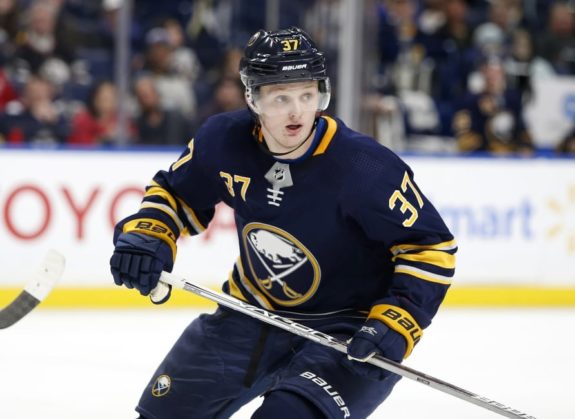 With Botterill overhauling a roster that now includes two-time Stanley Cup winner Sheary, Eichel is excited about the season. "It's good to be back here. I'm pretty excited to be playing again," said the Sabres All-Star. "You bring some fresh faces in, some guys that don't have the sour taste of the last few years and it seems like the environment is different."
In 2018-19, with proven wingers and a vastly improved defensive corps, the Sabres will begin their rise from the basement and never look back. We'll find out if Eichel is capable of being an elite point producer. The playmaking center's ceiling hasn't been reached. If he can stay healthy, surge over 90 points and propel the team into the postseason, he will challenge for the Hart Trophy as the league's most valuable player in 2018-19.
Related – 2019 Hart Trophy Odds: Place Your Bets