It wasn't so long ago that Claude Giroux was the butt of all golf jokes. After stumbling out of the gate due in large part to a freak accident on a golf course, the Flyers captain now finds his name in the Hart Trophy discussion. Even more important to Giroux, the Flyers are now in the thick of a playoff push. And after all Giroux has been through this season, Philadelphia's heart and soul could be hockey's best story this year. But is he hockey's best player this season?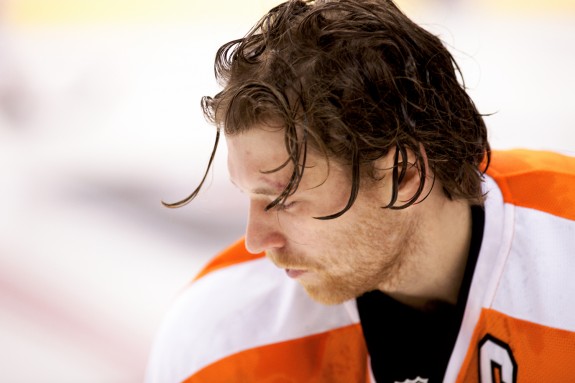 Claude Giroux, the Comeback Kid
Claude Giroux is no stranger to adversity. As the face of the franchise in Philadelphia, Giroux has had a front and center view to how the fan base holds their players accountable. After missing the playoffs for only the second time in 17 seasons last year, the player who fans and teammates call "G" found himself behind the eight ball before the current season even started.
While golfing in the offseason, Giroux suffered tendon damage to his index finger after his club exploded in his hands on contact. The odd occurrence required surgery even though no bones had been broken. Still, the damage was done.
"It was just a freak thing," said Giroux. "I was taking a swing and my club hit a little behind the ball. The shaft of the club shattered, but my hand kept going on the swing and the shattered part went right into my finger."
Imagine how many points Claude Giroux would have if he didn't golf.

— Flyers Nation (@FlyersNation) March 19, 2014
Setting up a Kickstarter to get Claude Giroux a decent set of golf clubs.

— Zoo With Roy (@zoowithroy) August 16, 2013
Although Giroux was healthy enough to start the season on time, the lingering effects of his injury hindered his performance, and perhaps his psyche as well. Not only did Giroux endure Philadelphia's worst start in franchise history, he also got out to the slowest start of his career. After beginning the campaign with five straight scoreless efforts, Giroux's minus-two rating went hand-in-hand with the Flyers' struggles.
And the goal scoring? Nowhere to be found – until the second month of the season that is. By the time Giroux notched his first goal of the season on Nov. 9th, the Flyers had fired head coach Peter Laviolette and owned a 4-10-1 record. A lot has changed between then and now, however.
"Since March 15, the Flyers have earned 10 of a possible 12 points (4-0-2) against the Penguins (twice), Blues (twice), Blackhawks and Bruins. Giroux said it "doesn't matter what people say, it's about what you do," but the way the Flyers have played over not just the past month but also since November, it's getting harder to say they don't belong in conversation with that group." — Philly.com
The Olympics Without Claude Giroux
Claude Giroux not only overcame his (and the team's) forgettable start to the season, he also used his Olympic non-invitation from Team Canada to bolster his hunger for success. Before initially being passed over for Canada's Olympic team, Giroux focused on righting the team's ship while teammates, such as Scott Hartnell endorsed his cause.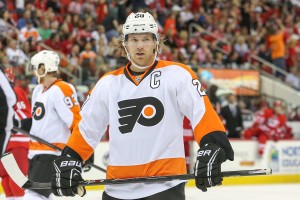 "I don't think he was 100% when he started the season," said Hartnell. "In the fall there he didn't play an exhibition game, he came right into Game 1 without playing and it takes everybody a while to get their timing back and feel good with the puck, and probably it took him a good month to feel comfortable again.
"But the last 20 games, he's been our best player."
After Tampa Bay Lightning star Steven Stamkos announced he would forgo the Olympics in an effort to further rehab a broken leg, Giroux's name was back in the hat for Sochi. His candidacy, however, was short-lived as Tampa Bay's Martin St. Louis was tapped over Giroux for Stamkos' vacancy.
"I didn't give myself hope," said a not-so surprised Giroux. "I didn't want to be disappointed again."
Giroux's disappointment turned to anger, demonstrated on Jan. 7th's opening faceoff against the New Jersey Devils. Giroux added a goal in Philadelphia's overtime win against their Metropolitan Division rival, which gave him 13 goals and 40 points on the season at the time.
"I mean, yeah, anytime someone takes something away from you, you want to prove them wrong," said Giroux after the win. "But you know what? I put that behind me. I just have to move on here. Just play my game. It's a fun game out there. … I'm not going to stress myself with that."
Claude Giroux For The Hart Trophy?
If anyone made the mistake of considering Giroux's comments as a PR formality, they've been proven erroneous. In fact, since the Olympic break, nobody in the NHL has been better than "G." Since the Olympic break, Giroux has tattered the stat sheet with six goals and 21 points.
"The Flyers own a 19-2-1 record this season when Giroux scores a goal and are 32-13-3 when he posts at least one point, including at least a point in each of the Flyers' last 16 wins. With Giroux taking the lead, the Flyers went 9-3-2 in March, sit in third place in the Metropolitan Division behind the Rangers and are on course to qualifying for the Stanley Cup playoffs." — nj.com
Giroux's scoring pace was felt in Philadelphia's recent overtime losses to Boston and St. Louis. The Flyers captain went scoreless in both of those games, marking the first time since Dec. 31st and Jan. 2nd that he was held scoreless in consecutive games.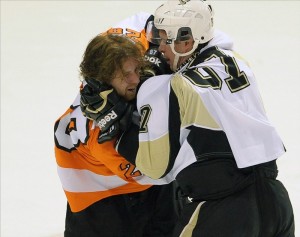 "He's our leader," said Flyers head coach Craig Berube. "He goes out every game and works hard and challenges his teammates to do the same."
Through 75 games, Giroux enters Thursday's game against Columbus as the league's fourth leading scorer with 78 points. But to legitimately argue one's credentials for the Hart Trophy, the whole body of work needs to be considered. Pittsburgh's Sidney Crosby sits well ahead of the pack with 100 points through 76 games, 16 points ahead of the NHL's second leading point leader, Ryan Getzlaf.
Although Claude Giroux deserves credit and praise for turning his (and the Flyers') season around, Crosby's consistent production for the Eastern Conference's second best team simply cannot be discredited.
"The easiest place to start is with the most general stats. At the Olympic break, Crosby led the League with 50 assists and 78 points. That puts him on pace for 110 points, which would be the second-most he's had in his nine seasons. With 28 goals, he's going to hit 30 for the sixth time; he's on pace for 39, so it wouldn't be a stretch to see him get to 40 for the second time." — NHL.com
Crosby, who's overcome major injuries of his own, has now reached 100 points for the fifth time in his career. Giroux, on the other hand, has only eclipsed 90 points once in his career. But since the Hart Trophy is about a player's single season performance, Giroux can add the title of being one of the NHL's three stars for the month of March to his case.
"He (Giroux) doesn't try to play a skill game so much," said Berube. "He lets his skill happen, and he works. When you have a skilled guy who works like that, they're dangerous players."
https://twitter.com/DStrehleTFP/status/446303731152613376
Claude Giroux has 18 multi-point games this season. Only Sidney Crosby (25), Phil Kessel (22) & Patrick Kane (19) have more. @FlyersNation

— Pete Jensen 🏒 (@NHLJensen) March 6, 2014
Despite besting Crosby in power play goals, game-winning goals, and faceoff percentage, Giroux sees nearly a minute more on average of ice time than Crosby. Furthermore, Crosby edges "G" in power play points and shooting percentage. The simple fact that Giroux has made this a discussion is an accomplishment of itself, though. And while nothing says, "I'm the best" more than a Hart Trophy, both Sidney Crosby and Claude Giroux know what matters most – winning.
"It's a number. It's nice. I don't think you go into seasons thinking only about that. I think it's nice when you get the opportunity to do it, and it's a lot better when you win," said Crosby.
Whether Giroux is named the league's MVP or not, there's no denying that Claude Giroux is the heart and soul of the Flyers. And for the team and fan base, that's a pretty good thing.