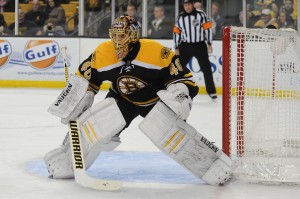 Tuukka Rask skated towards the bench halfway through the second period, after allowing the third goal of the game. He leaned in to say something to Chad Johnson, his in-game replacement for the fourth time this season, before disappearing down the Bruins tunnel for a minute or two.
He came back of course, sans helmet, to take Johnson's spot on the Boston Bruins bench, wide left behind the active players still eligible to take the ice. He resumed his responsibilities of opening the door for players as they changed lines, but not before he angrily threw his glove and blocker to the ground, and slamming the bench door. He was frustrated. Seconds later, Johnson let up a semi-breakaway goal to Daniel Briere putting the Montreal Canadiens up 4-1.
The game was decided before the second period would even end and the one Bruin who wasn't dreadful in Thursday night's loss was taken off the ice early.
"I play as long as they tell me to play," said Rask. "I try to battle out there as hard as I can, I stay out there as long as I possibly can, and today it lasted a little over one period. It's too bad."
Here's the rub–though Rask had allowed three goals on 18 shots, he was a big reason why the Bruins were only down a goal at the conclusion of the first period. Rask made some stellar stops including a highlight reel-ready sliding pad save on David Desharnais late in the first. And as far as the goals allowed, only the third, a tip-in by Brian Gionta that leaked past Rask, could be considered a softie.
So why pull Rask?
"It's a lot of everything," said Bruins coach Claude Julien after Thursday's loss. "That's a decision that I make and I don't feel I have to explain every time."
Rask had pieced together his game again, putting up wins where he looked stellar in between the pipes. With a horrid 2-10-2 record against the Canadiens to compliment his 2.88 G.A.A. and .900 save percentage, the worst thing that could happened for Rask would have been to lose some of his momentum and for his confidence to slip again. After allowing three goals in less than two full periods, Julien made the obvious call, signaling for Johnson to grab his helmet and make his way to the Bruins goal to replace Rask.
With the Bruins already playing poorly, it seemed more like a tactic from the coach to protect his starting goalie who was coming off a bit of a slump, rather than have a statistically weaker team, one that historically gives Rask fits, takeaway that momentum. Julien's nondescript post game comments didn't reveal his thinking.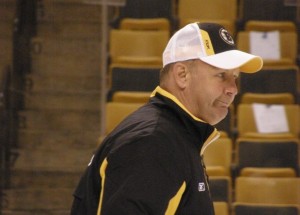 "This isn't going to be one of those things where we're going to make a big story out of a pulled goalie," said Julien. "Our team was poor tonight. So, maybe sometimes you pull the goalie for different reasons. I don't think I have to explain everything to you guys for the reasons because there's a lot of decisions that I make that are for inside that dressing room, not necessarily for everyone to share."
The three goals allowed from an otherwise sturdy Rask in a game that the Bruins looked lifeless in was enough cause for Bruins coach Claude Julien to make a change and try to jumpstart his team, down two with half of the game left to play. Already playing against the team's biggest rival, historically speaking, maybe Julien was already thinking to the next game. Maybe that meant pulling Rask early on, even if the goals weren't his fault.
"You're hoping for a spark any time," said Julien. "As frustrating as it has been for the team, it's frustrating for a coach, too."
He continued.
"I've made my analysis on our team about tonight. I explained it to you guys. I don't know that I need to answer more than that because that's really where the issue was. So, if you guys want to look elsewhere, you're looking in the wrong place. We didn't skate, we didn't execute, and we didn't make good decisions. So, that's where it ends."
Rask's side of the story checked out, as well.
"We weren't skating and they just took it to us for the most part," said Rask. "We got some shots but I think they got the better of that first period. And then second it was kind of even; we had more and more shots for sure. And then that one power play, and then they score, and it kind of takes the energy out of your team. And after that it was just flat."
The common thread was there. The Bruins were flat. They were emotionless. During Johnson's postgame interview he kept repeating, "we just didn't have it tonight." They didn't.
The Bruins weren't used to the style of play the Canadiens came out with on Thursday. They were smothering the Bruins, all over them when they had the puck giving them zero space to make any plays. It was the exact opposite of the teams the Bruins have played as of late. Against teams like the Flyers, Islanders, and Panthers, the Bruins had time and space to gain zone entry and be able to generate puck movement through all three zones. They were also able to put up six goals in each of those games.
The Canadiens were different. Though their record may suggest otherwise, the Habs know how to play the Bruins and adjust their game accordingly. For whatever reason, the Bruins couldn't respond. Montreal's win over Boston on Thursday was their fifth straight, coinciding with Rask's numbers against the Canadiens continuing to rise.
It was a game the Bruins probably want to forget rather quickly, capped off by Julien's abrupt ending to the press conference.
"Good enough? See you next game."
Follow Mike on Twitter for more Bruins updates, news, and commentary.