Rankings:
Minnesota
Clarkson
Wisconsin
North Dakota
Boston College
Cornell
Harvard
Robert Morris
Quinnipiac
Boston University
Game of the Week
#1 Minnesota at #4 North Dakota, Fri. 1/31 @ 8:07 p.m. EST & Sat. 1/1 @ 8:07 p.m. EST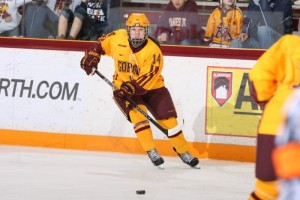 The last time these two squads met, North Dakota snapped Minnesota's NCAA-record 62-game winning streak with a 3-2 win at Ridder Arena. All of the hype about this series, though, should be about the hockey itself. This is a huge WCHA clash between rivals, and this is more about winning hockey games than seeking revenge for the Gophers. Right now they're neck-and-neck with Wisconsin for first place, so they'll be looking for as many points as possible this weekend. Minnesota put a lot of pressure on UND in their two games in November, and they'll want to do the same again here. They have a lot of success when they're hounding teams on the forecheck and backcheck, and they can make things very difficult for UND by doing that.
North Dakota, too, would like to be known for more than just being the team that ended Minnesota's streak. They'll be without star forwards Michelle Karvinen and Susanna Tapani, and top-four defender Tanja Eisenschmid, all of whom are off preparing for the Olympics with their respective countries. But Josefine Jakobsen has been playing like a Patty Kazmaier candidate, and it looks like Leah Jensen will make her return to the line-up. UND definitely has some options up front, but they probably don't want to get into an offensive bout with the Gophers. It'll be more important for them to be sound defensively and to be smooth in transition; turnovers on the breakout will be costly. If they can work from the defensive zone out, they can limit Minnesota's opportunities and then take advantage of their own.
Top-10 Teams in Action
#2 Clarkson at Union, Fri. 1/31 @ 7 p.m. EST; #2 Clarkson at Rensselaer, Sat. 2/1 @ 4 p.m. EST
Providence at #5 Boston College, Sat. 2/1 @ 2 p.m. EST; #10 Boston University at #5 Boston College, Tues. 2/4 @ 8 p.m. EST (Beanpot semifinal)
Yale at #6 Cornell, Fri. 1/31 @ 7 p.m. EST; Brown at #6 Cornell, Sat. 2/1 @ 4 p.m. EST
#7 Harvard at Princeton, Fri. 1/31 @ 7 p.m. EST; #7 Harvard at #9 Quinnipiac, Sat. 2/1 @ 4 p.m. EST; #7 Harvard vs. Northeastern, Tues. 2/4 @ 5 p.m. EST (Beanpot semifinal)
#8 Robert Morris at Lindenwood, Fri. 1/31 @ 8 p.m. EST & Sat. 2/1 @ 3 p.m. EST
Dartmouth at #9 Quinnipiac, Fri. 1/31 @ 7 p.m. EST
#10 Boston University at Connecticut, Fri. 1/31 @ 7 p.m. EST; Connecticut at #10 Boston University, Sat. 2/1 @ 3 p.m. EST
What to Watch For
The Beanpot Tournament starts this Tuesday with Harvard facing off against Northeastern and Boston University facing off against Boston College. The Crimson have a bit of a tough week coming up. They'll travel to Princeton and Quinnipiac before going up against the Huskies, who are on a roll right now, and coming away with three wins might be harder than anticipated. But Tuesday night's tilt will be the perfect time for Northeastern, the two-time defending Beanpot champions, to prove that they're a real threat to top teams.
Although there are no Hockey East points at stake, the BU-BC semifinal is also huge. The Terriers have slipped up of late, and it started with a 4-1 loss to the Eagles a few weeks ago. Boston College isn't going to be any easier to beat now, but Boston University needs to find an answer after being swept by Vermont. With the talent that the Eagles have up front, it'll be even harder for BU to control the pace of the game, but they need at the very least an effective performance this week. I think it's pretty important for BC, now that they're on top, to stay on top at this point in the season and head into the postseason firing on all cylinders. Contending for the Beanpot title again would be a great way to do that.

On 2/7/07 @BC_WHockey defeated Harvard, 4-3, in 3 OTs while hosting to advance to the Beanpot Finals. #Conte25 #TBT pic.twitter.com/V6whjYObbV

— Boston College Eagles (@BCEagles) January 30, 2014
Vermont will travel to Northeastern and Providence on a serious high after sweeping the Terriers. The Huskies are also on a good run right now, which makes Saturday afternoon's match-up all the more interesting. The Catamounts, at this point, look better than they've ever looked, and Northeastern's dealing with a short bench. Vermont's only one point behind the Huskies for third place in Hockey East, and if they can play as well as they did last week, the Catamounts have a great chance of overtaking them. The Friars, who are three points behind UVM, have also been hanging around, but even though they're probably a little deeper than Vermont, they're not as sound in goal.
After a bye week, Quinnipiac returns to action against Dartmouth and Harvard. This is a big weekend for the Bobcats, who left off with a tie and a loss in their series against Robert Morris. They haven't been able to score more than a goal in any of their last three games, and they're 2-2-1 in 2014 so far. It's possible that their top-six is worn out, but Quinnipiac needs to focus on getting back to its offensive game plan. Their finishing hasn't been the most consistent all year, but it's become a real problem over this last stretch. The Bobcats will really need to find ways to cash in when they go up against Emerance Maschmeyer on Saturday, who will only make it harder for them to score.
Gabriella is now in her third season of covering NCAA and international women's hockey for The Hockey Writers. She is the founding editor of At Even Strength, a website dedicated to providing full-time coverage and analysis of women's hockey. She is currently working towards a degree in Communication at the University of North Dakota, and is also interning with UND Athletic Media Relations. She can be reached on Twitter (@gabfun) or via e-mail (gfundaro10 [at] gmail [dot] com).