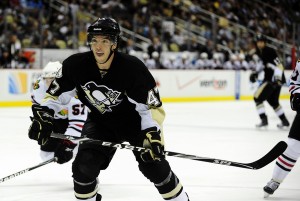 The Pittsburgh Penguins' prospect who slipped away was supposed to be the left-handed Kris Letang. This young phenom hails from the same province as Letang in Quebec. His talent is there. He's built like a tree trunk and can play any type of style: up-tempo, shutdown, or physical. His name is Simon Despres.
He was rated as one of the top defensive prospects leading up to the 2009 draft. Even though Despres was drafted last in the first round, the Penguins had true belief in his potential. To go along with all of his natural hockey ability, Despres was 6'4" and 215 lbs.
After a disappointing loss to the Boston Bruins in the Eastern Conference Finals, Bylsma had big plans for Despres. Bylsma stated that Despres was slotted as a "top-four" defenseman coming into this season. At a minimum, Despres was in the "top-six."
With all of the young talent at the defensive end, Despres was asked last summer what he thought he had to do to earn a spot on the team this year.
"Just keep it simple and play it smart," said Despres. "A smart simple game I think. I have the tools to make it so I just have to play it smart. To be around the older guys, I got to learn a lot. I'm a way better player than I was last year."
Many thought Despres let Bylsma's comments get to his head. It was initially believed that Despres showed up to the first day of training camp out of shape. On the contrary, Despres was ill on the first day of camp. He supposedly won over the coaches and his teammates while insisting he take part in the skating drills under the weather.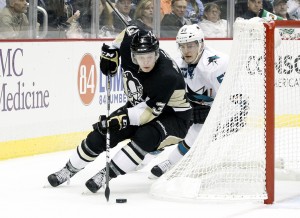 Despite the coaching staff believing Despres was in the best shape of his career, he was demoted to the Pens' AHL affiliate in Wilkes-Barre Scranton instead of Olli Maatta. The organization was blown away by Maatta's poise and maturity as a 19-year-old rookie. Despres got passed up on the depth chart before ever receiving a chance to play a game this season.
Despres was called up while the Pens went through a plethora of injuries in December. He certainly didn't hurt the team, but he wasn't good near the end of his stint. Despres was a minus five in his last five games with no points.
There is a sense that the Pens' front office doesn't have belief in Despres. While he has the ability to dazzle, he can make the coaching staff go nuts. It's not his skills, but that his decision making is inconsistent. He'll look great one second, and then the puck will be in the back of his own net the next.
The Pens' have needs before the playoffs begin, but they don't have many players available who they'd be willing to deal with any trade value. None of the superstars will be moved, not even Letang. No team will want anyone on the Pens' third and fourth lines.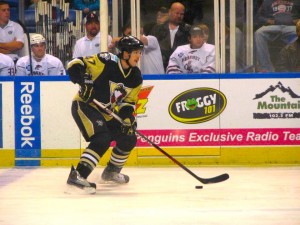 The only player who makes sense is Despres. He's only 22 years old; he's talented at both ends of the rink. Players like Brian Dumolin and Scott Harrington are now ranked higher on the Pens' prospect list and will be kept over Despres.
We'll probably never see what the Pens' top 2009 defensive prospect can do in a full NHL season. The Pens' may not be able to fulfill all of their needs before the playoffs, but they'll attempt to patch some of their holes. Despres is expected to be the first prospect traded away.
Even if the Pens' don't trade Despres. They're not crazy about his attitude as it was reported that he was unhappy that he was stuck on the baby Penguins. His luck has run out. This hasn't sat well with the organization. There is no indication that he's in line to take one of the top-six defensive spots this season. It is a shame that a player with Despres' talent hasn't been given an ample opportunity to shine.