Olli Maatta doesn't put up huge offensive numbers.  He isn't flashy, nor does he typically deliver the bone-jarring hits that can ignite an arena.  Where the 19-year old rookie excels, however, comes in the form of playing a responsible, positionally-sound game.
And, while Olli continues to play beyond his years while garnering more and more responsibility on the Penguins' blue line, his is not a name often thrown around in early Calder Trophy consideration.  Because, while fellow rookies such as Tomas Hertl and Torey Krug put up the numbers, Maatta finds success in more subtle ways.  The youngster may not stand out as much to the casual fan but his composure and steady play have proven invaluable for a Pittsburgh club ravaged by injuries.
Olli Maatta is the best young defenseman I have watched in a long, long time. The NHL needs to take notice. What a season he's having.

— Jesse Marshall (@jmarshfof) December 17, 2013
Sure, Maatta's role will likely diminish once the Pens' blue line nurses itself back to health but, in the meantime, he's showing Dan Bylsma, his teammates and the rest of the league that he can handle virtually any situation thrown his way.
 A Pleasant Surprise
Prior to the 2013-'14 campaign, Olli was anything but a lock to remain with the Penguins when the season commenced.  A strong showing in camp combined with injuries to Kris Letang and Brian Dumoulin, however, opened the door for Maatta to provide Pittsburgh with little choice but to hold on to their promising blue liner.
Bylsma said if it hadn't been for Dumoulin's injury in training camp, "he was a guy who possibly could have been in Olli Maatta's spot." -MC

— Pens Inside Scoop (@PensInsideScoop) December 16, 2013
Still, most people assumed the stay would be short-lived, that the Penguins would ship Maatta back to his junior squad after a brief nine game trial.  But, as the pundits and fans debated whether or not Olli was ready to stay, the 19-year-old quietly continued to make a case for himself.  Ultimately, that case proved strong enough that the Penguins, once again, were virtually forced to keep the rookie defenseman.
And it's a good thing they did.
The 19-Year-Old Veteran
Despite sticking with the big club, Maatta appeared destined to spend his rookie campaign as part of the Pens' third defensive pairing.  After all, with the likes of Brooks Orpik, Paul Martin, Rob Scuderi and Letang, Pittsburgh figured to boast a formidable defensive core.  The club would thus have the luxury of providing Maatta with regular NHL experience without putting too much pressure on the youngster.
When the injury bug began claiming blue liners one by one, though, that plan quickly went out the window.  First Scuderi went down; then it was Martin, followed by Orpik and, finally, Letang.  Just like that, the Penguins top four defensemen found themselves watching from the press box and Bylsma had no choice but to test the organization's depth along the blue line.
And, while the entire group has filled in admirably, no youngster has impressed more than Olli Maatta.  Regardless of what Bylsma asks of the rookie, Olli seems more than capable.  Need to kill a penalty?  He can help with that.  Looking to shut down an opponents star player?  Not a problem.
"You're not going to put him into the star category, but you're going to put him into the exceptionally good category. A lot of times people talk about limitations and say, 'Know your limitations.' I think you reverse it on Olli Maatta, he knows his capabilities…The other thing about Olli is he's a tenacious, determined player. He doesn't give up on the play. Guys like him are no fun to play against because you think you got him beat and he's still there. You're like, 'Oh come on, I just shook you off,' but there he is again. They're annoying." – Craig Button, on Olli Maatta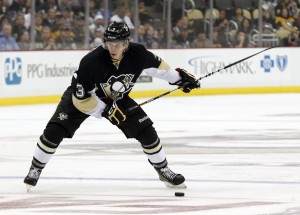 To be honest, though, maybe he does belong in that star category.  After all, Maatta's game seemingly evolves with every contest.  Always a thorn in the side of opposing attackers, Olli further added to his arsenal, contributing more offensively in recent contests.  After putting up five points in his first 29 games, Maatta has taken advantage of his increased workload (he's logged over 20 minutes of ice time on six occassions in the last eight games), contributing two goals and four assists in those eight contests.
Ultimately, though, the blue liner thrives on shutting down his opponents.  He doesn't do it, however, with intimidation or thunderous hits; no, the foundation of his game can be found in his intelligence.  Rarely will an adversary find the youngster out of position and, on the rare occasion that someone does, Maatta typically finds a way to recover before the enemy can strike.  As a result, Bylsma has grown to trust the rookie with the club's most arduous defensive assignments.  After logging 24:17 of ice time against the Maple Leafs en route to neutralizing Phil Kessel, for example, Maatta ate up a career high 28:06 against the Rangers earlier this week.  He killed penalties, helped shut down the Rangers' top line and, once again, shined for the depleted Penguins.
"The role is bigger. He's playing against the other team's best players right now. We're seeing him in a big penalty kill role as well. He's certainly been up to the task. He's a 19-year-old kid, but he certainly hasn't played like it at all in the first 36 games. His minutes are going up because of the injuries we have, but the consistency with which he plays has not changed. That's been there since training camp." – Dan Bylsma, on Olli Maatta's emergence
Time will tell how Maatta's role will adapt as the Penguins' blue line gets healthier, but, for the time being, he continues to turn heads with how well he continues to handle an increased workload.  Regardless of whether or not that's enough to attract Calder consideration down the road remains to be seen but, currently, it would prove difficult to argue that any other rookie impacts his club in a more meaningful way.
Luckily for the Penguins, that impact can be found in Pittsburgh rather than London.
Sean Griffin is a lead writer for the Pittsburgh Penguins at The Hockey Writers. He can be contacted at psgrif27@gmail.com.