October 21.  If it weren't for Olli Maatta's exemplary play during his brief taste of NHL action, that date would likely epitomize nothing more than an early season showdown between the Pittsburgh Penguins and the Colorado Avalanche.  But thanks to the solid performances Maatta continues to produce, the tilt actually represents a bit more in Western Pennsylvania.
After that Monday night contest, the Pens will have to ship Olli back to his junior squad, the London Knights, if the big club doesn't want this season to count towards their star prospect's entry-level contract.  Despite his strong play, that demotion may very well be beyond Maatta's control and, consequently, something that becomes a reality.  After all, it's great the kid has gotten a taste of NHL action but it's not like Coach Dan Bylsma has shown a propensity for leaning on youngsters when he has an option.  So, once Kris Letang returns from a lower body injury, will Bylsma really still use Maatta?  More importantly, given the depth of the Penguins' blue line, is there even room for him when the current roster finds itself at full strength?
Olli Maatta Belongs in the NHL Now
To put it bluntly, Maatta has dazzled during his limited time with the Penguins.  After an understandably shaky start to his first NHL contest, Olli seems to be growing stronger and more comfortable with each game:
"The signals right now are that he can play at this level.  At this point, it's easy to make the statement that he belongs…He was real solid in his first game.  Very good in his second game, and even better in his last game.  You could say he's headed in the right direction." – Pens' Assistant Coach, Todd Reirden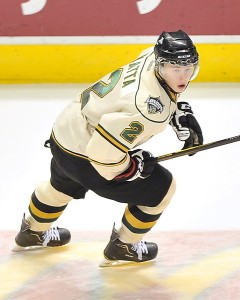 At only 19 years of age, Maatta has exceeded expectations with his solid play in the defensive zone and keen sense for the game.  What's more, his calm demeanor and skating ability actually have some comparing him to Sergei Gonchar.  As a result, many are suggesting that the Pens' only logical action would be to keep Olli for the long haul.
And, why not?  The top four (Kris Letang, Rob Scuderi, Brooks Orpik and Paul Martin) is a virtual lock to remain unchanged once everyone is healthy but the club needs a capable third pairing.  And, if the first few games are any indication, the combination of Maatta and Robert Bortuzzo is more than capable of filling that role.
That being the case, Olli needs to remain in Pittsburgh and he needs to play.  Sending him back to London won't do anything to develop his game; he's already learned everything he can in the junior ranks.  Worse yet, sticking in Pittsburgh but ultimately being demoted to the role of a seventh defenseman may actually serve to hinder Maatta's development.  Sure, he'd continue to soak up what life is about in the NHL but someone his age needs to be on the ice, playing in games.  Hell, he'd be better off returning to the Knights than to spend the balance of the campaign as the odd man out in the NHL.
Yes, the grind of a full campaign in Pittsburgh will be an adjustment and, yes, the playoffs will be a different animal for a 19 year old blue liner but Maatta has gone above and beyond to this point.  Who's to say he won't continue to do so?  The only way to find out for sure is to provide him with an opportunity he has already earned.
Olli Maatta and the Pens' Long-Term Outlook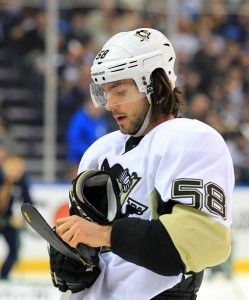 While keeping Maatta in Pittsburgh might be the right thing for his long-term growth, it adds (in the short-term) to what has already become a logjam on the Penguins' blue line.  As we mentioned above, the top-four will likely remain unchanged once everyone is healthy but keeping Olli will leave himself, Bortuzzo, Matt Niskanen and Deryk Engelland duking it out for playing time on the third pairing.  That doesn't even include Simon Despres, who found himself banished to the AHL for the start of the 2013-'14 season despite Bylsma's offseason endorsement as a top-four defenseman.
But a closer look at what appears to be a formidable defensive unit reveals a group that is growing a bit long in the tooth.  Of the club's top-four blue liners, only Letang (26) still finds himself under the age of 30.  While Scuderi (34), Orpik (33) and Martin (32) are still effective today, are they all in the club's long-term plans?  Yes, Scuderi will likely be around for the next several years but Orpik and Niskanen are each entering the final year of their contracts and Martin's deal expires after the 2014-'15 season.  With all the talent in the Penguins' system, logic dictates that it's only a matter of time before we witness a changing of the guard on the Pittsburgh blue line.
And, if that is indeed the case, wouldn't it make sense to provide Maatta with some valuable experience while he still has an opportunity to learn from such a veteran presence?  Not only will he benefit but the club could potentially minimize the number of prospects looking to spread their wings at the NHL level all at once.
What's more, with Maatta exceeding expectations, it may free up G.M. Ray Shero to relieve some of the pressure created by that logjam on the blue line.  As mentioned above, both Niskanen and Orpik find themselves staring at free agency following the 2013-'14 campaign and, if one or both aren't in the Pens' long-term plans, either could become expendable once Letang returns.  And, while Niskanen has been the subject of trade rumors for months, it's Orpik's value that could prove to be the most interesting:
Orpik has struggled with injuries for many seasons and, unlike Niskanen, could command big money on the free agent market next summer.  In the salary cap era, prudent managers know it's best to unload a diminishing asset a year too early rather than a year too late. – THW's Mike Colligan
Moving the long-tenured, physical presence that Orpik represents might be a tough pill for Pens fans to swallow but it may turn out to be a viable option, something that allows Shero to strengthen a point of weakness on this Pittsburgh club.
Sure, things might be different if the Pens' window was about to close and the organization wanted to go with more of a veteran presence in order to take one last stab at a championship.  That, however, is not the case.  This is a club whose core should remain intact for several years, ensuring the Penguins will remain competitive for the foreseeable future.  Given that it doesn't appear Maatta will hinder Pittsburgh's pursuit of glory this year and should be a mainstay on the squad's blue line for seasons to come, it's clearly in both his and the team's best interest to keep the youngster in Western Pennsylvania so that his game can continue to blossom.
Sean Griffin is a lead writer for the Pittsburgh Penguins at The Hockey Writers. He can be contacted at psgrif27@gmail.com.