Penguins GM Ray Shero never expected to sign Rob Scuderi.
But when Shero got the chance to bring an important piece back into the fold, he took advantage.  Scuderi signed a four-year deal with the Penguins on Friday worth $13.5 million.  The contract includes a limited no-movement clause.
Scuderi's rise to prominence has been interesting to watch.
In his early years, Scuderi played such an understated style of hockey that on most nights you would never notice him. He made simple plays and was largely unappreciated by the Penguins fanbase.
That changed in the 2007-08 season.
The Penguins made a surprising run to the Stanley Cup Final.  National analysts started to notice all of the little things that Scuderi — just a $712,500 cap hit at the time — did so well on a nightly basis. After Pittsburgh knocked off Alex Ovechkin and the Washington Capitals in the second round, Scuderi and defensive partner Hal Gill were suddenly hailed as the NHL's quintessential shutdown pair.
No one seemed to notice that Ovechkin still had 8 goals and 14 points in that series.  Scuderi and Gill were good against the Capitals, but they weren't great.
The Pensblog pointed out on Friday that Scuderi was the defenseman who Ovechkin flew past on his way to an early Game 7 breakaway opportunity in that series.  No one remembers Scuderi's role on the play because Marc-Andre Fleury made a huge save and the Penguins coasted to a 6-2 victory:
In a sense, Scuderi started to become overrated.
As Scuderi's legend grew during the Penguins' Stanley Cup run in 2009, so did his perceived market value.  Call it the 'Curse of the Cup'.  Successful playoff runs and league-wide exposure turn role players into so-called 'clutch stars'.  (Bryan Bickell recently went from a $600k salary to a four-year deal worth $4 million per season because he scored nine goals in the playoffs and the Chicago Blackhawks won the Cup)
Scuderi will fill an important hole on the Penguins' defense, but expectations need to be tempered.  He won't be a savior or a star — especially at age 38 when he's in the final season of a four-year contract.
That doesn't concern Shero at the moment.
"If I'm going to pass on Rob Scuderi because I'm going to be worried about what he's going to be like at 38, I'm not going to get him."
_________________________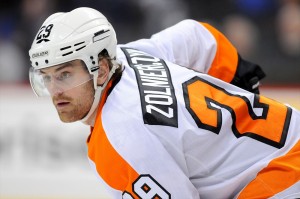 Shero insists on focusing on the short-term, so let's focus on the short-term.
According to CapGeek.com, the Penguins currently have $676,667 in cap space available for this season.  That includes 11 forwards, 7 defensemen, and 2 goalies.
Shero is allowed to exceed the salary cap by ten percent in the offseason, but must be compliant within the $64.3 million cap by opening day in October.
Qualifying offers have been tendered to forward Dustin Jeffrey ($687,600) and defenseman Robert Bortuzzo ($577,500).  If both players accept their qualifying offers, the Penguins will be over the cap and forced to make a move.
"Right now, we have to be careful with where we're going in certain areas," said Shero.  "We have three months to get cap compliant.  We have certain decisions to make.  We're not going to go too fast here unless something presents itself that makes sense to us."
Immediately following the Scuderi signing, speculation swirled regarding who the Penguins would be willing to trade on defense.  Matt Niskanen has become the logical choice, if only because of his modest role and salary ($2.3 million).
But let's consider all the options.
First of all, why are the Penguins making a trade?
Last season, Shero had issues with available spots on the 23-man roster and was forced to unload Brian Strait (waivers), Ben Lovejoy (traded to Anaheim), and Eric Tangradi (traded to Winnipeg).
Dollars are the concern this year.
Shero needs to work at least one depth forward onto the roster and Jeffrey's qualifying offer amount won't fit.  Assuming the Penguins re-sign Jeffrey, they could trade him or risk a trip through waivers at the beginning of the year.  That would mean fringe players such as Harry Zolnierczyk (RFA, $660k qualifying offer), Zach Sill (RFA, $578k), and recently acquired Andrew Ebbett ($550k) could compete for fourth line spots.  All would fit within the available space.
The same trade or waiver option exists for Bortuzzo.  Scuderi brings a very similar skillset to the table and will likely render Bortuzzo expendable, especially considering the Penguins' developing crop of prospect defensemen.
A few simple moves like that could be all Shero needs to do to have his club cap compliant for the start of the season.  On the other hand, he could also target a more significant shakeup.
Trading Niskanen is a possibility.  Clearing a few million in cap space would give Shero the flexibility to beef up his checking lines in a more substantial way via trade or free agency.
Niskanen is earning more than most third-pairing defensemen at the moment, but I like the value and upside he has to offer to the Penguins.  He'll become an unrestricted free agent next summer, but won't get the minutes to pull off any sort of career season that would lead to a big open market payday.  Niskanen seems to genuinely love the opportunity he's received in Pittsburgh to revive his career and won't be a guy that jumps to another team for similar money.
He does nothing exceptional, but everything well.  Niskanen is a good skater with above average vision and plays with an edge.  Dumping him for a draft pick and cash to spend on forwards seems like a fruitless exercise.  The Penguins are already capable of scoring plenty of goals.
Another option that might be tough for some Penguins fans to stomach is a trade of Brooks Orpik.  He's an assistant captain, fan favorite, and brings a physical element that's much needed, but how much time does he have left?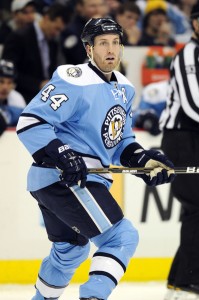 Orpik has struggled with injuries for many seasons and, unlike Niskanen, could command big money on the free agent market next summer.  In the salary cap era, prudent managers know it's best to unload a diminishing asset a year too early rather than a year too late.  Orpik has a limited no-trade clause in which he can list eight teams he will not accept a trade to.  The Penguins wouldn't be a better team this year without Orpik on the roster, but he's highly-regarded around the league and would likely fetch a significant return.
The final option is to leave the defense alone.
For whatever reason, there have been consistent rumors out of Ottawa that the Penguins are considering a trade of James Neal.  This is mind-boggling.
Sure, Neal has shown that he can't create offense on his own and relies on Evgeni Malkin to produce, but why is that a problem?  Malkin isn't going anywhere.  Neal has scored at a 40-goal pace the past two seasons and is signed for the next five years at a $5 million cap hit.
Want to know what that contract will buy you on the free agent market these days?  Broken down three-goal scorers like Ryane Clowe.
The real odd man out up front for the Penguins is Jussi Jokinen.
Three weeks ago, that wasn't the case.  Jokinen cost the Penguins nothing (no really, nothing) and the Carolina Hurricanes are picking up $900k of his $3 million salary this season. He was a perfect backup plan in case Pascal Dupuis left in free agency, but Jokinen doesn't have a spot now that Dupuis is signed long-term.
He's exactly what the Penguins need in a faceoff man, but there's no center spots available and he won't beat out Beau Bennett for a Top 6 wing role.  Jokinen is a luxury, not a necessity.
As Shero said, the Penguins have three months to make a decision.  The Scuderi signing allows him to wait and watch the trade market evolve.  There's no rush and a number of teams still have roster shuffling to do.
Heck, the St. Louis Blues will be trading a goaltender in the coming weeks.  Swapping out Marc-Andre Fleury ($5 million) for Jaroslav Halak ($3.75 million) would cure the Penguins' cap concerns for this year and give them a goalie of the future.
But that's an article for another day.
_________________________