Craig MacTavish and the Edmonton Oilers haven't made the big splash everyone was anticipating and hoping for, at least not yet.
Expectations are running high and based on MacTavish's proclamations when hired, Oiler fans may not be satisfied unless he lands a bonafide NHL star.
He missed out on winger David Clarkson, judged to be one of the top free agent targets, however based on the term and numbers given to him by Toronto, he may have dodged a bullet and be better off not handing out a contract of that size to someone who lacks much of a track record.
A blockbuster deal very well may still be coming, and no one is saying it may not be necessary, but it doesn't mean that MacT hasn't been busy.
What he has done is make signings that fill needs within the lineup.
The first and most significant of his signings made over this first week of free agency was that of defenceman and Edmonton native Andrew Ference to a four year deal, 13 million dollar contract.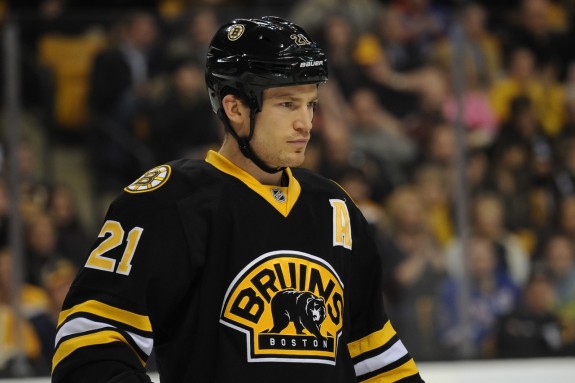 Ference has spent the last seven years with the Boston Bruins, and brings a number of traits to the table that the Oilers sorely need.
He plays a tough, physical, in-your-face style of game, something that few of the Oiler blueliners do. He can play against the other teams top line and log 20 minutes of ice time and be effective on the penalty kill.
He also brings leadership and a winning pedigree. He won a Stanley Cup with the Bruins in 2011 and went to the Finals in this year's playoffs. He may not be a top pairing defender, but will play in the Oilers top four and a valuable member at that.
Perhaps almost as important is the fact that he is excited to return home and play for Edmonton, his favourite childhood team.
"I used to go to games with my dad, and even saw the Cup won there," said Ference, a native of Edmonton who once attended Oilers practices with his neighbour Petr Klima, the former Oiler. In fact, just before his deal was announced, he tweeted a picture of himself as a youngster, wearing an Oilers jersey."
Also signed was centre Boyd Gordon to a three year contract. A 29 year old centre, Gordon will be a bottom six forward who will kill penalties,and play a shutdown role. He's also one of the league's best faceoff men.
With the departures of Shawn Horcoff and Eric Belanger, Gordon will be expected to replace one of the two depth chart positions and improve on the production of the two veterans previously in those roles.
Unless there is another move to be made, Gordon will likely slot into the third line centre role vacated by Horcoff and Anton Lander will assume fourth line centre duties.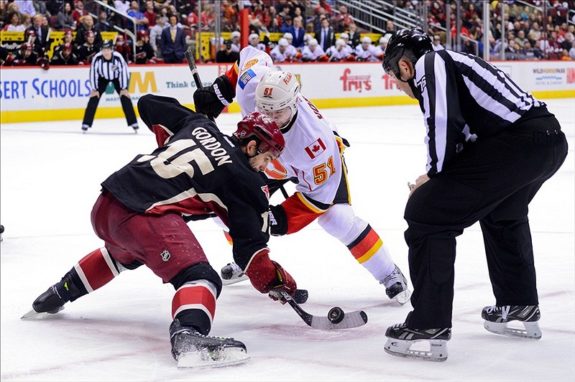 "It was tough leaving Phoenix. I was, obviously, very comfortable there, but Edmonton was always a team I felt had a lot of potential," Boyd said. "It will be a good fit. I think things are going to work out well.

"The team needed depth. Obviously, they have a great group of forwards, a young skilled group, and I think I add a different dimension."
Returning is winger Ryan Jones, who was thought to have played his last game with the Oilers when the 2013, 48 game scheduled ended. He is back on a one year contract and will get another chance to prove he can be a contributor for Edmonton.
A high energy player, he is aggressive on the forecheck and can get under people's skin. He also has shown some touch around the net, scoring 17 and 18 goals respectively in his previous two seasons. His issue has been consistency and bringing it every night. He'll get the opportunity this year under a new coach in Dallas Eakins to prove he can do so.
The Oilers were spurned by the Vancouver Canucks in their attempts to land Cory Schneider, but they did improve the goaltending position and added some depth to it. They signed veteran backup Jason LaBarbera to a one year deal and former Dallas Star Richard Bachman also on a one year deal.
The Oilers had lost their second and third goaltenders on the depth chart to free agency in Nikolai Khabibulin and Yann Danis, and now have two replacements who will battle to be Devan Dubnyk's backup.
There were also a few more moves made by MacTavish in those few days, and while the names may not be known to most, they add some important depth and grit and could battle for depth positions on the big club.
They added forward Will Acton, who is the son of assistant coach Keith Acton and also played under Eakins for the Toronto Marlies, another former Marlie in forward Ryan Hamilton and Finnish winger Jesse Joensuu on a two year deal.
There are certainly still holes to fill on the Oilers roster going forward, and MacTavish will certainly work at filling those, but he has made some good strides in the right direction and adding pieces that are sorely needed.
With the current signings in July, there is still cap room to make a significant deal, especially once the salaries of Shawn Horcoff and Eric Belanger came off the books.
Some of that money however, is likely earmarked to sign Sam Gagner, who surprisingly has not been inked to a deal yet. Perhaps there is more in the works and deals to come.
Stay tuned.
____________________________________________________
 Follow Carl on twitter @maloney3383 and Google+ for more articles.
Carl covers the Edmonton Oilers for THW as well as providing additional prospect coverage. Follow him on twitter @carlTHW, connect on Facebook or contact at carl.maloney@hotmail.com for questions, comments or if you're interested in him writing for you.