As free agency opened up on Friday and general managers threw money around in preparation for the 2022 NHL lockout, there was a storm brewing in Minnesota. Out of the hundreds of millions of dollars handed out in contracts on July 5th, $7.5 million was promised to Matt Cooke for three years by the Minnesota Wild. The fan response…cannot be posted on this page.
Some of the writers haven't been much more open to it either.
[See: Cooke signing could burn GM, boil the fans' tempers by Jim Souhan]
Cooke has had more than his fair share of ups and downs in his career so far. He won an award as Vancouver's "unsung hero" on a line with Markus Naslund back in 2003. He later found a role with Pittsburgh as the ultimate pest, culminating in a Stanley Cup Championship in 2009. There were also plenty of suspensions along the way, and questions of whether he belonged in the NHL.
What does all of that say about the 2013 version of Matt Cooke though?
Cooke's Detestable Past
It starts with his suspension history:
2/21/2004 – Suspended 2 games for spearing Matt Johnson.
1/27/2009 – Suspended 2 games for hitting Scott Walker in the head.
11/29/2009 – Suspended 2 games for hitting Artem Anisimov in the head.
2/9/2011 – Suspended 4 games for checking Fedor Tyutin from behind.
3/21/2011 – Suspended 10 games and the first round of the playoffs for elbowing Ryan McDonagh in the head.
There isn't much to elaborate on with those suspensions. Cooke certainly had his issues with crossing the line, especially when it came to hits to the head. It also took him an excessively long time to restrain himself on the ice, finally "reforming" after the McDonagh hit and its resulting suspension.
[See: Pittsburgh Penguins agitator Matt Cooke is proof that supplemental discipline can work by Nicholas J. Cotsonika]
These suspensions don't even include one of Cooke's most controversial hits though. The blindside hit to Marc Savard, which was one of the driving forces for player safety and rule changes, was given no supplemental discipline whatsoever. Boston fans are still up in arms over that (though don't forget – that hit didn't end Savard's career by itself).
With plenty of video proof that Matt Cooke is/was dirty, reckless, and a menace to the game, how could anyone root for him?
The Other Side of Matt Cooke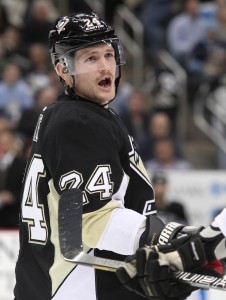 The reason Matt Cooke is still worthy of a 3 year contract for $7.5 million is because of the player he is right now. It has been over two years since his last suspension. While that time hasn't passed without controversy (still waiting on Eugene Melnyk's forensics investigation), Cooke's infractions are usually along the lines of what most NHL players do.
Many are quick to argue that his hit on Adam McQuaid in the Eastern Conference Final was dirty this year, but a quick Youtube search will provide you with similar penalties from the likes of Henrik Zetterberg, Marian Hossa, and Daniel Sedin as well. It was a bad hit, but it wasn't a "typical Cooke hit" based on his rap sheet; it was just a penalty in the course of the game.
So what does Matt Cooke do right?
Over the past two seasons, Cooke has scored 59 points in 130 games to make him a solid 3rd line scoring threat.
He has also averaged over 2 minutes of shorthanded ice time per game as one of the best penalty killers in the league. He was 16th in the league among forwards for PK time per game during the 2011-2012 season. Adding to his defensive and penalty killing abilities, Cooke led Penguins' forwards with 41 blocked shots during the 2013 season.
Meanwhile, Cooke has only taken 80 penalty minutes in the 130 regular season games since his last suspension. That is less than Penguins stars Evgeni Malkin and James Neal have each taken in fewer games. During his most reckless years (2009-2011), Cooke was averaging over 100 penalty minutes per season.
Aside from now being a solid 3rd liner, a great penalty killer, and a player who takes fewer penalties, Matt Cooke has also been a good man off the ice.
[See: The Charitable Side of Matt Cooke by Michelle Crechiolo]
Cooke has gone above and beyond what is necessary as a public figure when it comes to charitable work in Pittsburgh. He has assisted with the Pittsburgh Kids Foundation in their work with Haiti, the Light of Life rescue mission for the homeless, and the Ronald McDonald House. In 2013, the Penguins recognized Cooke with the Edward J. DeBartolo "Community Service" award for his exceptional efforts in the community.
So for the state of Minnesota, its writers, and its fans, here is what I urge you to do. Continue to hate 2009-2011 Matt Cooke, and that version of what he was on the ice. However, consider giving him a chance for what he is in 2013. He will kill penalties for you instead of taking them. He will provide leadership for your locker room as someone who has been through it all. He will make your community a better place with his time and effort.
Russo's interview with M Cooke was very honest and very candid!! Have an open mind Wild fans!!

— Wes Walz (@walz3737) July 8, 2013
Just give him a chance to show you all of the good things he can do. Pittsburgh and its fans promise you that it'll be worth it.  He is already trying to show as much respect as possible.
Cooke on wearing #24 (Boogaard wore #24 with #mnwild): "I don't really feel comfortable putting it on without his mom and dad's blessing."

— KFAN1003 (@KFAN1003) July 8, 2013
As Ron Cook aptly points out, "Pittsburgh's loss is Minnesota's gain."
Meesh is an attorney and one of the Pittsburgh Penguins Contributing Writers for The Hockey Writers. He also writes for ThePensNation.com. You can contact him on twitter @HockeyMeesh or e-mail HockeyMeesh@gmail.com