Compared to the last few years, the Carolina Hurricanes' general manager Jim Rutherford has accomplished virtually nothing this offseason.
There was no trade involving his first round pick, nor was there a $7 million signing.  Not a single 10-year contract was handed out.  But what Rutherford has done thus far this summer is nothing short of astute.
The 2013 edition of the Hurricanes needed little tinkering.  It was a team that held their own with the likes of the Pittsburgh Penguins, jumping out to a 14-9-1 record through the season's first half, a 99 point pace.  When injuries began to take their toll, the weaknesses became glaring.  Depth on both the blueline and in net ultimately derailed their season.
With the moves he's made through early July, Rutherford has ensured a repeat in 2013-2014 will be unlikely.  But it's also the moves he hasn't made.
Moving On
Not too long after the season ended, Rutherford made the uneasy decision to let walk every unrestricted free agent that ended the season with the big club, including fan-favorite Chad LaRose.  All said, a mere 10 goals were lost while just over $6 million was saved.
After the first weekend of free agency which saw 72 different players signed, everyone that Rutherford let go was still available save for minor leaguer Jerome Samson.  While the door for some of those players to return is not shut, it is closing.
Using The Draft
At the draft, rumors persisted that the Canes were shopping their 5th overall pick.  As it went on and names floated around, Rutherford worked the phones trying to find the right move.  Seth Jones would have looked great in the sightless eye, but the price to move up was too steep.  Shoring up the defense while moving down and still selecting an impact player would have killed two birds with one stone, but the fit wasn't right.
In the end, Rutherford played it safe and took Sweden's Elias Lindholm.  Should he make the team–and he'll get every opportunity to do just that–his two-way presence and excellent vision would be a welcomed addition to Kirk Muller's squad, whose special teams were both in the bottom four.  Fans shouldn't expect a Jeff Skinner-like debut, but, to begin with, he may be the solution to the third line center question that was vacated by the departure of Brandon Sutter.
Feels awesome to be a part of the Carolina hurricanes!! @NHLCanes

— Elias Lindholm (@lindholmelias) July 1, 2013
Lindholm wasn't the only addition that Rutherford would make at the draft.  A few hours later, Andrej Sekara arrived from the Buffalo Sabres in exchange for Jamie McBain and the 35th overall pick.  At only 20 months older and $950,000 more than McBain, Sekara provides a legitimate top-four defensive presence.
While McBain can be a nice player, his development in Carolina had stagnated.  In his third professional season, he still made appearances in the press box.  And though the second round pick could have been used on any number of players in this deep draft, the reality is that there was no guarantee that the draftee would even come close to the player Sekara is now, and likely not for some time, if ever.
Under the Radar in Free Agency
This year's free agency class was not a strong one, with few big names available and even less cap space.  There was no Zach Parise or Ryan Suter, but there were plenty of players that could help a new team.
Rutherford wasted little time, signing ex-Toronto Maple Leaf Mike Komisarek to a deal in the day's first hour.  Komisarek, bought out by the Leafs, decided Carolina was the right move for him.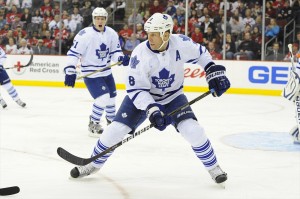 "It was a no-brainer for me," he said. "I thought this would be the best fit for myself and my family to go down there and get a fresh breath of air and a new opportunity to contribute, play and be part of a team that's up-and-coming and a great organization."
Komisarek brings everything the Canes were looking for: a big, physical presence who isn't afraid to throw hits on a regular basis.  A need for games against their new Atlantic division rivals.  And though he's only 31, with the departures of LaRose and Joe Corvo, he immediately becomes the oldest player on the team and a veteran leader.
His 1 year, $700,000 deal is not unlike the one Alexander Semin signed last offseason–just move the decimal.  If both parties like the results, an extension could be on the horizon.
The final move made by the Canes' GM was one that was a long time coming.  With few exceptions, there arguably hasn't been a reliable backup goaltender in the organization since the days of Kevin Weekes and Arturs Irbe.  Even Cam Ward struggled while he was a rookie, despite winning games.
Enter Anton Khudobin, late of the Stanley Cup runner-up Boston Bruins.  During his first full season in Boston, he compiled a stellar 9-4-1 record with a .920% and 2.32 GAA.  And the 27-year-old came at an affordable $800,000–the same figure Dan Ellis made last year.  Should Ward go down with another injury or simply need a rest, Khudobin should provide the relief that the team has been lacking for years.
***
All said, Rutherford brought in four new players to contribute as soon as next season.  The team, as it stands today, is a stronger one overall–both physically and mentally–than the one that began last year's campaign.
Individually, none of these moves are going to make or break the team.  But taken together, the offseason can be considered nothing but a huge success.  Even if no one takes notice.