It took just three NHL games for Penguins defenseman Olli Maatta to stir up a raging debate in Pittsburgh. With most junior-eligible defensemen, the debate tends to be whether or not the player belongs in the NHL yet. With Maatta, the question is: How can anyone justify sending the prospect back to the OHL's London Knights?
I don't care about nine-game rule. Or precedent. No way Shero can send that kid back to juniors. #MaattaMaanCrush — Dejan Kovacevic (@Dejan_Kovacevic) October 9, 2013
Just a Tryout
When the Penguins entered training camp this season, they were over the salary cap and had a plethora of NHL defensemen. Most writers and fans assumed that a defenseman would be moved before the season began and the only question was which defenseman would get traded.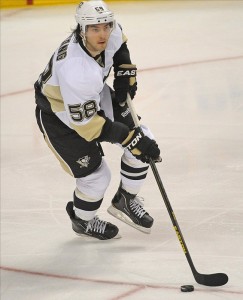 The preseason didn't go according to plan though (does it ever?). Goalie Tomas Vokoun was sidelined due to blood clots and will miss 3-6 months, defenseman Simon Despres underwhelmed seemingly everyone in camp, and defenseman Kris Letang suffered a leg injury that landed him on the injured reserve list to start the season.
Meanwhile, prospect Olli Maatta was turning heads throughout the organization for his strong play all over the ice. With Vokoun going on the long-term IR, Letang on the IR, and Despres not exactly forcing the organization to keep him in the NHL, the team suddenly had cap solutions and room for another defenseman, at least temporarily.
When the Penguins maneuvered the salary cap on roster deadline day, Maatta found himself still in the NHL and in the opening night lineup. The whole scenario made perfect sense. The Penguins could give Maatta a taste of the NHL while Letang was out.  Then, they could send him back to London to play top-pairing minutes.  Ironically, Letang received his first taste of the NHL in a similar fashion when Brooks Orpik was hurt back in 2006.
(Note: Maatta can play up to nine NHL games without using up a year of his contract with Pittsburgh. After nine games, he may still be sent down to juniors but a full contract year will be used. Due to the transfer agreement between the NHL and CHL, Maatta may only play for either the NHL or his junior team since he doesn't turn 20 before December 31st.)
More Than Meets the Eye
Just three games into the season, Maatta now has everyone questioning whether he should be sent back to London at all.
Watching Olli Maatta's first few pro games, he doesn't look like a 19-year-old. He's making it a tough call for Shero & Bylsma IMO. — PensNation_Nick (@PensNation_Nick) October 9, 2013
His NHL debut was quiet but strong. He played 14:44, mostly on a 3rd line pairing with Robert Bortuzzo, and recorded one shot on net. It wasn't a flashy debut, but it was certainly NHL-caliber as the Penguins shut out New Jersey.
In his second game of the season, against Buffalo, he recorded a little more ice time (15:39) and 2 shots on net. Again, it wasn't flashy, but it was another strong outing as the Penguins only allowed one goal and Maatta was not involved with it.
Quietly going about his business, Maatta drew everyone's attention in his third game of the season against Carolina. He recorded his first NHL points (two assists) in 15:58 of ice time, looked almost flawless yet again in the defensive zone, and was named the 2nd star of the game.
Maatta's impressive start goes beyond normal NHL statistics though. Jesse Marshall of Faceoff-Factor delved into Maatta's linemates, quality of competition, and overall performance. Using Shift Chart, he noted that Maatta has received most of his playing time behind the Penguins' defensive 3rd line of Chuck Kobasew, Brandon Sutter, and Dustin Jeffrey. As a group of five that includes Maatta's defensive partner, Robert Bortuzzo, the line has yet to allow a goal at even strength.
Perhaps Maatta is being protected slightly by his defensive linemates, but the result is still the same – no goals allowed against the good competition that Sutter's line tends to face.
There is one caveat to Maatta's performance though. Through their first three games, the Penguins have had the advantage of playing at home and determining matchups with the final line change. As they hit the road this weekend, opposing coaches will finally get a chance to dictate the matchups against Maatta's line.
Pittsburgh or London?
Despite the small sample size, the big question is obviously whether Maatta should stay in Pittsburgh or be returned to London for one more year. Unfortunately for him, several factors will play into it that have nothing to do with his impressive start.
When Kris Letang returns to the lineup, the Penguins will have seven defensemen on one-way NHL contracts. The pairs would likely be:
Rob Scuderi – Kris Letang
Brooks Orpik – Paul Martin
Matt Niskanen – Robert Bortuzzo/Olli Maatta/Deryk Engelland
The top 5 of the group is set. Bortuzzo and Maatta have earned their spots ahead of Engelland already and would be fighting for that 6th spot. This puts both players in a bad position for development. While the healthy competition between them may boost their play, neither young defenseman would get the playing time he deserves or requires to keep growing his game effectively. Also, carrying eight defensemen isn't exactly ideal as Engelland would get rusty.
Since keeping eight defensemen would probably hurt the development of both Bortuzzo and Maatta, the next option to keep Maatta in the NHL would be trade or waive a defenseman. Rumors have already been flying about teams talking to Pittsburgh about defensemen.
Dreger on TSN: #Ducks are looking for a defenseman. #Leafs, #Penguins, #Flyers involved. Anaheim may part with young forward for D help. — Todd Cordell (@ToddCordell) October 4, 2013
The top 4 would almost certainly remain, leaving Niskanen, Bortuzzo, and Engelland as pieces to move. Moving Engelland solves very little as it still puts Bortuzzo and Maatta into a bad situation for playing time. The team appears to value Bortuzzo highly, making him an unlikely candidate to get traded unless the perfect deal is available. This leaves Matt Niskanen as the most likely trade candidate, just as he was in the preseason.
Trading Niskanen ($2.3 mil.) would likely free up cap space for future moves and allow Bortuzzo-Maatta to continue as the 3rd pairing. It would significantly take away from the Penguins' defensive depth though. Kris Letang has dealt with injuries throughout his career and Niskanen has filled in admirably every time he has been called upon. Would the Penguins want to risk turning to a top 4 that may include Bortuzzo, Maatta, or Engelland in case of injury? That seems like an unnecessary risk for a Stanley Cup contender.
Another long-term issue to question is whether the Penguins would want to potentially head into the playoffs with an inexperienced 3rd pairing that other teams would try to attack in the playoffs.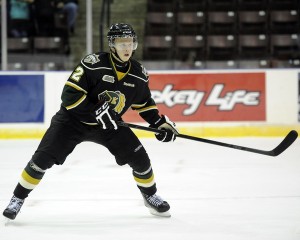 Unfortunately for Maatta, this leads to the answer that he and many Pittsburgh fans will be forced to succumb to. Olli Maatta is ready for Pittsburgh, but Pittsburgh is not ready for Olli Maatta quite yet.
At this point in Pittsburgh's development, winning now is important. At this point in Maatta's development, getting playing time is important. The two will probably have to wait one more year before they fully coincide.
Either way, Olli Maatta has a very bright future ahead of him in Pittsburgh.
Meesh is an attorney and one of the Pittsburgh Penguins Contributing Writers for The Hockey Writers. He also writes for ThePensNation.com. You can contact him on twitter @HockeyMeesh or e-mail HockeyMeesh@gmail.com