When the Edmonton Oilers signed Boyd Gordon this offseason, there were a couple of questions fans were asking.
Is he worth three million per year?
Can he be an upgrade over Eric Belanger and Shawn Horcoff?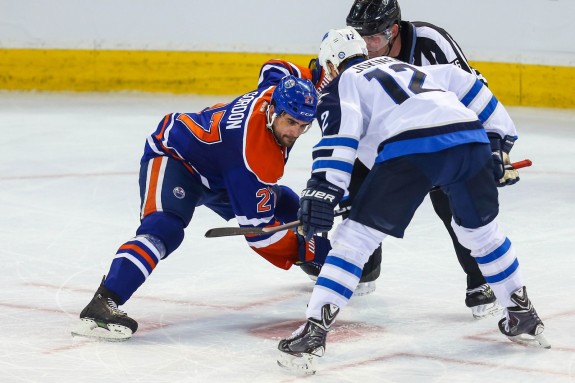 True it has only been three games in, but Gordon is going a long way early on to answer those two queries.
Belanger was signed in 2011 to provide a defensive presence, faceoff prowess, chip in some secondary offence, and be tough to play against. Few of those things ever materialized, and while he was better than some on the Oilers team in his own end and in the faceoff circle, he provided no offence and was generally a non factor on many nights.
With Belanger and Horcoff both departing this year, Gordon was brought in to fill the void and centre the team's third line. Again, and can't be emphasized enough how early it is, but the intial returns have been good and Gordon has been arguably the team's best forward so far. Especially in the eyes of Dallas Eakins.
"Every shift seems like it might be Boyd's last because of his compete level," Eakins said.

"He's a selfless, courageous guy, even in the exhibition season, sticking his foot out to block shots … you don't see a lot of vets do that. He's doing everything right for me; that was a real good (free-agent) pick-up by Craig (GM MacTavish)."
Many of those compliments have been missing when talking about the Oilers in recent years, and something the Oilers will need Gordon to bring on a consistent basis all year.
A Perfect Complement
Gordon fits in perfectly to the Oilers current version of the roster. He looks like a younger version of Shawn Horcoff in many respects. He's defensively sound, killing in it the faceoff circle, hard on the forecheck and backcheck, and able to chip in a little on the scoresheet.
When healthy the Oilers have Ryan Nugent-Hopkins and Sam Gagner as their top two centres. Both prolific offensively and supremely talented. What they aren't, are complete hockey players. Both have been improving their overall game, but would be considered defensively suspect. They struggle handling bigger forwards physically in their own zone, and are overmatched in the faceoff circle against many of the better centremen.
Enter Boyd Gordon.
He is one of the best defensive minded centres in the NHL and rock solid in his own end. He is among the league leaders in shorthanded time on ice for forwards and great on the penalty kill, and is also in the top ten in the league in faceoff percentage (61.8%) so far.
Gordon is still just 29 and in the prime of his career, unlike when they signed Belanger. The hope is that he will grow along with the rest of the young Oilers over the length of his contract.
The "New" Oilers Kind of Guy
There seems to be a trend with the new acquistions made by Craig MacTavish by extension, Dallas Eakins. If we've learned anything with the new regime is that they value players that are hard working, responsible and tough to play against in addition to what their skill set is. Boyd Gordon, along with Andrew Ference, David Perron, Jesse Joensuu and Will Acton are among the newcomers that, along with their varying abilities all possess those traits.
When MacT and Eakins talk about a new identity and culture, we're starting to get the picture for what they mean and what will be expected in a new era of Oilers hockey.
Increased Role
Gordon has been viewed as one of the better defensive specialists and faceoff kings in the league over the last few years. The Oilers are also hoping that there is still some untapped offensive potential there as well.
His best offensive year in the NHL was two seasons ago when he had 8 goals and 23 points for the Phoenix Coyotes. The Oilers are hoping that in a system based more on speed and potentially having more offensive minded players around him, those numbers will jump.
Gordon had some success in junior for the Red Deer Rebels where he put up 33 goals and 81 points in his last season there. He doesn't need to come anywhere near those numbers but if he can contribute 10-15 goals from the third line centre spot, it would be a huge boost in terms of secondary scoring for the Oilers.
With 2 goals and an assist in his first three games in Edmonton, he's certainly started with a favourable impression.

 *****
So far it looks like the Oilers won't be destined to repeat past failures and that Gordon is the player they hoped they'd be getting. It's a little earlier for those type of statements, but the fact he has been among their best players so far is a good sign.
I was one of those who questioned giving nine million dollars over three years to a career third and fourth line centre, not knowing Boyd Gordon all that well. However, if he continues with the play he's had over the first three games over the course of a season, it looks to be a good signing indeed.
___________________________________________________________________________________
 Follow Carl on twitter @maloney3383 and Google+ for more articles
Carl covers the Edmonton Oilers for THW as well as providing additional prospect coverage. Follow him on twitter @carlTHW, connect on Facebook or contact at carl.maloney@hotmail.com for questions, comments or if you're interested in him writing for you.