Toronto Maple Leafs' fans were reintroduced to the brighter side of Nazem Kadri on Tuesday night when the 23-year old dazzled in the team's win over the Tampa Bay Lightning. But it's a picture that Toronto fans are getting used to – the inconsistent play of Leaf players throughout the lineup.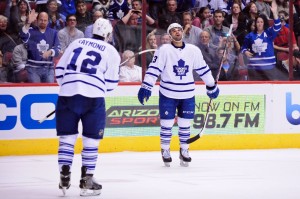 The difference, however, between Kadri and the rest of the team is that his name has been dragged through the media in recent weeks surrounded by trade rumours. While general manager Dave Nonis has emphasized that his trade intentions don't include one specific player and Kadri has reaffirmed his interest in playing in Toronto, it seems that rumours of an imminent move are still swirling.
But looking at Kadri's performance thus far this season, one would argue that it's far too early to consider trading the former seventh overall pick. He currently ranks third on the Leafs with 35 points (14g-21a) in 51 games – that's the up side. But there is more to this young and complex player – a two-faced forward the Maple Leafs definitely shouldn't trade.
Nazem Kadri: The Darker Days
Inconsistency seems to be one of the biggest issues when it comes to the fourth-year forward. His turnovers in both the offensive and defensive zones have caused frustration in the team's fans as well as it's coaching staff.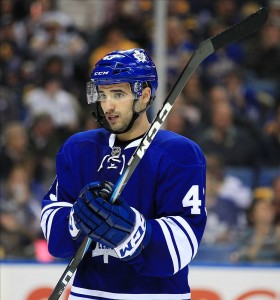 On multiple occasions this season, head coach Randy Carlyle, has been seen yelling directly at Kadri on the Toronto bench. But it's not his offence that has forced him into the doghouse at different times throughout the year. His minus-10 rating and, sometimes lackluster, defensive coverage has been the root of much of the anger surrounding his play.
Part of this, however, can be explained by his move from the third-line centre position last year to a second-line role on this year's squad. It's a role that – as Carlyle explains in an article by Michael Traikos – comes with increased pressure and responsibility.
"If you look statistically, this year he's not far off what he had in the same number of games last year. But again, it's a young player stepping up to the NHL and having to become an everyday player and the pressure that comes with that and having to player higher in the lineup," said Carlyle.
There's no question that Kadri has a lot of upside – as was seen in his second goal against the Lightning on Tuesday night. But the team, and more specifically Carlyle, expect a two-way game from their young forward – especially if he hopes to develop into a number one centre.
But there's more that fans have to consider when talking trades that include the London native. He's shown glimpses of talent throughout his short NHL career and it seems the more scrutiny that surrounds Kadri, the better he performs.
Nazem Kadri: A Bright Young Leaf
We've talked quite a bit about the offence that Kadri provides for the Leafs. Although it's not always consistent, he's provided big goals for a team that continues to search for some secondary scoring.
But Kadri's impact can be seen in other areas of the game. It's some of the smaller aspects of the game that he's performed well in that people haven't noticed in their criticisms of his game.
Kadri Down
Aside from Frazer McLaren and Colton Orr, Kadri is the highest Leaf player in terms of penalty minutes (57). However, he also ranks first on the team in drawing penalties and even ranks among the top in the NHL in the stat. And it's something that doesn't go unnoticed.
Nazem Kadri, second in the league in drawing penalties, sends the Leafs to the PP with his 27 penalty draw of the season.

— Toronto Maple Leafs (@leafsbuzztap) January 15, 2014
Delivering Confidence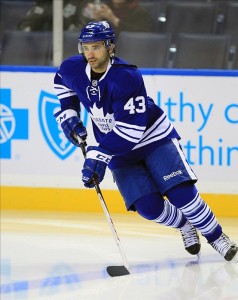 One thing a winning team needs is confidence – there's no question about that. Kadri seems to thrive under the pressure of the Toronto market. It's a trait that drives his game according to Carlyle.
"He's a young player in a popular market," said the Leafs head coach in an article by Sportsnet's David Alter. "Nazem's full of confidence and that's a great thing. (But) when your confidence leaves you, you have to find a way back, with our help to reinstate that."
No Need To Worry About Nazem
Yes, he's minus-10 this season. Yes, his play has been anything but consistent. But it's not a cause for concern and it certainly shouldn't push the Leafs to trade him.
Moving up in the Maple Leafs lineup is a good sign. It's forced him to play against better players on the opposition and has forced him to up his game. Sure his player rating has suffered (from plus-15 last season), but it's a compliment to his game that he has been forced into that position.
Trade talks will continue to swirl – at least until the NHL's March 5 trade deadline. But should the Leafs even consider trading away a player that likely has a bright future as a big-league centre? Or should Nonis shut down the conversation and allow Kadri to focus on his game?
Only time will tell what the Leafs will do with the former London Knight, but if they want to maintain a brighter future, the time is now to hold on to their young players.
For questions or comments, leave them below or follow Andrew on Twitter @AndrewGForbes.