The 2013-14 season was a tough one for the Detroit Red Wings, and a big reason was because Pavel Datsyuk had a tough season.
The three-time Selke and Lady Byng Trophy winner played just 45 games last season mostly due to a knee inflammation on two occasions.
An Injury-Plagued Season
Not only did he miss 37 games, but in the majority of the games Datsyuk did play in he was not at 100 percent. Not helping the situation, the Olympics were in Russia this year, and it was going to take a catastrophe of epic proportions to keep Datsyuk from representing his country. Players relish the opportunity to represent their country, and had the Olympics been in any other country, Datsyuk would have been wise to take the two weeks to rest his knee.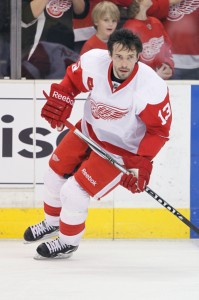 However, despite the amount of missed games, Datsyuk still performed up to the ability we are used to seeing. He was the team's most productive player in the playoff series lost to Boston, scoring five points in five games. He also scored 37 points in 45 games during the regular season, which was in the top seven on the team.
Datsyuk was also the team's best faceoff taker despite missing so much time with injuries. He took 157 more draws than any other Red Wing and had a faceoff percentage of 53.4, which was the best among the team's regular centers.
The Red Wings' training camp is a little less than a month away in Traverse City, and Datysuk is expected to be 100 percent by then. The knee problems he experienced last year did not require surgery.
Can Datsyuk Bounce Back?
Datsyuk can return to form, but he has to be lucky enough to avoid injuries. This seems like a blanket statement that could hold true for any athlete, but for Datsyuk, it's vitally important to stay healthy because it will take him longer to recover.
He turned 36 last month, and the older he gets, the longer it will take him to recover from injuries. The fact that he was able to put up the numbers he did while essentially playing on one leg for the majority of the season is proof enough that he is still a top-10 player in the NHL. He played in all but one game in the lockout shortened season last year, and he played in 70 games in 2011-12, so he has the ability to go the distance.
Five or six years ago, Datsyuk may have been considered the best overall player in the NHL. While he is still a very good player, it's ignorant to continue to label him as the best in the game right now.
However, as long as Datsyuk continues to make plays like he did in the following video, he can still be a key component for the Red Wings as his career begins to wind down.