Blake Coleman is a slow-starter. He said so himself. "Usually, for whatever reason, it takes me a while to get my first," he said with a toothless grin after netting his first NHL goal with the New Jersey Devils in late-March, seventeen games into his career in the league.
"It's a big weight off the shoulders; it's something that weighs on you, especially when it's gone as long as it has. Probably one of the longest droughts of my career so, I'm glad that's over with. I hope I follow up on my past history where once I get one, they start to fall a lot easier," he went on to say.
The fact that the Texas-native was able to score his first goal against the Dallas Stars, well that's just the icing on the cake. "It's all you're thinking about when you're shooting pucks as a kid, giving yourself play-by-play on the street," he recalled, still grinning. "It's pretty cool to be able to do it against my hometown team."
The 25-year-old played in 23 games with New Jersey, getting his first taste of the NHL when he was recalled in January to join the team on a Western Canada road trip. In fact, Coleman scored in his third NHL game (at Vancouver) but it was disallowed as one of his teammates was offside 17-seconds earlier.
Comfortable Coleman
"A lot of it is learning the ins and outs of the league; I think at any level once you start to get more comfortable, the game starts to slow down and you don't force plays and stuff like that," Coleman told The Hockey Writers towards the end of the season. "Getting the trust of the coaches on the penalty kill has been big for me. I'm hoping to carve out a role here; I want to keep going to those areas. At every level, I've started at the bottom and just kind of worked my way up and that's my goal here. Just keep pushing forward, play smart and I think I'm getting more and more chances. Hopefully, next season those will start to turn into points on the scoreboard."
Coleman did a solid job on the Devils' penalty kill during the final part of the season, something that he will likely need to continue to do if he is to contend for a roster spot on the 2017-18 team. He likely slots in somewhere in the bottom-6 if he can prove to the coaching staff that he can fill one of those PK roles.
#NJDevils prospect Blake Coleman was the offensive star. SHG (EN), 2 assists/2 SoG-Finishes season 2nd on #ADevils w/39 pts, team-high 5 GWG pic.twitter.com/2uM2IebXdG

— Dan Rice (@DRdiabloTHW) April 16, 2017
"Tonight he did a very good job killing penalties. He understands and has a real strong attention to detail, good penalty kill skills: fast, blocks shots. I think he can pay attention to detail defensively in a penalty kill situation, does a nice job pressuring up ice with his speed on the penalty kill forecheck, and he can take faceoffs," said New Jersey coach John Hynes in evaluating Coleman's contributions late during the season.
"Those are the elements that you can see he has – part of his role in Albany is to be able to kill penalties. If he's going to be National Hockey League player or a guy that we foresee possibly being on our team, it's important to put him in those situations in these games at this level, consistently, to see if he can handle it and do a good job. That's part of his skill set as a player to play at this level."
Storybook Beginning
Back to that first goal. When players dream of scoring their first NHL goal it's always a beauty. Coleman's dream became a reality on March 26. On the forecheck he stole the puck along the left wing half wall, made a beeline to the crease and flipped the puck over Dallas Stars goaltender Kari Lehtonen's right shoulder.
"I just read the D-to-D pass and picked his pocket," Coleman explained. "I know Kari pretty well; I know he likes to play low in the net, so my goal was to get it up and under the bar, fortunately, it found a home."
Devils fans near and far were impressed with the goal, and so was his coach. "It was a nice goal," coach Hynes proclaimed. "He came in, had good forecheck pressure, a really good stick; intercepts the pass, comes in with a quick release in tight, top shelf. That was a nice goal."
Still though, after having a goal taken away earlier in the season, he wasn't convinced it would count. "Yeah," he said laughing, "I thought maybe I hit a post so I was waiting for the ref to give me the signal."
"I'm pretty familiar with a lot of guys in that locker room, so guys like Jamie Benn coming up and saying congrats is pretty special," he added, "It's something I'll remember and be able to share with friends and family back home as well."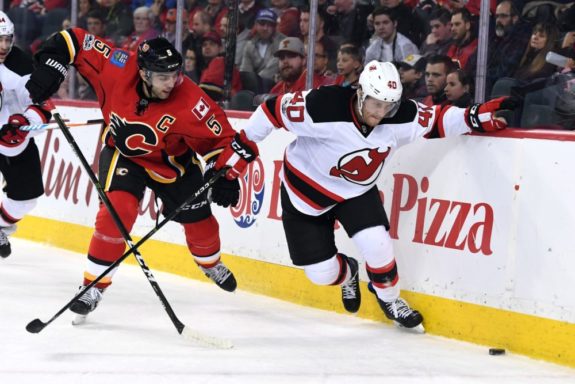 It was obvious as the number of games he appeared in grew, so did his confidence. Whether it was taking the puck to the net harder, or finishing his checks with more oomph, by the end of the season the Plano, Texas kid was looking more and more like an NHL player.
"It's a mentality; you get into attack mode and it's something you have in Albany and it's taken me a little bit of time to get into that here," he told THW. "I finally feel like I'm comfortable in the offensive zone, and starting to make better plays. That's going to be my role going forward, so that's something that I need to be good at and I thought I did my job tonight. Unfortunately, it didn't translate to two points."
Opportunity Knocks
More games, more trust, more minutes. It's hard to say if Coleman would have gotten any of that if the Devils had a successful season, but that's the way this season played out and for him and a lot of younger players in the organization who got some opportunities that they may not have otherwise had. In the long run that may be good for the franchise which is looking to turn things around after being a non-playoff participant for five consecutive springs.
"This is really the longest look that some of these guys have had. If you look at (Steven) Santini, (Nick) Lappin, (Miles) Wood – those guys have had longer looks where guys like Coleman have kind of have been up and down and maybe not played as many minutes as they have, haven't killed penalties like they've had in their prior call-up situations," said Hynes.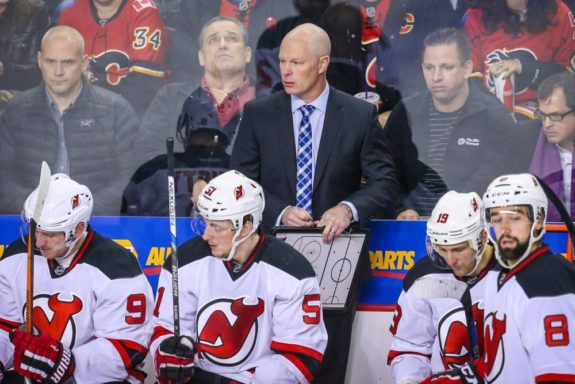 "Part of it is feeling comfortable in the league, being relied upon; I think it's important for players to feel confidence from that. He's done a good job; you see lots of times when players get in special teams situations and do well, sometimes it feeds their five-on-five game with confidence and the penalty kill has done that for him."
"Especially when I've been killing with Rico (Adam Henrique) we've had a lot of success together, good chemistry," said Coleman. "Not only have we been killing the penalty, but we've been getting some pretty good offense looks as well; it's nice to have a dual threat when you are out there. It's something that I'll continue to study video on, work on and kind of master it as part of my craft so to speak."
In 75 games with New Jersey and AHL Albany last season, Coleman put up a total of 41 points (20g-21a). As he enters his third season as a pro he should be a contender for a roster spot once September rolls around. Not bad for a kid that didn't really grow up in a hockey hotbed.
A big smile (sort of) from @bcoles25 after scoring his first career @NHL goal. Congrats Blake! pic.twitter.com/ucd3dzoDYQ

— New Jersey Devils (@NJDevils) March 27, 2017
"We did it all," Coleman said, recalling his youth. "Obviously street hockey, but I started skating when I was probably four-years-old there. I went to Stars games growing up, I got on the ice pretty young but there were only one or two rinks so the time on ice was minimal."
"I'll probably give it to my grandmother," he said flashing his toothless grin again when asked about what he'll do with the puck from his first goal. "She got me into hockey and is probably my biggest fan. She had season tickets to the Stars when I was a kid, I'll share it with her."