In his latest "30 Thoughts", Sportsnet's Elliotte Friedman said that it sure sounds like Columbus and Vegas are working on something.
Friedman goes on and says that there is at least a possibility the two clubs are discussing David Clarkson. Friedman said he can't pin that down 100%, but he believes something is up.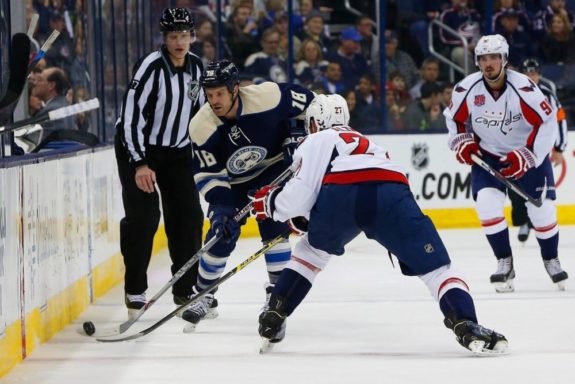 Would This Trade Work?
The first question that comes up is why would the Blue Jackets look to trade Clarkson's contract if he's on LTIR? Then as a follow-up, why would Vegas take this contract? A closer look at the situation reveals that this move could work out for both sides.
From the Blue Jackets' perspective, getting Clarkson's contract off the books would be a huge win. The contract comes with an AAV of $5.25 million for the next three seasons. Although the Blue Jackets can put him on LTIR, his contract counts against the cap in the offseason.
According to Cap Friendly, the Blue Jackets have just over $2 million in cap space. They have pending RFA's to sign in Alexander Wennberg and Josh Anderson. Unloading Clarkson's contract gives the Blue Jackets immediate cap space to sign those players while getting that contract off their books permanently. Remember, LTIR relief is maximized when a team is at the cap. The further away from the cap you are, the less relief you get. Remember when the Blue Jackets paper moved Alexander Wennberg to Cleveland and kept Pierre-Luc Dubois on opening roster last season? It was to get the most out of LTIR relief.
From the Golden Knights' perspective, they get two good things out of this. First, they get a contract that will help them reach the cap floor. Second and more importantly, they would get extra assets from the Blue Jackets by taking that contract off their hands. The follow-up question to this is what's the price for such a transaction?
https://twitter.com/draglikepull/status/873611973954605057
The Cost of Trade
The Blue Jackets have the 24th pick in this draft as well as some younger players in the AHL that the Golden Knights could have interest in. It's feasible to believe that if a deal like this comes to pass, some combination of prospects and draft picks could get this deal done.
In a previous edition of "30 thoughts", Blue Jackets GM Jarmo Kekalainen expressed that he was not concerned with any potential cap problems. Seeing talk of this kind of deal solidifies Kekalainen's outlook. If a deal were to come together between the Blue Jackets and Golden Knights, it cannot become official until June 21.
Talk of this possibility came up at the NHL Combine. Multiple people I talked to mentioned Clarkson's name when discussing possible moves. Someone even mentioned that Vegas "would take on the whole contract" if an agreement was reached. According to Friedman, both the Blue Jackets and Golden Knights are not commenting on this.
Stay tuned on this one. This is a deal that could work for both sides if it happens.