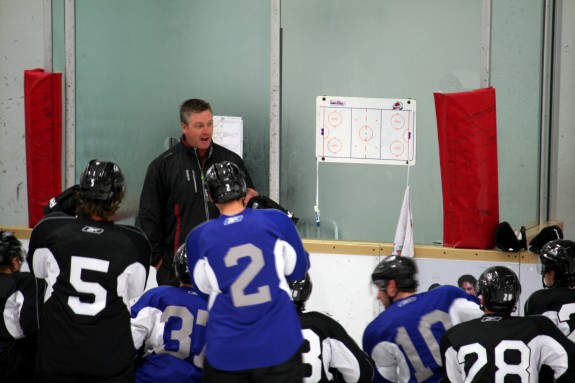 Defense wins championships, as the saying goes. At the start of the season most writers had pegged the Colorado Avalanche defense as being so far from a championship contender that they might as well start thinking about another top 5 draft pick. Rookie head coach Patrick Roy didn't see it that way. He wanted his team to surprise the hockey world. There was no denying the skilled young forwards that Colorado was overflowing with, but no one looking at that defensive core thought that a finish anywhere near the playoffs was possible. It was ok though, Colorado was still rebuilding.
Of course there was a lot of talk at the draft about Colorado passing up on what seemed like a sure fire home run pick in defenseman Seth Jones. Colorado opted instead for Nathan MacKinnon. If Colorado's defense continued to struggle then that pick would hang over the head of Patrick Roy and Joe Sakic like a great big dagger. Fortunately for the organization none of this came to pass for the majority of the season. Colorado sits firmly in a top three spot in the brutal Central Division. They are even looking up at possibly passing the Chicago Blackhawks for second. Whether or not they actually pass Chicago is probably irrelevant to Avalanche fans. The mere fact that they are in the position is a blessing, and a reason why asking an Avalanche fan who should be the coach of the year requires little to no thought.
Starting to bend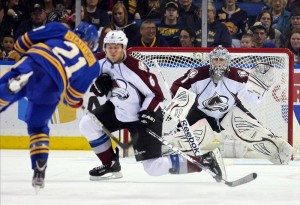 But as the playoffs approach there is some growing concern in Colorado. Recent performances have seen the Avs allow a few crooked numbers on the scoreboard. Is this a slump, or an indication that the defense has been playing well over their heads all season long? It's an interesting question for the Avalanche considering their defensive style is somewhat different from most teams in the league. 5 on 5 most teams don't play man to man, but Colorado does. Patrick Roy likes  to use his teams speed to play defense. Colorado is out shot most of those games but looking at the way the team plays it becomes evident that most of those shots come from low percentage areas. Recent performances however have seen Colorado giving up an unusually large amount of quality chances. Turnovers have been a big part of this. Tuesday's game against Nashville saw a few defensive breakdown, and if it were not for an impressive performance from Seymon Varlamov things could have gotten out of had in a hurry.
Varlamov of course is one of the main pieces to Colorado's success. The team in front of him allows 32.6 shots per game, that's good for fifth worst in the league. But his play has bailed them out on numerous occasions. Many of the team's detractors will say that his play has been unsustainable. But as the season comes to a close Colorado still sit third in the Central with 96 points. It's been the play of J.S. Giguere and newly acquired backup Reto Berra that have been problematic of late. Though in fairness to Berra, he has only made one start for Colorado. Early season success from Giguere seems to have faded and recent reports on his retirement could suggest that he doesn't have much left in the tank.
Obviously a contending team needs strong goaltending, and the Avs are getting that from Varlamov. Defensively though their has been some sloppy play. The question again is whether or not this comes down to a slump or if this is more indicative of the team's actual ability. Taking the game against Nashville as an example, Colorado's defense did not play well. Two issues that have in some way come and gone at various points of the season showed up against the Predators. Turnovers and sloppy coverage can hurt a team, especially one that plays man coverage as extensively as Colorado. Matt Cullen's second period goal was a glaring mistake by Erik Johnson.
Instead of taking care of Cullen following Ryan Ellis' nice chip pass off the boards, Johnson let Cullen walk in on Varlamov and instead he covered the man already taken by Jan Hejda. Johnson has been a revelation this season for coach Roy.  He has been leading the team in ice time and is consistently counted upon to be the teams number one defender. Though Tuesday he wasn't at his sharpest. When the Avalanche play Chicago in the first round they will need Johnson to play at the very peak of his talent. Plays like the one against Nashville happen on a regular basis around the league, sometimes even to the best defesemen in the league. So while it's not a cause for panic, it's something that Colorado needs to limit in the playoffs.
Another issue against Nashville was turnovers. Neutral zone turnovers are an issue with Colorado. They tend to happen a lot. Colorado's bottom pairing defenseman have been shaky all season when moving the puck out their own zone. Colorado doesn't have a lot of strength with puck moving defesneman. Tyson Barrie is growing well into that roll, but it's a steep learning curve. Other defenders like Andre Beniot and Nate Guenin tend to make sloppy passes out of their own zone. The young, and very quick forward group tend to cover up these mistakes by backchecking. That is a key part of Roy's defensive system. All players on the ice are expected to be active on defense. It's been a success so far, but on games where the forward group tends to back off of their defensive responsibilities the whole team becomes very easy to play against.
Like previously mentioned Colorado had trouble getting the puck out of their zone after Hejda mishandled it. The resulting two on one was poorly played by Erik Johnson who went down far too early, allowing Patric Hornqvist to be patient and wait for  a clear pass to Cullen for his second of the night.
This isn't to say that Colorado's defense has been an extreme liability the last few games. All teams have poor stretches during the season. Colorado has shown all season that they are able to rebound well from these kind of performances. Despite the poor defensive performance Colorado still found a way to win the game. Patrick Roy would be happy with that.
Corsi
One last point about Colorado's defense is about the new breed of advanced statistics. Colorado is not exactly lighting the league on fire with their corsi number, which is a stat that attempts to quantify a teams possession in terms of shot attempts. But for Colorado these numbers appear to be misleading. According to statistics website Extra Skater, Colorado is ranked 26th in the league with a corsi rating of 47.5%. Keeping the Avalanche company down in this state are teams like Edmonton, Calgary and Buffalo. Though as mentioned earlier Colorado gets out shot, a lot. The teams man coverage system is set up to allow low quality shots, but relatively few in high scoring positions. If they do give up a good scoring chance they hope to be able to rely on the goaltender to make a big save at the right time. Whether or not you agree with these advanced statistics it's clear that Colorado gives up chances. But it's something they are willing to live with.
Patrick Roy has said he wants his team to be an exciting offensive team. If the team gives up 35 shots in a game it's not something that concerns the coach as long as the quality scoring chances are kept to a minimum, he gets strong backchecking from his forwards and the goaltending remains sound. There is a looming question about the playoffs that hangs over this defensive unit though. Will this defense built with a bit of a patch work of defensemen be able to succeed in one of the toughest competitions in sports?  If Colorado is going to be successful against a team like Chicago they need to be aware that in the playoffs these games become something entirely different. Though given the predictions made at the start of the season for this team most Avalanche fans are more excited, than worried. And if this young team is going to be taught a stern lesson in playoff hockey, then it might just be worth the experience.