The National Hockey League-mandated five-day "bye week": every team has one in January. With the way they are staggered, expect the standings to be an interesting mix throughout the next few weeks.
The Columbus Blue Jackets headed into theirs after Friday's 5-2 loss to the Vancouver Canucks—a team that has won just 17 of 44 games this season. For the Blue Jackets, the break arrives at a great time or a bad time, depending on who you ask.
Player Perspective: Forward Nick Foligno
The Blue Jackets' skaters said the break comes at an ideal time, considering how many games they have played and the number of injuries mounting for the team.
"This break probably came at a good time where we can get away, recharge and know that we have a chance here to get some energy for a big push in February, March, and April," Blue Jackets captain Nick Foligno said after Friday's loss. "We have to use this to our advantage no matter what's going on and make sure we make the next game count. We have to beat these teams, absolutely, and good teams do. So, we have to recharge and get ready to go for what we have left here in January. Then, use the breaks and make sure we are ready and feeling good for those big two months."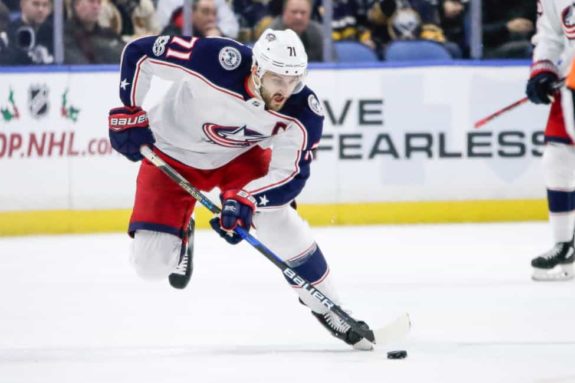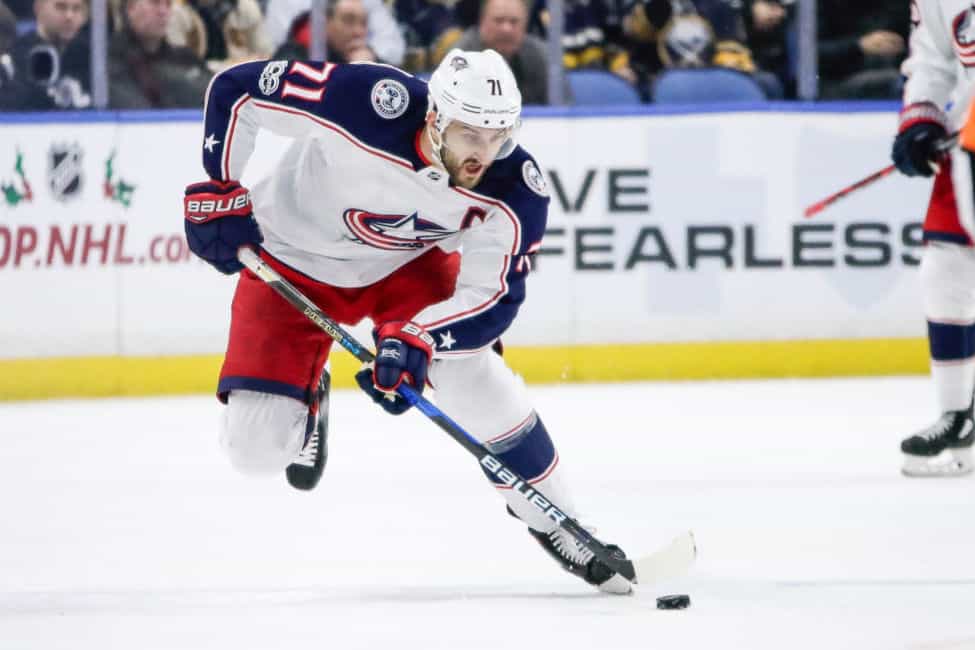 The end-of-season push is where the playoff picture will shake out, and the Blue Jackets are well aware of that. As a team searching for consistency, they need everyone at their best.
This includes rookie Pierre-Luc Dubois, who has spent a large part of the season in the team's top-six forward rotation. The 19-year-old looked gassed the past handful of games with not being used to the rigors of an 82-game NHL regular season. Another would be 23-year-old defenseman Markus Nutivaara, who averaged more than 20 minutes per game in his last 11 games before Friday's loss, including a season-high 24:16 on Dec. 27 against the Pittsburgh Penguins.
For them, the bye week is a great chance to get much-needed rest, heal their aches and pains, and get ready for the end-of-season stretch.
"Yeah, [the break is] coming at a good time where we can all recharge and step away," Foligno said. "Some guys have been playing big minutes in the absence of some other people. Rest your injuries, rest your mind, and come back knowing we have three games before another break where we can really do some damage if we win those, and feel good about where we're sitting because we're not playing much and everyone else is going to be catching us in games played."
Player Perspective: Defenseman Seth Jones
Defenseman Seth Jones agreed with Foligno that the break is a great chance for the team to reset.
"I think the break is good for everybody – young and old, and coaching staff, everybody," Jones said. "Get away from the rink for a few days and just regroup. Take your mind off the game. Then, come back and have a good practice Wednesday and be ready to go for Thursday's game."
Jones pointed to the team's inconsistencies as an area of concern at this point in the campaign, but also said that every team experiences highs and lows throughout an 82-game season.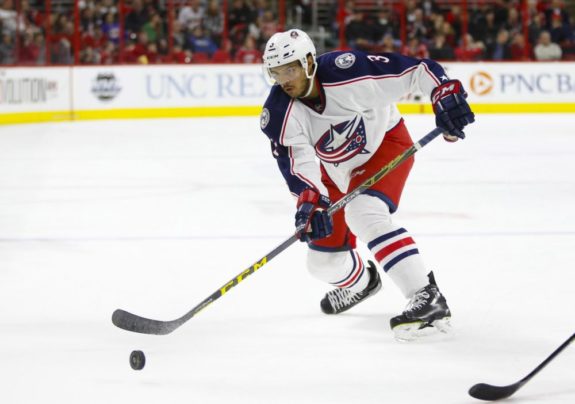 "I think all teams do go through ups and downs," Jones said. "We didn't have a lot of downs last year when you go back to it. This will be good for us. We are a lot younger this year and we lost some key guys. I think a lot of people took for granted last season [now-Nashville Predators forward Scott] Hartnell and [now-Vancouver Canucks forward Sam] Gagner this summer, and some of those older guys who knew their roles and played their roles. We're trying to find our way right now, and I keep saying it over and over, but consistency is the main thing. We can't just play a first period and then have a second period like [Friday] and expect to win."
Although he looked back at last season in the quote above himself, Jones said it is unfair for anyone to compare this season to last year's "fairytale."
"It's a different team this year, so I don't think you can compare this year to last year," Jones said. "I know everyone does that, but we're a completely different team with new players. We have the same identity, but last year seemed like a fairytale with the 16-game win streak. We knew it wasn't going to be as easy. Everyone in the room knew that. We talked about that in training camp and it was our job to come out here. We're just at a down spot right now in our season. We can't hang our heads. No one is going to dig us out—we have to do it ourselves."
Also, Jones said the answer is in the Blue Jackets' locker room—not out there somewhere via someone who could be acquired through a trade—to right the ship after the break.
"If everyone plays to the best of their abilities we can win hockey games," Jones said. "We can't do that individually. It has to be as a team. I definitely think the pieces are in here. We know that. There's no doubt in our minds that we're a great hockey team. There are peaks and valleys in the season and I know you're hearing this a lot right now, but we have to find a way through it."
He also reminded everyone that at this point in the season, the Blue Jackets sit in a decent spot in the Metropolitan Division standings race.
"We're still sitting second in the Metro, so we're not in too bad of a spot right now," Jones said. "Yeah, I know it seems like we're not even in the playoffs with the way we've been playing, because our expectations are so high. That's a good thing. We'll be fine."
Related – Blue Jackets Need Massive Wake-Up Call 
Coach Perspective: John Tortorella
Unlike his players, head coach John Tortorella is not happy with how the bye week falls in his team's schedule, considering their last handful of games.
"I would rather play another game [Saturday] night, but the break's there," Tortorella said after Friday's loss. "But, there are rules, and we will get back to work and try and get things straightened out."
Also of note: the Blue Jackets already played back-to-back games Thursday and Friday, so that would be another broken rule.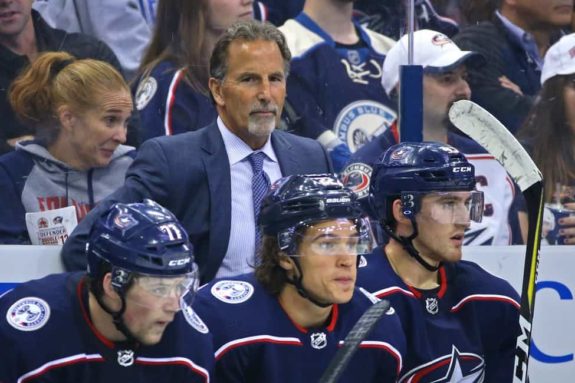 Like Jones, Tortorella said the team needs to take a good hard look at where they have been so far this season, and where they want to be moving forward. One area in particular stood out to Tortorella: momentum.
"We have to try to stop the momentum by simplifying… maybe not by getting any offense, but just defending the proper way and not getting buried in it," Tortorella said. "We have gone through a number of situations like that. It's not always when a goal is scored on you—it's just momentum swings that happen to you.
"It's a situation that we have to dig in here and go about our business and try to be better as individuals and as a team," Tortorella added. "Heck, as coaches too, to try to get some of these guys going that aren't going. Maybe we look at some different things to try to help them. That's something we have to have a bit of self-talk to as we go through this break and try to figure out how to straighten ourselves out."
Additionally, Tortorella pointed to the "goal avalanche" where the team has given up four-plus goals several times through its first 46 games, and the numerous forwards who have struggled to score themselves.
#CBJ fall 5-2 to the Canucks. Enter five-day break 25-18-3 (53) on the campaign. Return to action on Thursday, Jan. 18 vs. Dallas.

— CBJ Public Relations (@BlueJacketsPR) January 13, 2018
"Through the struggles you have, if you're losing hockey games, a lot of things are disturbing for coaches," Tortorella said, again, referring to the team's weak spots. "I'm not sure how many times we have given up four goals in a period—is it five times? Yeah, that's scary. I'm looking at the team's psyche, you have to keep your head down, keep your mouth shut and work at your game.
"You just have to find your way through this and that's what we are going to do," Tortorella said. "You have to eat it and you have to own it, and try to find a way to get yourself right. That's as an individual player, that's as an individual coach and then you bring it to a team concept. There's a ton of hockey to be played here. We can't lose ourselves. We have to try to find some grounding and try to get better."
However, Tortorella said that despite the team's struggles, they have to work through it and dig deeper to find the solution themselves when the Blue Jackets return from the break.
"I'm not going to get down," Tortorella said. "There's no magic potion. There's no sense in pissing and moaning. We're not going to see each other for a few days. If that's good or bad, I don't know. It's when we come back to work, we have to get back to work and try to find a way to solidify ourselves and get some consistency in our game."
After living in two NHL cities (Orange, CA and Raleigh, NC), Kristyn graduated from Ohio University's E.W. Scripps School of Journalism and worked in the Columbus Blue Jackets' Digital Media department. She currently resides in Columbus and has been an NHL-credentialed reporter since the 2013-14 season.